The Art of Rube Goldberg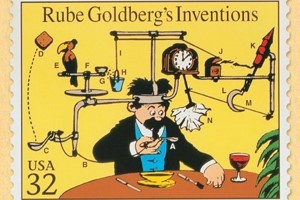 You know what a Rube Goldberg machine is. A small action is performed (a pebble is dropped in a bucket, a lever is pulled, a button is pushed), which sets off a series of related actions, each one triggering the next sequence in a long mechanical process. The end result is often less dramatic than you might expect, but that's okay: The beauty is in the complexity of the series of operations, not in the final product. The band OK Go loves this device—watch their video for "This Too Shall Pass" for one particularly elaborate and showy example. At this exhibit, see work by the legendary artist and cartoonist Rube Goldberg himself, including original drawings, rare photographs, and 3D puzzles.
Don't miss all the best things happening in Seattle. Get the free Stranger Things To Do app now from the App Store or Google Play.