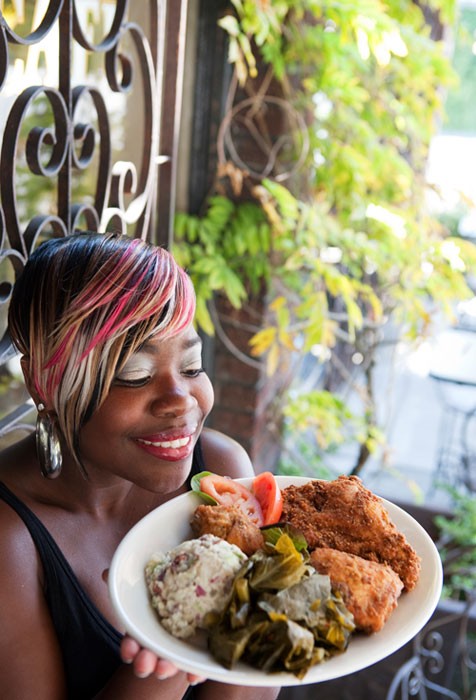 JENNIFER RICHARDS
From the day it opened its doors in 1997, the lines for the Kingfish have never diminished (they don't take reservations). People still wait, often for an hour on weekends, to eat its fancy soul foods and absorb its atmosphere of jazz and black American prosperity. The two rooms have ruined-plaster walls, ceiling fans, copper pipes, and gigantic sepia photographs of the owners' ancestors—"From our great, great aunt Mary Laura Josephine, born a slave in 1850, to our third cousin, the poet Langston Hughes," the menu says. Buttermilk fried chicken, thick and sweet collard greens, and spicy and soft-fleshed catfish are a few of the treasured items, and if the Kingfish's service still doesn't seem up to the task of dealing with the Kingfish's popularity after all these years, well, people still wait.
This place is closed.
Kingfish Cafe
602 19th Ave E, Seattle, WA
206-320-8757
Hours: Mon-Thurs 11:30 am-2 pm and 5:30-9 pm, Fri 11:30 am-2 pm and 5:30-10:30 pm, Sat 10 am-2 pm and 5:30-10:30 pm, Sun 10 am-2 pm and 5:30-9 pm
Bar Details
Features

Happy Hour, Full Menu

Scene

Cocktail Lounge, Neighborhood Joint

Happy Hour

Mon, Wed-Fri 4-6 pm ($2 select bottled beer, $5 select wines, $4 wells, cocktail specials, food specials).
Read More About It