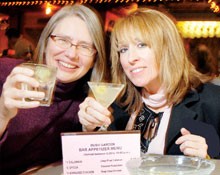 Curt Doughty
The Japanese food at Bush Garden isn't anything special, but the place itself sure is. The foyer is the strangest in Seattle: Fantastical, dark, coiled tree branches dangle from the ceiling, and an elaborate fountain that appears not to have seen water in many years is crossed by a tiny bridge, on its shore a dusty bonsai. The bar has rolly-aroundy upholstered chairs and a faux pagoda roof; it is not too bright, not too dim; the temperature is always perfect; one of two completely wonderful, raspy-voiced bartendresses is always working. The bar menu never changes, and a warm towel is brought to you in a little basket upon the ordering of food. Karaoke here is especially marvelous.
Bush Garden
614 Maynard Ave S, Seattle, WA 98104
206-682-6830
Hours: Mon-Sat 5pm-10pm, Sun 5pm-9pm
Bar Details
Features

Full Menu, Happy Hour, Karaoke

Scene

Cocktail Lounge, Neighborhood Joint

Happy Hour

Mon-Sat 5:30-6:30 pm, 8:45-9:45 pm; Sun 5-9 pm (2-for-1 appetizers).
Read More About It