2017 Mayor's Arts Award Finalists Have Been Announced: Guess who's up for the individual Cultural Ambassador award? Curator Sharon Arnold, Seattle Symphony music director Ludovic Morlot, and Northwest Asian Weekly's Assunta Ng.
For the organizational Cultural Ambassador award, the winner will either be Gay City (a Capitol Hill theater/cafe/gallery/queer space extraordinaire), Seattle Music Partners (a group that teaches music to poor kids and kids of color), or Tasveer (the non-profit film org behind the largest South Asian Film Festival and the longest running South Asian Women Festival).
Stranger Genius Susie Lee, National Film Festival for Talented Youth, and Northwest Film Forum's Courtney Sheehan are all rightfully up for the Arts & Innovation award.
And the Emerging Leader in the Field award will wind up in the hands of an after-school program "by and for QTPOC" called Legendary Children, former Northwest African American Museum staffer and general creative powerhouse Leilani Lewis, and the best damn coffee shop on the planet: The Station. Check out the ceremony on Thursday, August 31 at 4 p.m. at Seattle Center.
Northwest Film Forum Has A New Website: Though it's still not 100 percent intuitive, the new site is a welcome improvement on the Halloween-colored hellhole users were forced to use before.
The Seattle Art Fair Was Yuge: About 4,500 thousand more people came this year than last year, reports Emily Pothast on this very website. Art was selling like crazy. My favorite line: "Damien Hirst prints 'do very well in the large biotech community here.'"
Applications Are Now Open for Shunpike's New Artist-In-Residence Program: Apply now for a new South Lake Union studio and $10,000 so you can maybe get in that art fair next year, you broke beauties!
Thrilled to announce that Lena Khalaf Tuffaha is our 1st Poet-in-Residence! Sign up for our newsletter for more info this Sept 😊 @LKTuffaha pic.twitter.com/gEaCGlS9by
— Open Books (@openpoetrybooks) August 9, 2017
Open Books Has a New Poet-In-Residence: Lena Khalaf Tuffaha will serve as poet-in-residence at one of the country's very few poetry-only bookstores. More soon on what that job description entails. In the meantime, check out Tuffaha's latest book, Water & Salt.
Prog Rock Rules: If you haven't read Dave's tremendous takedown of that weak anti-Prog screed the Atlantic published last week, take five minutes and give yourself the pleasure. I don't even know half of the fucking words in the piece, let alone anything about the bands he mentions or the genre in general, but I know a good argument when I read one, and this, my friends, should be used as an example in composition classes across this horrible nation.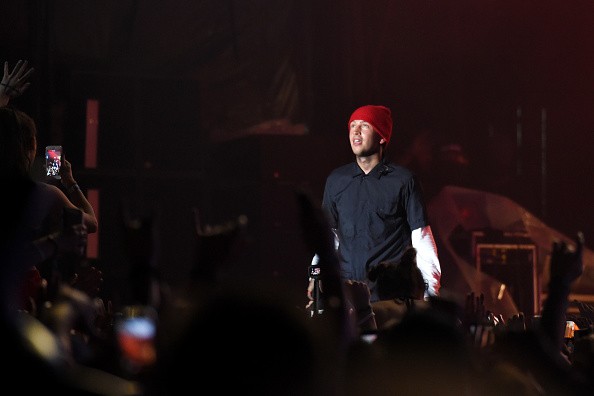 Speaking of Bands I've Never Heard Of: I guess Washington state really likes some band called Twenty One Pilots? That's what Stranger music intern Anna Kaplan discovered in her analysis of some maps.
Did You Hear About Those Theater Artists Who Got Locked Out of Their Own Show?: It sucked. It's a cautionary tale about the actual relationship between artists and developers in this boomtown.
Get Ready for Jazz to Happen: The 29th annual Earshot Jazz Festival—happening at various Seattle venues October 8-November 12—recently announced its partial lineup, and here are some highlights: Hudson, a supergroup consisting of fusion-drummer god Jack DeJohnette, former Miles Davis guitarist John Scofield, keyboardist John Medeski, and Larry Grenadier; Charles Mudede-championed pianist Brad Mehldau; Jason Moran's Bandwagon + Horns; Minnesota mavericks the Bad Plus; Mostly Other People Do the Killing, who once covered Miles's Kind of Blue in its entirety; versatile, volatile horn man Joe McPhee, responsible for the classic Nation Time LP; renowned music journalist Greg Tate's polyglot astral explorers, Burnt Sugar Arkestra, and Monk 10/10, an all-star centennial celebration of innovative pianist Thelonious Monk. The full schedule will be finalized in mid-August. Check earshot.org for further info and updates.