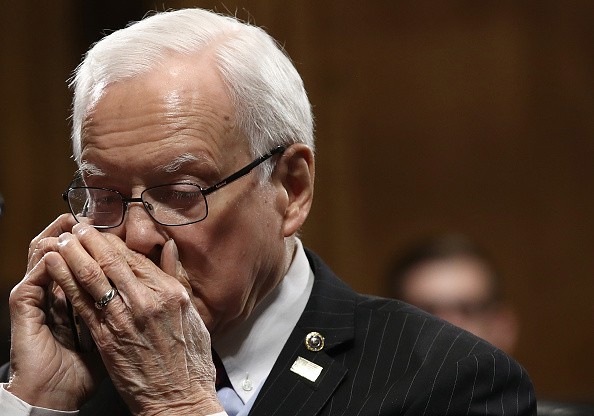 What's going on here? Senator Orrin Hatch is the newest supporter of medical marijuana, and REI was reportedly considering venturing into the weed biz (camel bongs, anyone?). Also, Roger Stone tries to enact his revenge for being ejected from a cannabis conference. Read on.
No, You're Not High: Orrin Hatch Supports Medical
Are we in the Upside Down? Surely things have gone topsy-turvy in this age of political madness... but this? Senator Orrin Hatch, Republican from Utah, practicing Mormon, and avowed homo-hater, introduced a bill to ease the red tape preventing medical marijuana research. He spoke about how cannabis can be used as a powerful tool to help fight the opioid epidemic. He even made a weed pun:
Mr. President, it's high time to address research into medical marijuana. Our country has experimented with a variety of state solutions without properly delving into the weeds on the effectiveness, safety, dosing, administration, and quality of medical marijuana.

Now all puns aside, it will surprise no one that I am strongly against the use of recreational marijuana. I worry, however, that in our zeal to enforce the law, we too often blind ourselves to the medicinal benefits of natural substances like cannabis. While I certainly do not support the use of marijuana for recreational purposes, the evidence shows that cannabis possesses medicinal properties that can truly change people's lives for the better. And I believe, Mr. President, that we would be remiss if we threw out the baby with the bathwater.
Though Hatch is still ardently opposed to adult recreational use, give him time—marijuana is a "gateway drug," after all!
Roger Stone Is Going to Have His Own Party, Dammit!
Trump buddy and libertarian fuckwad Roger Stone is pissed! Last month the Cannabis World Congress & Business Exposition, being held in Los Angeles this week, removed Stone from the list of speakers after a number of groups promised to boycott the event. So now (in addition to threatening a lawsuit), he's threatening to have his own rally, steps from the convention center where the expo is being held. He's acting like a bratty rich kid who didn't get invited to your party, so goes off and tries to have his own party on the same night, which will be MUCH cooler, of course. (Now who does that remind us) of?
Bad Bud Labs in Washington State
Don't think regulated weed means safer weed. A couple of pot lab testing facilities have been suspended, one for failing to conduct accurate tests to detect gross things like salmonella, E. coli, and mold in weed, and another "for violations that amounted to 'blatant disregard for good laboratory practices as well as sound scientific methods.'" Two busted pot labs may not seem like a big deal, but The Stranger's weed reporter Lester Black says it's part of a disturbing pattern.
REI Considered Weed Industry Gambit
Forbes contributor and former Massroots correspondent Tom Angell reported that high-level REI employees were flirting with the idea of getting involved with the cannabis industry, but backed away from the idea due to the uncertainty surrounding the future of marijuana on a federal level. While the story wasn't clear on how the company would get into the marijuana game, a PR flack from the company quickly tried to play it down, saying: "There's a distinction between a water cooler conversation that she may have had with one of her peers or a friend at work and a legitimate strategy discussion."
Kidnapped Budtender Is Still Missing
A scary story that's ongoing: a 46-year-old employee at the Lucid Cannabis store in Cheney, Washington, was allegedly abducted at gunpoint on Sunday afternoon by two individuals who were refused admission into the store due to lack of proper identification. The two individuals have been identified and are being sought by Cheney police. Employees of Lucid Cannabis are hoping for the employee's safe return.
Santa Claus Is Going To... Jail?
I had the screenplay all written out for this: An old hippie who runs a marijuana growing operation in his home gets caught, skips bail, and flees the country for Mexico. There, he lives out a mostly anonymous existence for over a decade, except, of course, for becoming the beloved town Santa Claus! But then it happened in real life and hopefully the court will find mercy on James Earl Bailey.