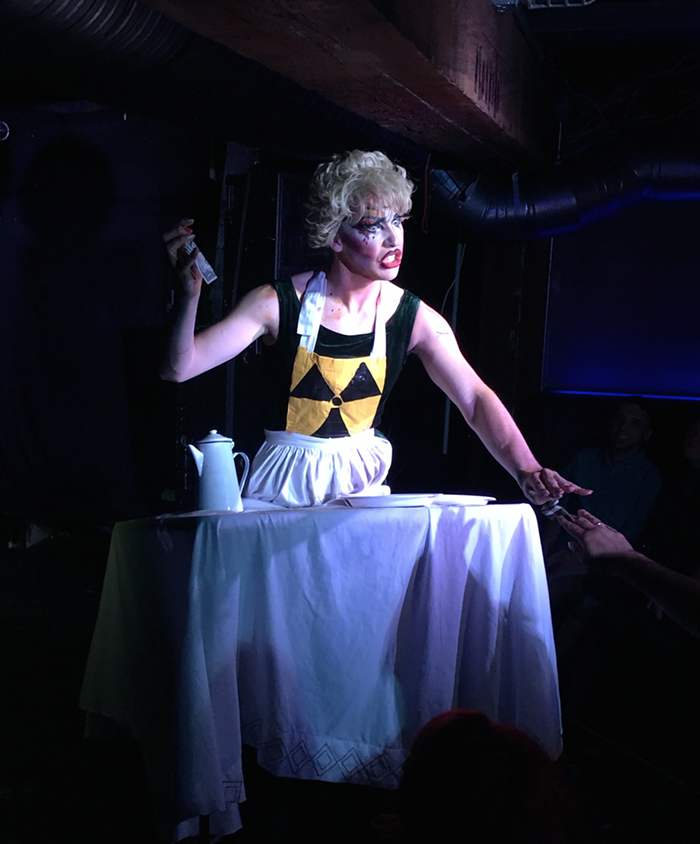 I'd never been to Cucci's Critter Barn until this past weekend, and I learned a few things:
• This is a messy, weird, fierce, political, deeply inappropriate show. It's wonderful. The host, Cucci Binaca, talked between sets about bi-erasure, poop, and having sex with tweakers. The tweaker stuff seemed to make the (young, earnest) audience uncomfortable, so she added, "I did smoke meth for a while so I'm not, like, tweaker appropriating."
• Some gossip that Cucci was not supposed to share with the crowd that she shared anyway: "The real T is that Robbie Turner is leaving R Place. And R Place doesn't know this yet. And Robbie's going to be in charge of nightlife at Queer/Bar." That's the new business going into the Purr space. (I reached out to Queer/Bar and they have confirmed this fact.)
• Cucci's bi joke: "I think bi-erasure is a real thing"—long pause—"but I also think it's funny." Now that Cucci identifies as trans, she said, she's gone "from being heteroflexible to heterosexual." Dead silence. "Sorry, I'm bi-phobic, whatever."
• Okay, okay, here's the video, as promised, of Miss Texas 1988 coming out of that table:
New favorite drag queen Miss Texas 1988 making an entrance last Saturday at Kremwerk. pic.twitter.com/dT47sWIqhT
— ChristopherFrizzelle (@TheFrizzelle) August 15, 2017
Within moments, Miss Texas 1988 was pouring green liquid all over herself from that teapot. No idea. Didn't matter. Couldn't stop watching her.
• Green liquid from a teapot wasn't as messy as what Jade Dynasty did after taking an earnest political turn with her set. She held up a sign that said #TRANS LIVES MATTER and talked about trans murder, listing the names of all the trans women who've been murdered in 2017. Then she got out some paints and poured red, white, and blue paint down her body and then smeared it all together while lip-syncing to "Zombie" by the Cranberries.
• The next performer was drag queen Mona Real, who came out in crossing-guard clothes and dipped her hand into a puddle of white paint that had pooled under Jade Dynasty during her set. Mona Real then started flicking the thick white paint at the crowd. People were flecked in paint. I got white paint on my shirt and arm.
• While I was in the bathroom washing my shirt, Ursula Major, up from LA, reportedly did an act that involved needles in her face, which she pulled out, gushing blood. I can barely get my blood drawn without fainting. Glad I missed that one. Although Ursula Major's Edward Scissorhands set earlier in the night, involving a bouquet of flowers she massacred, was excellent.
• An hour after Cucci's Critter Barn ended, in the bar above Kremwerk, the Timbre Room, at a party called Rapture, there was a drag queen wearing only shaving cream: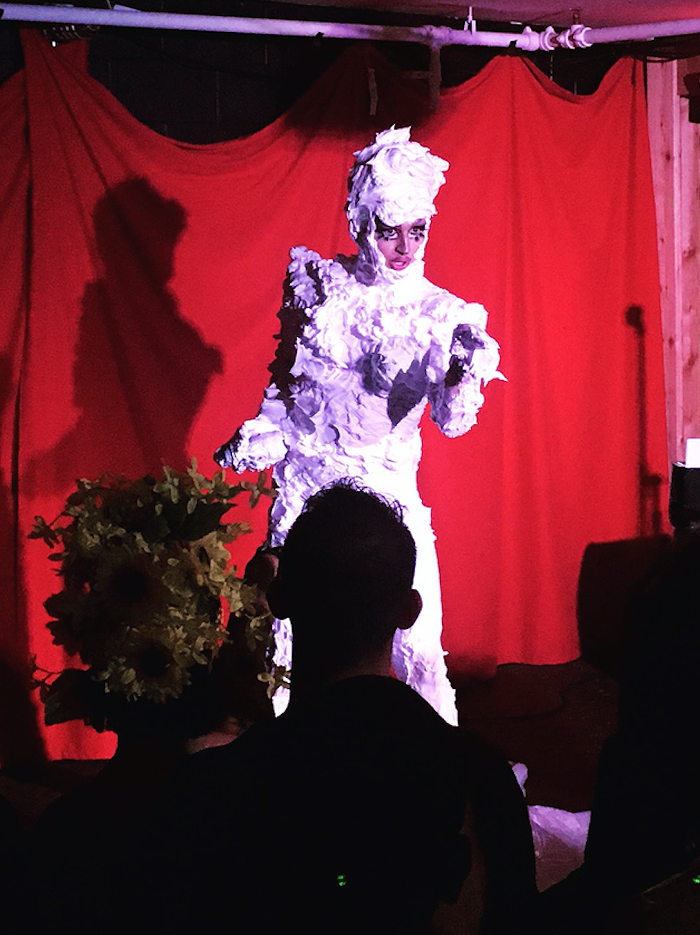 • Lessons learned: (1) Don't sit in the front row, unless you want to be covered in paint, blood, or plants. (2) Cucci's Critter Barn is a better show than Rapture, but Rapture has a photo booth and dancing. In any case, they happen one right after the other, so you should go to both. (3) I need to get out more.