Legendary NYC rock band Television play the Moore Theatre tomorrow, Tuesday, June 23. They are, of course, responsible for one of the greatest albums ever, Marquee Moon—the Sgt. Pepper's for bohos and poetic mofos born in the late '50s and early '60s. (Only guitarist Richard Lloyd is missing from that LP's lineup for this tour; Jimmy Rip replaces him.)
The 1978 follow-up, Adventure, was about 75 percent as great, which is still amazing any way you slice it. Television's better-than-expected self-titled comeback LP from 1992 had some sterling moments, too. And let us not forget that awesome stray non-LP cut, "Little Johnny Jewel." Never forget that one.
After the jump, some Seattle musicians, DJs, and this writer rave about their favorite Television songs, recalling when lightning struck itself.
Michael Lerner (Telekinesis)
My favorite Television song is "Venus." It just has that insane confidence and swagger they were so known for, and in spades on this song. It's an unfuckwithable vocal delivery, both lead and background. Plus, it has one of my favorite lyrics of all time: "Broadway looked so medieval/It seemed to flap like little pages." The muted guitar solo is a crowning achievement. No one can do that. The whole song just has this incredible movement. That is something that only Television were ever able to really pull off with such a confidence. They make it sound easy, and good grief, is it not even close to being easy. I never ever tire of this song, as with everything off Marquee Moon.
Chris Pollina (Eldridge Gravy & the Court Supreme)
When I try to recommend Television to someone who hasn't heard them, I always have difficulty figuring out what to say, mainly because I feel like it will come off as so hyperbolic that people won't take me seriously. And I get it; if someone told me about a band that played a seamless mix of punk, prog, pop, and classic rock, where every song is catchy, interesting, smart, and completely original, I'd have a hard time believing it, too. So usually I just say, "Go out and buy Marquee Moon, and if you don't like it I will give you your money back."
Also, for all the music nerds out there, listen to the awesome mind puzzle that is the chorus of "Elevation." The way everything fits together is so bizarre, and all the choices are so nonstandard, yet it just works perfectly.
Chris Costalupes (VHS)
Before VHS moved to Seattle, we use to reside in Reno, Nevada. Seven years ago, we use to play pool at the Hideout, a local dive bar near our house in the biggest little city. The first thing we would do when we got there was play "Marquee Moon" three times on repeat on the jukebox. We would have music playing the entire time we were playing pool, and since it's such a long song, you get the most bang for your buck! There's a point in the song where it seems to end and start all over again. So halfway, people would think we played the same song four times. After a while, the regulars grew tired of our soundtrack and we were told we couldn't play that song—not even once. We complied so we could still use the pool tables, and the soundtrack went back to Hank Williams and Turbonegro. Which isn't a bad thing. This is why "Marquee Moon" is my favorite Television song.
Colin Dawson (Stickers, Daisy Heroin)
Funny things I do with Television! Every bar seems to have Marquee Moon [on its jukebox], and the title track is a 10-minute shred fest. I like to put like eight quarters in, select "Marque Moon" eight times, and leave knowing that the bar will never know how long they've been listening.
Chris Martin (Kinski)
After I got out of Columbine High School, I lived in Denver for a while (where I grew up). I had just bought a '71 canary-yellow Mercury Cougar convertible, and it still had an 8-track player in it. I went to a store that sold old 8-tracks and bought some by bands I knew were supposed to be cool but I didn't really know. One of the tapes I got was Adventure by Television.
I had no idea what I was going to do with my life and was kind of at a loss after high school. The company my dad worked for had a condo in Dillon, which is just over the Continental Divide. To sort of get my head straight, I was going to go by myself to the condo during the week (for a few weekdays when no one was using it) and figure some shit out. I had the top down, it was summertime, and I put Adventure in the 8-track. The tape started wherever it was at in the middle of the album, as 8-tracks do. As I came over the Continental Divide, the song "The Dream's Dream" came on and it kind of blew me away. It fit the visuals of the mountains and the sky and I really got into the end jam and the long, trippy fade. I listened to that tape all week. It didn't really help clarify what I was going to do with my life, though.
Marc Laurick (Bitès, China Sea Recordings Concern)
Those twining guitars. Simultaneously proto- and post-"punk." Long before said genre was demoted to the Warped Tour gulag. It was as if Wishbone Ash had finally chosen a more agreeable—and considerably less schizophrenic—aesthetic path, one with more literary aspiration, yes. But one that held the then-still-sacred R&R pantheon in worshipfully high regard, too.
With all those syllables and all that gravitas in mind, "See No Evil" is the only Television song I've ever had the gall to cover "live." And only once, with both Howard Harrison (coincidentally enough, roadie for the early '90s Television reunion/tour) and my daughter, Melissa. The conversational intimacy of the lyric in juxtaposition with the chorus of voices and near-jubilant playing has held up well over these handful of decades. it continues to inspire and reignite all the things punk—for a very short time—got right.
Nick Fenton (DJ Fentar, Fuzzed Out and Peel Slowly)
I discovered Television in the same fashion as I'm sure most teenage punk kids did, through reading about the infamous Bowery music and art scene of the mid to late '70s. I remember being initially turned off by the cover of Marquee Moon because the band looked like a bunch of coffeehouse poetry types. My teenage self didn't think they looked punk enough. No leather jackets!
Listening to Marquee Moon for the first time, the band was not at all what I had expected. It seemed like they, too, only needed three chords like most of the other bands playing at CBGB and Max's Kansas City at the time, but managed to sound like nothing I had ever heard. "See No Evil" roped me in, but hearing "Venus" for the first time blew my mind, with its clean, super-melodic dueling guitar lines and unique call-and-response vocal patterns. Listening to Tom Verlaine's hilariously incidental lyrics "And I fell, Did ya feel low? Nah, Huh?" it felt like I was listening to a story about him and his fellow Television founder, Richard Hell, while the band played a masterpiece of a song behind him. The song winds its way to a perfect ending with what has become one my favorite guitar parts in rock music—Richard Lloyd's idiosyncratic, final seven-bar ascending guitar line and resolution.
Chris Hanis (Phønøn)
I came pretty late to the Television party. I started hearing references to them in the early '90s, along with another long-neglected band, Big Star. Big Star I took to right away, but the bits and pieces I had heard of Television seemed kind of disjointed and less interesting to me. I think it was Verlaine's vocals that I just couldn't get past at the time. A few years later, I caught Matthew Sweet live with Richard Lloyd on guitar. At the time, I hadn't yet connected him back to Television, but I was certainly impressed with the high energy and innovative guitar performance he brought to the show.
I finally spent some quality time with Marquee Moon, and it began to dawn on me how innovative the guitar interplay between Verlaine and Lloyd was. They were simply in their own world. There's no other way to explain it. Verlaine, the singer/songwriter, moving the progressions through the roman numerals of classic songwriting, I - V - IV, while Lloyd played highly staccato melodic arpeggios vaguely inspired by rockabilly, with less of a reliance on the blues.
You have to consider that this was during the nascent moment of punk and the Sex Pistols, with the popular reaction against the technical wankery of the '70s prog bloat. To be playing tightly integrated music with a high level of virtuosity was pushing completely against the current of the time.
The song "Friction," off of Marquee Moon (1977), was a shot across the bow of the prevailing attitudes about popular music. Deploying the heavy guns of two-guitar rock, Verlaine's muscular riffing with Lloyd's jangling, ringing resonant stabs of intricate melodic counterpoint was akin to declaring war on mainstream punk's reliance on the foundation of brutishly primitive music.
Matthew Counts (Hawthorne Stereo)
Marquee Moon belongs in the small club of records I've listened to enough to know every word, every beat, and every note, but even now I still get excited as each song starts. Oh, I love this one. However, my favorite Television song is "Little Johnny Jewel" from a live recording called The Blow-Up that came out on a now-obscure cassette-only label in the '80s. The crystalline perfection of "Marquee Moon" always captivates, but this sneering, dirty song about a daydreaming hustler, the raw sound of a nightclub recording, and the absolute explosiveness of Tom and Richard's guitar joust that dominates most of the song taught me everything I needed to know about '70s NYC, and I've been in love since.
Dave Segal (The Stranger)
The first Television song I heard was "Friction," thanks to WDET's Sunday-night program Dimensions, hosted by Martin Bandyke and Ralph Valdez. (These guys hipped me to a lot of great music in the post-punk era. Respect.) Anyway, at that point in my life circa 1981, I'd rarely heard a song that was so baroque yet so caustic. Many baroque and caustic songs later, "Friction" still burns with intensity.
It starts with ostinatos like impatiently tapping feet (perhaps an influence on Captain Beefheart's "Hot Head" from 1980's Doc at the Radar Station), anticipating guitarist Tom Verlaine's opening line, "I knew it musta been some big setup." Soon after, Richard Lloyd's bespangled guitar begins to loiter with malicious intent while Verlaine lets off metallic chicken boks, like some kind of weird mating call, ratcheting up the tension. This contributes to making "Friction" Television's most no-wave-like song (boisterous choruses notwithstanding), its coiled verses hinting at Contortions' Buy and the guitar solos splitting the difference between that NYC band's Jody Harris and Pat Place and Jerry Garcia.
Verlaine's lyrics are oblique, but highly evocative. "My eyes are like telescopes/I see it all backwards, but who wants hope?/If I ever catch that ventriloquist/I'll squeeze his head right into my fist." Got it. Some live versions of "Friction" come closer to Gang of Four's incisive post-punk funk, and in concert, Television have been known to extend the song to 15 minutes. I would not oppose that happening tomorrow at the Moore. You know I'm crazy about "Friction."
Sponsored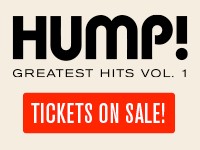 What are YOUR favorite HUMP! films? Start with HUMP! Greatest Hits, Volume One! Relive the memories!