Fans of people being funny and/or brainy on stages will be delighted to learn that Bumbershoot's 2015 line-up of comedic and literary matters (Words & Ideas) was announced this morning. Highlights with local interest include live versions of the podcast A Tiny Sense of Accomplishment with Sherman Alexie and Jess Walter, the provocative symposium series Why This? Why That? Why Now? moderated by Stranger contributor Ijeoma Oluo (topics to include hoaxing, trolling, ASMR, furries, satire, hipster racism), stand-up by Hari Kondabolu, Solomon Georgio, and Emmett Montgomery, and Luke Burbank's Live Wire. Less local, but no less highlighty items include anti-anti-anti comic Neil Hamburger, comic Bridget Everett, comic/impresario Lizz Winstead, live panels from Peaches and writers Chelsea Cain, and Mandy Statdmiller, and the writing staffs of the Onion's AV Club and the TV show Brooklyn Nine-Nine, plus lots of what the late Chuck Barris fondly called "more stuff." The full details are below, as is the link to the unembeddable video Bumbershoot made for the big launch. Trigger warning: clown involvement.
Here's the video.
Here's the text:
National Comedy

Alex Edelman
Alex Edelman is a Boston-via-New York-based comedian and winner of 2014's prestigious Foster's Edinburgh Comedy Award for Best Newcomer. His solo show, "Millennial," has been performed around the world, most notably at London's Soho Theatre, Australia's Melbourne and Sydney Comedy Festivals and the Lund Festival in Sweden.

Alison Rosen Is Your New Bestfriend (Podcast)
Alison Rosen helms the popular podcast, Alison Rosen Is Your New Best Friend. In addition to her work as a writer and editor (her work has appeared in Rolling Stone, People, Village Voice, and Seattle Weekly, amongst others) she was a key part of The Adam Carolla Show until early this year.

Annie Lederman
Annie Lederman is a stand-up comic, Chelsea Lately regular, writer, and born roaster who splits her time between NYC and LA. She's also a cast member of MTV's Girl Code and regularly tours with the likes of Marc Maron and Jim Norton.

Bridget Everett
A self-described "alt-cabaret provocateur," Bridget Everett is a comedian, actor, writer and performer who has been featured on Inside Amy Schumer. Everett and her band, The Tender Moments, perform regularly to sold-out crowds across the country, recently released their album Pound It and have a live concert special called Gynecological Wonder premiering July 11 on Comedy Central. Bridget also created, starred in and co-wrote the critically acclaimed show, ROCK BOTTOM, which opened the New York Public Theater's 2014-15 season and garnered her an Obie Award.

Dana Snyder
Dana Snyder is a stand-up comedian, actor, producer, and voiceover artist. He is best known for voicing Master Shake on Aqua Teen Hunger Force and Granny Cuyler on Squidbillies.

Hari Kondabolu
Hari Kondabolu is a Brooklyn-based, Queens-raised comic who The New York Times has called "one of the most exciting political comics in stand-up today." In March 2014, he released his debut stand-up album, Waiting for 2042, on indie label Kill Rock Stars. Hari has done stand-up on the Late Show with David Letterman, CONAN, Jimmy Kimmel Live, Live at Gotham, and John Oliver's New York Stand-Up Show. His Comedy Central Present's half-hour television special debuted on the network in 2011. He was also a writer and correspondent for the Chris Rock-produced Totally Biased with W. Kamau Bell on FX and is a regular on the public radio and podcast circuits.

Lady Parts Justice featuring Lizz Winstead
Co-created by Lizz Winstead, Lady Parts Justice is a collaborative team of comedians, cultural influencers, technologists and activists who are using humor and outrage to expose, remove and replace anti-choice zealots with pro-choice, pro-women politicians. Their mission is to develop a satirical war room that produces live comedy events, workshops and viral videos to enrage and engage voters and inspire people to get together and get active. The goal? To create a fun and active social community which works to expose and remove politicians who are reproductive health hazards. Lizz Winstead was a head writer and co-creater of The Daily Show and co-founder of Air America Radio. As a performer, she has brought her political wit to The Daily Show as a correspondent and later to the radio waves as co-host of Air America Radio's mid-morning show, Unfiltered.

Mike Lawrence
Mike Lawrence is a New York City-based comedian who has been featured as a stand-up on TBS' CONAN as well as Comedy Central's John Oliver's New York Stand-Up Show and The Half Hour. He wrote and performed segments for FX's Totally Biased and SyFy's The Will Wheaton Project, and has appeared on Comedy Central's @midnight. His debut album Sadamantium was released by Comedy Central Records in conjunction with the debut of his half-hour special in 2013. Mike headlines clubs all over the United States, and was a writer on two E! pilots in 2014, — The Up Down and After Party. He is currently in development with Comedy Central, for his scripted project, Driven Thru.

Naomi Ekperigin
Naomi Ekperigin is a New York City-based actor, stand-up comedian, and writer who has appeared on VH1, MTV, and FX's Totally Biased with W. Kamau Bell. She has been published in The Hairpin.com, The Huffington Pot and VanityFair.com, and most recently worked as a staff writer on Season 2 of Comedy Central's hit show Broad City as well as writing and starring in the web series Everyday Scandal. In 2013, she was listed as one of "7 Reasons Why SNL Should Hire a Black Woman" on Buzzfeed.com and one of "* Black Comediennes Who Are Ready For SNL" by Essence Magazine.

Neil Hamburger
Neil Hamburger is America's $1 Funnyman. His unique brand of awkward comedy has made him a favorite of audiences around the world. He has toured as the hand-picked opener for Tenacious D, Tim & Eric, and Faith No More. He has appeared on TV shows ranging from Fox News' Red Eye to Tim and Eric Awesome Show Great Job!, Jimmy Kimmel Live!, and has worked extensively with Tom Green on his internet talk show, Webovision.

Ophira Eisenberg
Canadian-born comedian, writer, and actress, Ophira (not Ophelia!) Eisenberg is the host of the weekly NPR and WNYC trivia, puzzle, and game show Ask Me Another. She has appeared on The Late Late Show with Craig Ferguson, Comedy Central's Premium Blend and Fresh Faces of Comedy as well as VH1's Best Week Ever, among others.

Paul & Storm
Paul Sabourin and Greg "Storm" DiCostanzo are known internationally and across the Internet for their original comedy music (often with a "nerd-ish" bent.) In addition to their own live performances, they are co-founders of the geek-oriented variety show w00tstock along with Wil Wheaton and Adam Savage, and co-produce the JoCo Cruise. The duo's original webseries musical, LearningTown, debuted on YouTube's Geek & Sundry channel in January 2013. Their fifth full-length album, Ball Pit, came out in 2014, and was the central item of the duo's wildly successful Kickstarter campaign.

Puddles Pity Party
This YouTube sensation is the sad clown with the golden voice. Puddles Pity Party began his travels with a guest spot on the Aqua Teen Hunger Force Live tour, followed by performances in the incredible immersive theatre show Sleep No More in New York as well as starring in Seattle's Teatro ZinZanni. He has toured the US and Europe with esoteric rock band EELS, performed Austin's Moontower Comedy Fest, Montreal's Just for Laughs, Belgium's Gent Fest and the Edinburgh Fringe Festival.

Sean Patton
Sean Patton is a stand-up comic celebrating the beauty of the human flaw — specifically his own. Based in Los Angeles and New York by way of New Orleans, he began his career in the Crescent City and has since performed in comedy clubs across the US and Canada, as well as the Melbourne International Comedy Festival, Just for Laughs Chicago, Just for Laughs Toronto, and three times at Just for Laughs Montreal. He's also appeared on Comedy Central's Live at Gotham, Late Night with Jimmy Fallon, CONAN, and on Comedy Central's @Midnight. In 2013, he released his Comedy Central Half Hour Special. He's also appeared on IFC's Maron and Comedy Central's Inside Amy Schumer.

The Lampshades featuring Kate Flannery
Kate Flannery (AKA Meredith from NBC's The Office) and Scot Robinson (Anchorman) are America's favorite dying lounge act. The Lampshades is a night of original comedy and music featuring mash-ups like "Mandy/Brandy," "Doves In Your Soul" (Prince meets They Might Be Giants), and even a combo of Mr. Rogers and Marvin Gaye. Smart and sharp-witted, the Lampshades spin pop, rock, and lounge into pure gold while they unravel their amusingly tortured relationship on stage.

Northwest Comedy

Brett Hamil's Bundt Cake
Brett Hamil's Bundt Cake features Seattle's best standup comedy sprinkled with sketches, storytelling and videos. Like a cake, the form is instantly familiar but the ingredients can vary wildly. For this special Bumbershoot edition of the show, Hamil will be joined by Travis Vogt, Kevin Clarke, and Heather Thomson plus surprise guests.

Emmett Montgomery
Emmett Montgomery is a comedian/storyteller who was made in Utah but has lived in Seattle for most of the 21st century and been failing beautifully on and off the stage for over a decade. When he is not wandering the country telling jokes and falling in love with America, he produces local shows that focus on building community, pushing the limits of what it means to be a performer and celebrating the unique beauty of the city he lives in (Weird and Awesome with Emmett Montgomery, The Magic Hat) Mr. Montgomery writes jokes from his heart — which is usually full of hope but sometimes full of spiders.

Funny Over Everything
Funny Over Everything is a monthly series showcasing some of the best, most innovative up-and-coming stand-up comedians that the nation has to offer. This Bumbershoot show will feature standup by Sean Jordan and many others (to be announced) as well as solo sketch by Philip Schallberger.

Laugh Riot
Laugh Riot is comedy from the wondrous Northwest, curated and hosted by the dynamic bearded duo of Seattle Comedy, friends till the end, butter on butter, Derek Sheen and Ryan Casey. With Deep Cut YouTube Gold presented by Bettina McKelvey. Magic moments, rambling hosts, and a Loyalty Oath Sing-a-long.

Laughs Comedy Spot vs. Tacoma Comedy Club
See the best local comedy talent in the Northwest as Tacoma Comedy Club and Kirkland's Laughs Comedy Spot put the best local club comics head to head in a comedic battle for supremacy. Six comedians will enter the fray but only one will emerge a winner.

Monica Nevi
Monica Nevi is a young and talented stand up comedian and native of the Seattle area, having grown up about 20 minutes south in the glory that is Renton, WA. Her unique voice and youthful perspective paired with a jaded view of the world combine for hilarious observation and silly thoughts. Monica is one of the Pacific Northwest's hottest rising comedy stars and a drunk women once told her she was the funniest skinny white girl she had ever seen.

Rants Off / Dance Off
Rants Off / Dance Off is a comedy game show where comedians compete in a battle of vulnerabilities! Contestants offer their heated opinions on subjects both prepared and improvised, then — like ice cream to a habanero pepper so foolishly eaten whole — they sooth their raw nerves by dancing like fools. Winners receive little but pride and regrets. Great fun is had by all. Hosted by Whitney Streed with musical direction by Christian Ricketts, Rants Off / Dance Off has been seen around Portland and was a part of the 2015 Bridgetown Comedy Festival.

Seattle Super Secret Stand-up Show
The Seattle Super Secret Stand-up Show is a midnight comedy show that takes place the first Friday of every month in Fremont, with carefully selected local talent accompanied by national headliners and television star drop-ins. Hosts Monica Nevi and Mike Coletta (HugLife Podcast) look forward to this special Bumbershoot edition.

Radio LARP
Radio LARP is written by Seattle comedians Ryan Casey, Albert Kirchner, and Douglas Gale, presenting the very best in locally grown, drug-addled comedy radio plays. Their Bumbershoot installment is set in a Seattle filled with superheroes and villains where a new drug called Random has hit the streets. It can get you high, give you powers, or kill you. Super crime is on the rise. Can Red Sun, The Puncher, Tech Witch and The Cleric stop UMBRA? Come find out!

Solomon Georgio
Solomon Georgio is a finalist of NBC's Stand Up for Diversity, a regular performer at Bumbershoot and the Bridgetown Comedy Festival, and recently had his television debut on CONAN, followed with an appearance on Last Call with Carson Daly.

Super Famous
Kenzie Kenzington and Chloe Bluntzer-Hurst are the sole members of the University of Washington's most exclusive sorority, TRA. As a service to their community, the duo regularly hosts the hottest musical and comedy acts in town in their variety show, Super Famous. Their Bumbershoot appearance spotlights an important day for the pair — not only must they give a ground-breaking science presentation, they also must dominate the most important party of the year. Luckily Kenzie and Chloe are only capable of one type of success.

Tiny Baby Talk Show
Seattle Comedians Daniel Desrosiers and Daniel O'Connell started The Tiny Baby Talk Show in November of 2013 as a real, honest attempt at putting on a late night talk show. The show quickly evolved into what it is now: A live sitcom masquerading as a late night talk show. Drawing inspiration from the late Andy Kaufman, '90s sitcoms the show employs local actors and comedians to blend in with the audience to act as kind-hearted crack dealers, eccentric Southern billionaires, disgruntled Googlers, and even Daniel's family. The goal: to blur the lines of reality and fiction, leaving the audience wondering if what they saw was a series of well recovered mistakes or a methodically crafted script brought to life before them.

Words & Ideas

A Tiny Sense of Accomplishment with Sherman Alexie and Jess Walter
Sherman Alexie is the author of 24 books, winner of the National Book Award in Young Adult Fiction, the PEN/Faulkner award, the PEN/Malamud award and others. He lives in Seattle with his family. Jess Walter is the author of eight books, has been a finalist for the National Book Award in fiction and winner of the Edgar Allan Poe Award. He lives with his family in Spokane. Sherman and Jess are longtime friends and co-hosts of A Tiny Sense of Accomplishment. This will be a live taping of their popular podcast.

A.V. Club Live
Join A.V. Club staffers Joshua Alston, Marah Eakin, Katie Rife, Kyle Ryan, and John Teti for a freewheeling event that's part talk show, part game show, but all very A.V. Club. They will talk about pop culture, play games with the audience, and generally geek out, along with a few surprises.

Battle of the Word
Battle of the Word at Bumbershoot is the poetry competition of the year, with four of Seattle's poetry slam organizations competing against each other for the title of Seattle Battle of the Word Champions. Competing organizations are: Seattle Poetry Slam, RingSide Slam, Rain City Slam, Youth Speaks Seattle and UW's Poet to the People.

Live Wire with Luke Burbank
Live Wire is a live radio show that artfully blends unpredictable conversation, live music, and original comedy. The show features insight from writers, filmmakers, and thought leaders from around the country alongside music from both up-and-coming bands and established artists. Hosted by radio veteran Luke Burbank (Wait Wait, Don't Tell Me!, Too Beautiful to Live) and taped before a live audience, the show is broadcast on over 65 public radio stations across the country including Seattle's own KUOW.

Parenting with a Past (An Author Panel) with Michelle Tea and Jerry Stahl. Two writers discuss their journey from life on the edge to life as devoted parents. Michelle Tea is the author of multiple books and founder of Mutha Magazine. Her newest book is How to Grow Up: A Memoir. Jerry Stahl is a screenwriter and author. His newest book is OG Dad: Weird Shit Happens When You Don't Die Young. Presented by Seattle's Girl Friday Productions, A team of word-loving professionals that helps bring books, brands, and ideas to life.

Scary Feminist (An Author Panel) with Peaches, Chelsea Cain, and Mandy Statdmiller. Three iconoclastic women delve headfirst into sex, gore, and feminism. Chelsea Cain is a New York Times' best-selling artist of horror novels that turn the genre on its ear. Her newest book is One Kick. Peaches is a pop culture icon. Her latest project is the book What Else in the Teaches of Peaches. Mandy Statdtmiller is a writer and comedian. She is an editor at large at XOJane and is host of the News Whore podcast. Presented by Seattle's Girl Friday Productions, A team of word-loving professionals that helps bring books, brands, and ideas to life.

Why This? Why That? Why Now? moderated by Ijeoma Oluo
Ijeoma Oluo is a Seattle-based writer, speaker, and internet yeller. Her work on social justice issues has been featured in publications like The Stranger, NY Magazine, TIME, Matter, Seattle Globalist, and more. This year's topics include:

Why Hoaxing? Why Trolling? Why Now? From eggs on twitter to international fake-news organizations - we live in the age of internet trickery. What is behind the pranks, bullying, and abuse that are so common on the web - do they have the same motivations? What's the difference between a harmless joke and malicious abuse? Join this discussion on some of the most important debates on the internet today.

Why ASMR? Why Furries? Why Now? From whisper videos to animal costumes - the fetishes once practiced in secret are now publicly found on YouTube, chat rooms and in conventions. What are these trends really about? What is behind the rise in visibility of these fetishes? Does greater visibility bring greater respectability?

Why Satire? Why Hipster Racism? Why Now? From Tina Fey to Key and Peele, everyone seems to be poking fun at complicated world of race relations. While jokes and satire rise in popularity, so does a backlash against so-called "Hipster Racism." What is satire? What is Hipster Racism? Why is it so hard to tell the difference between the two these days?

Writers of Brooklyn Nine-Nine
Meet the writers of Fox's award-winning hit comedy Brooklyn Nine-Nine! Weeks before the premiere of Season 3, this team of hilarious writers take you behind the scenes of Brooklyn's 99th precinct, and answer your questions like only insiders can. Featuring Gabe Liedman, Tricia McAlpin, David Phillips, Laura McCreary, Matt O'Brien, and Lakshmi Sundaram.

Writing the Northwest (An Author Panel) with Timothy Egan, Brian Doyle, and Jamie Ford. Three award-winning authors discuss the role of place in their writing and how their disparate backgrounds influence their take on the Northwest. Timothy Egan is the Pulitzer-Prize winning New York Times Northwest correspondent. He is the author of seven books, including The Big Burn. Brian Doyle is the editor of Portland Magazine and the author of Mink River. His newest book is Martin Marten. Jamie Ford is the New York Times' best-selling author of Hotel on the Corner of Bitter and Sweet. His newest book is Songs of Willow Frost. Presented by Seattle's Girl Friday Productions, A team of word-loving professionals that helps bring books, brands, and ideas to life.
Sponsored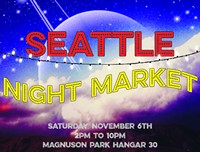 Shop, snack and booze your way through 75+ local shops & retailers. 21+ with vaxx or negative test