Sponsored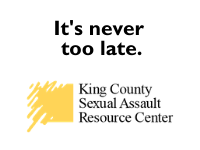 Free, confidential, inclusive support and information about sexual assault is available 24/7
The line for coffee at the Ballard location of Bauhaus Books and Coffee has reached the door most of the morning, just as it does every day. The cafe is bustling and full of people typing away on laptops and parents with their small children, all of whom seem to be regulars. It feels like a typical day, except that before leaving, instead of waving good-bye, customers are hugging their baristas, taking photos of them with their babies, and saying, in voices cracking with emotion, things like "Bye...forever" and "Love you guys. I'm going to miss you so much."
Earlier this week, the Capitol Hill and Green Lake locations of Bauhaus closed abruptly and without warning, the announcements made via notes taped on the front doors. On Sunday, the Ballard cafe will close forever.
Katie Gower, a barista who has worked at the cafe since it opened in October 2013, said employees here were told on Wednesday that the cafe would be closing this weekend. "I haven't had a negative reaction yet, but obviously I'm still processing," she said, gesturing to her T-shirt that reads, "Fuck you, you fucking fuck."
"It sucks, but at least we have a few days to say good-bye. The employees at Capitol Hill and Green Lake didn't have any warning," she said.
Jasmine Morse, the cafe's interim manager, said on Tuesday night she was told that while the other two Bauhaus locations were closing, management would be trying to keep the Ballard spot open. But she added, on Wednesday, Bauhaus owner Joel Radin came in and broke the news that they would also be shuttering.
Morse says she was told that "overall financial difficulties" are the reason for the closures, but was not given any more specifics. Radin, who also owns Ballard's Zayda Buddy's Pizza & Bar, has not responded to multiple requests for comment. According to the employees here, Zayda Buddy's will also be closing permanently on Sunday.
Diana and Ford Waterstrat, longtime Ballard residents who live just a few blocks away, have been coming to Bauhaus almost everyday since it opened. They said they're concerned with the fate of Bauhaus employees, many of whom they have gotten to know and love.
"They have the most wonderful people working here. They are so welcoming to everybody, even well-behaved dogs," said Diana. "So whoever [manager or owners] managed to hire such a great group of people, at least they did a good job at that."
"They make the effort to really get to know you. It's a big loss for the community," Ford added. "And for these wonderful people to lose their jobs right before Christmas—that's even worse."
Before leaving, the Westerstats hugged Gower, Morse, and their co-worker Brandon Green, then wrote down their email addresses so they could stay in touch after Bauhaus closes. Gower called out to them as they walked out the door.
"Love you guys! See you when I see you."