Seattle police have just roped off a crime scene on Pike Street on Capitol Hill around a gray BMW sedan without license plates, after a parking enforcement officer noticed a dead body sitting in the front seat. A police officer minding the scene said the car has been there for "at least" twelve hours. An employee of the thrift store in the photo told me she noticed the man sitting in the car this morning on her way into work, but didn't notice whether he was alive or dead.
More info as we get it.
UPDATE: The person in the car is appears to be a middle-aged black man. Earlier, police held up a cover to try to block bystanders' view of his body.
UPDATE Thursday 10 a.m.: A spokesperson said police suspect the man, a 31-year-old resident of the Seattle area, died of an overdose. It will be up to the King County Medical Examiner to determine what drugs were involved and to release the man's identity. The vehicle had temporary tags, in lieu of license plates, meaning it was properly licensed.
Sponsored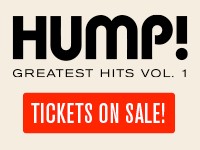 What are YOUR favorite HUMP! films? Start with HUMP! Greatest Hits, Volume One! Relive the memories!