The Washington Ensemble Theater really wanted to produce The Motherfucker with the Hat, a Tony award-nominated play by the Pulitzer Prize-winning playwright Stephen Adly Guirgis. But before the company did anything, they asked themselves a question: "Are we the right people to tell this story?" Their answer, says WET's co-artistic director, Ali el-Gasseir, was: "Not alone."
El-Gasseir said he was attracted to Guirgis's material because it was "dangerous," and WET's attracted to danger, within the context of theater standards, at least. You can expect someone to get naked at a WET show, a promise they'll keep with this production. Foul mouths abound. Weird reigns.
But as a company, WET is largely white, and as a play, The Motherfucker is largely not. The play centers on a love triangle between a Puerto Rican couple and their friend Ralph D, who was played by Chris Rock when it premiered on Broadway. The Broadway show was well-received, but other productions of this play have been criticized.
Back in 2012, Guirgis, a New Yorker whose dad is Egyptian and mother is Irish-American, got pissed at TheaterWorks, a company in Hartford, Connecticut, for casting two white leads in The Motherfucker. He made his pissed-ness public on Facebook, writing: "In Hartford Connecticut, the mayor is Puerto Rican. But in TheaterWorks production of my play in Hartford – the 2 lead Puerto Rican characters are played by white actors. The play was cast in NYC & Conn, and if you look at the [cast] breakdown here, you will see that not only did they not cast Latinos, they didn't even seek Latinos for the 2 Latino leads!!!"
It turned out that the director for that production, Tazewell Thompson, who's black, had pre-cast the play using a few former students. Guirgis explained his position a little more directly on Facebook: "Latino actors were willfully denied the opportunity to audition and play the roles that were explicitly written for them in my play. This was not an 'artistic choice' to go white and younger with these roles—and if it was, it was a terrible, exclusionary choice that goes directly against the logic of the script."
WET took a decidedly different tack than TheaterWorks did, both with regard to casting and production. They reached out to Rose Cano of the Latino theater company eSe Teatro and to Stranger Genius Winner Valerie Curtis-Newton of the Hansberry Project, whose mission is to support the work of black theater artists. Curtis-Newton is directing the play, and eSe Teatro helped get the word out to Latino actors about auditions. Actors of Latino descent were cast in the two lead roles for this production.
A couple days ago, I sat down with representatives for all three companies and had a big ol' conversation about how the collaboration has been working out.
El-Gassier told me that he's been frustrated with the conversation about "having conversations" about racial equity in Seattle theater. He wants to have that conversation through collaboration: "We're artistic producers," he said. "Let's stop talking. Let's do something."
He said the decision to work with ese Teatro and the Hansberry Project had less to do with conveying "authentic" Nuyorican experience onstage—as if any one play could tell the definitive experience of Puerto Ricans in New York—and more to do with WET's goal to make good art. "It's about potency and vitalness," he said. "This play is more potent and vital" with Curtis-Newton and eSe Teatro involved.
Samie Spring Detzer, the other co-artistic director at WET, whole-heartedly agrees. "First and foremost, it's an honor [to work with eSe Teatro and Curtis-Newton] because they're incredible artists and they do beautiful work," she said.
Rose Cano, artistic director for eSe Teatro, said that her company didn't feel as if they were being used as "authenticators," which she described as a phenomena where Latino artists are invited to make contributions to a show or to speak on a panel after a show in order to lend the whole process an air of "authenticity," because they'd been discussing the partnership even before the play was selected. "It's been a thoughtful and premeditated process," she said.
If there's one thing that these three companies seem to be striving for, it's putting more people of color in positions of power in Seattle theater. Detzer said it was important for WET to bring in artists of color early on in the artistic process, arguing, "Even if we could get every Puerto Rican actor we wanted in this play, it wouldn't mean the same if we didn't have decision-makers in place to speak to the experiences of people of color and to create a culture of inclusivity in the rehearsal room."
Anna Lamadrid, the actor who's playing Veronica in The Motherfucker, affirmed this notion for herself, at least, and described "a feeling of safety" when working with Curtis-Newton. (Incidentally, Lamadrid claims she raced to an audition for the contentious TheaterWorks production, but missed the call time by just ten minutes.)
I asked director Curtis-Newton to recall a specific moment in the process of creating The Motherfucker where she or someone else learned something about race and theater-making. She pointed to a warm yellow wall and said they just had a conversation about the manifestations of culture in design. "Does a Puerto Rican apartment look different in any way?" she asked, which led to a conversation about culture as well as aesthetics.
But no one was really making any big claims one way or the other about what this collaboration "means." Curtis-Newton frames the collaboration with WET as a first date. "It hasn't been overly strategized, but more 'Let's just do this and learn as we go.'"
Cano and Detzer, though, both see this collaboration as an artistic growth model for small, independent theater. "We're already sharing about our work and talking about collaboration in the future," Cano said. "Ideas are bubbling, which is always good for the artists. In a sense, we are forming a brain trust and a culture trust." This model, Detzer told me, is one she hopes will be repeated in the theater world at large.
This collaboration between these small companies is good for Seattle theater and audiences. Having more people of color in positions of power enriches the art with voices that Seattle needs to hear.
What particularly interests me about these companies isn't only their focus on representation, but also their commitment to incorporating—in systematic ways—questions about how constructions of race and identity inflect performances. In other words, to constantly be thinking, at every step in the creative process, about what kind of worlds they're creating and for whom.
At this point, it seems like the kinds of conversations happening at WET, eSe Teatro, and the Hansberry Project should pretty much be the standard.
Sponsored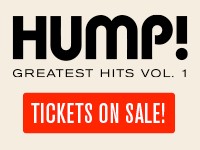 What are YOUR favorite HUMP! films? Start with HUMP! Greatest Hits, Volume One! Relive the memories!