(Once in a while, I take a new book with me to lunch and give it a half an hour or so to grab my attention. Lunch Date is my judgment on that speed-dating experience.)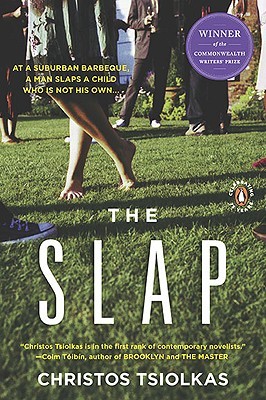 Who's your date today?
The Slap
, by Christos Tsiolkas.
Where'd you go? The 5 Point Cafe.
What'd you eat? Cheesesteak sandwich with tater tots ($10.50.)
How was the food? I always used to bring new Seattleites to the 5 Point. I think it's a civic treasure. And so I was nervous about the 5 Point's new management maintaining the greasy vibe of the place. This was a greasy steak sandwich, in the best way possible. Nothing fancy, just steak and cheese and peppers and onions on a white roll. I was experimenting with the tater tots; they were fine and very McMenamins-y, but I'll stick to the 5 Point's fries in the future. It was the heaviest lunch I've eaten in ages, but I'm pleased to report that the food at the 5 Point is good in the same way it's always been good.

What does your date say about itself? It's a paperback original novel by an Australian author whose cover text sums up the plot pretty well: "At a suburban barbecue, a man slaps a child who is not his own..." The author will be reading in Seattle this Friday with Sherman Alexie.
Is there a representative quote? Here's the opening bit: "His eyes still shut, a dream dissolving and already impossible to recall, Hector's hand sluggishly reached across the bed. Good. Aish was up. He let out a victorious fart, burying his face deep into the pillow to escape the clammy methane stink."
Will you two end up in bed together? You have to be in the mood to read about a suburban group of friends who have differing opinions about child-rearing, but I'm liking The Slap so far. Tsiolkas's writing voice is plain-spoken and his characters are rounded. It's got a little bit more of a languorous pace than I prefer in my domestic novels, but I'm definitely going to keep at it.