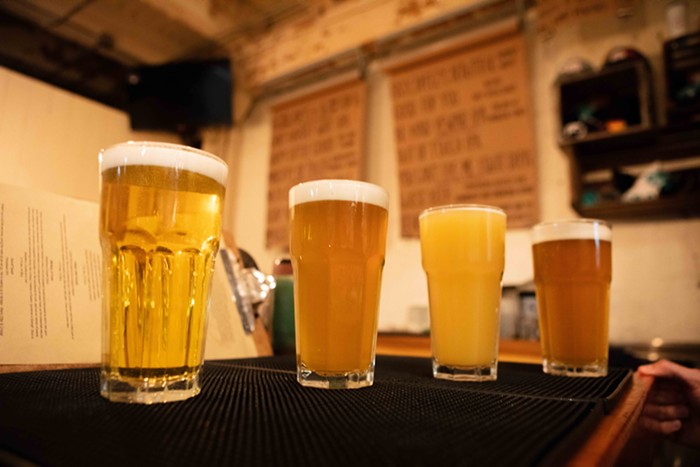 The first
wet hop beer
of the season is usually a disappointing experience for me. The first batches of fresh hops are almost never the season's best and that first pint often doesn't live up to my expectations, after waiting ten months to try these delightfully seasonal beers.
That wasn't the case this week when I drank some of Cloudburst Brewing's A$ap Hoppy, a beer conditioned on wet centennial hops that tasted like someone squeezed the essence of watermelon into a glass. Not a hint or a note of watermelon, an overwhelming aroma and flavor like I was eating the fruit's red flesh.
Centennial hops are like the dad-rock of hops. They're a heritage brand. They are not known for giving exciting fruity notes like watermelon, they're known for making the somewhat mediocre IPAs of the 1990s. Getting watermelon out of centennial hops is like hearing an interesting Black Keys album—you just don't expect it.
A$ap had that classic fresh green feeling of a fresh hop beer, with herbal notes of dill or something on the edges. But then back to watermelon. A$ap isn't even really a full fresh hop, it is conditioned on fresh, uncured hops but not actually brewed with them, but Cloudburst's Steve Luke has found a way to make an exciting beer with this quick fresh hop formula.
That's not surprising, given Cloudburst is the best hop-forward brewery in the city. I wasn't even at Cloudburst on Thursday specifically for the A$ap, I was there to try to Toppenish Select, a new single-hop IPA that was a collaboration between Cloudburst, Holy Mountain Brewing, and Stoup Brewing. That's like a greatest hits list of Seattle breweries and Toppenish didn't disappoint. Brewed with a new experimental hop called HBC 360, this collab IPA had notes of tangerine and grapefruit and finished with the bitter finish of a West Coast IPA.
Cloudburst was also pouring a collaboration IPA made with Modern Times, a San Diego Brewery that is one of the trendiest American breweries at the moment. The two breweries made Be Kind Rewind, an IPA made with citra, NZ cascade & motueka hops. This is one of those modern IPAs - instead of bitter and clear these beers are hazy and gentle on the palate. Without any biting bitterness these beers come across sweeter and more like fruit juice.
Be Kind Rewind was soft and pillowy and had a fruity aroma, with notes of blueberry. It almost had a creamy feeling to it, which stood in stark contrast to Cloudburst's more classic Toppenish Select IPA. Good hop-forward breweries like Cloudburst have a way of doing this, showing how hop aromas and flavors can be presented in a vast multitude of ways. When someone says "I don't like IPAs because they're too hoppy" they're making a statement that sounds specific but is actually so general it's meaningless. Do you mean the bitterness of the Toppenish Select or the Watermelon of A$ap Hoppy? The soft creamy and fruity juiciness of a modern IPA, or the snappiness of a Cloudburst's hoppy pilsner, Happy Little Clouds?
Saying you don't like hoppy beers makes an assumption that you even know what the limits of hoppy is. I certainly don't, but I always seem to find a new way to enjoy something hoppy at Cloudburst.