There's a storytelling technique variously referred to as "pet the cat," "save the dog," or—if you want to go more niche—"praise the hamster." The idea is to give your audience a sense of your main character as soon as possible. Writers can cut to the chase by showing a protagonist being kind to animals (or, in the case of House of Cards, strangling a dog to death).
Alas, I was a little bummed by some of this week's new comics. Two I had high hopes for could've used a little more kindness toward animals. Oh well! Better luck next time, cats!
BROTHER OF ALL MEN ISSUE #1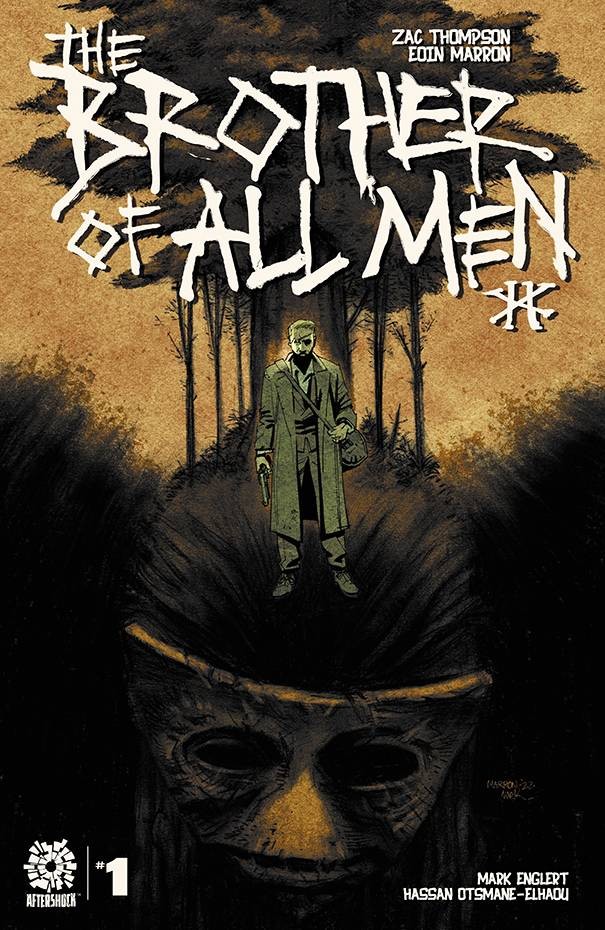 If film noir had been invented 30 years earlier, this grim post-World War I mystery would be a suitable fit for the genre. A bitter ex-soldier has been hired to track down a missing woman, and the clues lead him to a reunion with a figure from his past, amid a sinister, cultish setting. Growls and hard-boiled monologues are plentiful, but don't expect to get to know anyone: Poetic tough-guy voiceover keeps the reader at a distance. It's appropriate our hero wears a mask to cover a war wound. Clearly vulnerable, the exact nature of his vulnerability remains hidden, at least in this first issue. The central mystery of the book is solid, but the vague characterization adds an unintentional mystery on top. Who the hell are these people?
Rating: 👂👂👂(3/5)
Writer: Zac Thompson. Artist: Eoin Marron. Colorist: Mark Englert. Letterer: Hassan Otsmane-Elhaou. Alt covers: Eoin Marron, Hayden Sherman, Tonči Zonjić. Logo: Tom Muller. Backmatter designer: Charles Pritchett. Editor: Christina Harrington.
Publisher: AfterShock.
ROGUES' GALLERY ISSUE #1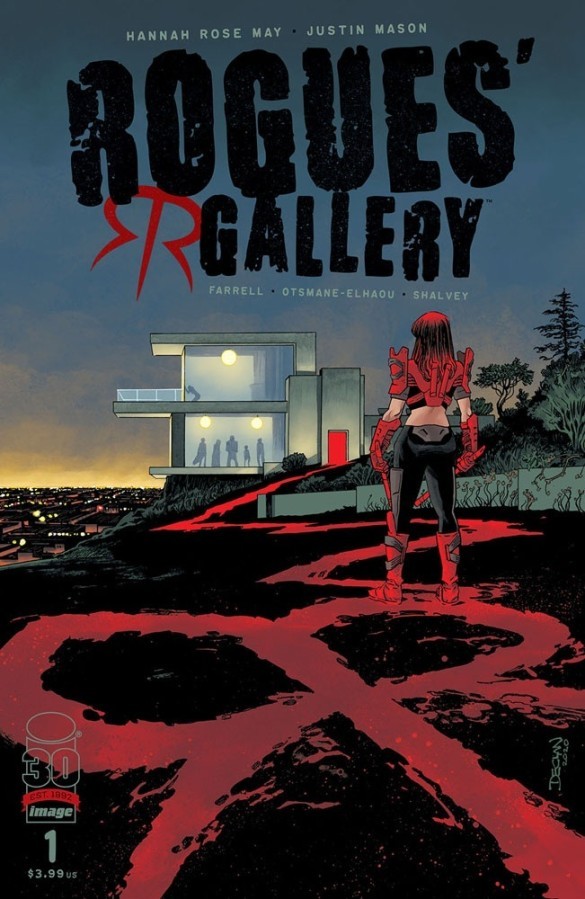 A group of toxic comic nerds plots to reclaim their beloved franchise from the celebrity star of its television adaptation in this bizarre navel-gazer. If you ever wanted to eavesdrop on a group of opinionated teenagers, you're in luck. But plot beats only appear in short spurts, mostly in the last couple of pages. Aside from the occasional punctuation mark of action, we mostly spend our time paging through surly dweebs upset about an in-universe fandom. I'm not saying it would be much more enjoyable if they were talking about Captain Marvel or whatever, but the fact that their angst is over a fictional franchise makes it particularly difficult to share their urgency. On top of that, the whininess of the core cast is as grating as any Twitter conversation that would have most people reaching for the block button. Often when I read comics, I find myself paying attention to unanswered questions the story elicits. In the case of this one: Why am I still here?
Rating: 📖📖 (2/5)
Story: Hannah Rose May & Declan Shalvey. Writer: Hannah Rose May. Line artist: Justin Mason. Color artist: Triona Farrell. Letterer: Hassan Otsman-Elhaou. Design: Fonografiks. Production: Erika Schnatz. Editor: Heather Antos. Alt covers: Declan Shalvey, Tula Lotay, Justin Mason & Triona Farrell.
Publisher: Image.
ALSO: SOMEONE REALLY SHOULD TIDY UP THIS DUNGEON
A young woman searching for lost family gets a job as a caretaker for a dungeon in the delightful Dungeon People. Oni has a new horror series rolling out with Blink. And Marvel has some engaging new stories coming out in Judgment Day (the big bummer blockbuster that smashes together X-Men, Avengers, and Eternals); a new Shang Chi by the great Gene Luen Yang; and the very '90 Defenders Beyond.