Pacific Northwest Ballet closed out its 50th season with a bang: one gorgeous, sweeping stage debut and two high-octane world premieres full of sparkle and spectacle. 
The lighting, costumes, and fresh choreography were stunning (for the most part), but it was the skill, swag, and sheer athleticism that PNB's dancers displayed on opening night that left me with the sense of a company entering a new era of excellence, one defined by diversity, experimentation, and some old-fashioned razzle-dazzle. The show, aptly titled Worlds to Come, runs through June 11, and you should reserve your tickets now. 
Edwaard Liang's The Veil Between Worlds kicked off the evening with a gorgeous flood of color and fluid movement as a huge silk sheet billowed around a dancer before catching some air and flying off the stage. The audience marveled in wonder as the sheet gave shape to the air, rendering the invisible visible but only momentarily—you know, like a veil between worlds.
It's the kind of beauty that finds its truest expression live, onstage, rather than in the digital confines of a computer screen, where this dance first premiered, and it did not disappoint. Every time that sheet floated around onstage, it recalled an upscale version of that plastic-bag-in-the-wind scene from American Beauty, or the joy that swells the heart of a kindergartner when the gym teacher hauls out the playground parachute for class. (Did Gen Z play with parachutes in gym class, or did the powers that be kill that practice?) Anyway, the point is: kudos to scene and costume designer Mark Zappone for that pretty silky sheet and the matching rompers, which made the dancers look as if they were wrapped in some desert wind.
Throughout the performance, the dancers darted around a sunset sky like swallows as the soaring violins in Oliver Davis's score reached for the heavens.
One big highlight here included principals Elle Macy and Dylan Wald stepping off their marble pedestals to perform an exquisite duet. Wald made Macy look weightless as he executed slow-motion lifts and drops, and she demonstrated her trademark strength, control, and awareness throughout.
Another highlight: any time principal dancer Jonathan Batista took the stage. If everyone else was doing their best impression of the wind, he was a lightning bolt electrifying the air with his crisp, clean lines and his infectious energy.
After the (almost sickly) sweet and sweeping opener, the stage filled with dancers done up like elegant scarab beetles for the world premiere of Annabelle Lopez Ochoa's Khepri. Dark but not overdramatic, playful but not silly—this was easily my favorite ballet of the night.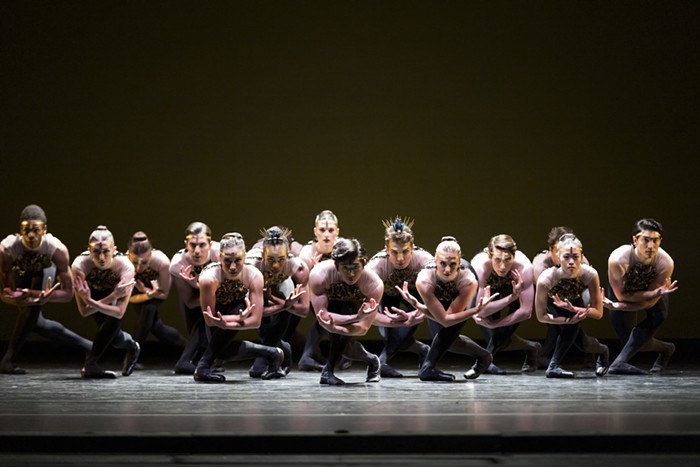 Though the program claims Ochoa took inspiration from the aesthetics of ancient Egypt, the music—which included selections from Karl Jenkins, Georgs Pelēcis, and Lisa Gerrard—sounded so much like the score from Succession that I couldn't see it as anything but an extremely well-timed homage to the recently wrapped television series. 
And it wasn't just the music! When the dancers weren't gathering to create creepy-crawly bug colony pyramids (see this post's lead photo, for example), they were basically squaring up in a series of dance-offs that echoed the peacocky power-drama in the show's boardroom battles. 
Those whose brains remain unmelted by prestige television will nevertheless appreciate the duet between corps de ballet dancer Ashton Edwards and principal dancer Lucien Postlewaite, which was probably the best moment of the night. Though I'm not family, I got word from a reliable source that Pride month did not officially begin until Edwards leapt onstage and started spinning like a top with Postlewaite's support. I mean, here's a taste from rehearsals:
Postlewaite's rocksteady danseur role combined with Edwards's vim, vigor, hips, hops, poise, and power made for one of the more thrilling pairings I've seen at McCall Hall. Their duets were so good they nearly overshadowed truly tremendous performances from principals Elizabeth Murphy and James Kirby Rogers, who nailed a bunch of inverted holds, flips, tumbles, and a slew of challenging steps as if they were nothing.
Special shoutouts go to corps de ballet dancer Kuu Sakuragi, whose explosive presence onstage enlivened both this piece and Liang's opener, and also to soloist Madison Rayn Abeo, who hit some impressive jumps. I would have watched this crew perform this ballet all night if they would have let me stay. 
In ...throes of increasing wonder, PNB Artistic Director Kiyon Ross asked, "What would happen if a gift bag burst into a ballet?" The answer was an explosion of color and an exuberant march of duets that had the dancers showing off big leaps and dizzying turns.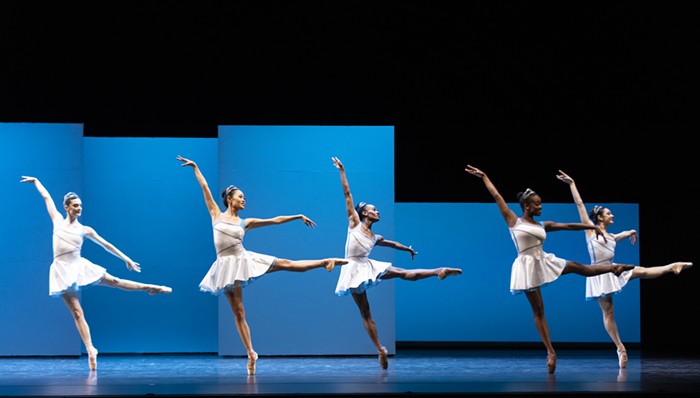 Principals Angelica Generosa and Jonathan Batista teamed up with soloists Ezra Thomson and Sarah-Gabrielle Ryan to turn in remarkable performances. Generosa continues to add flair and filigree to her technical mastery; Thomson continues to bring his quick, strong, meticulous step; Ryan's stage presence and skill continues to amaze and mesmerize; and we've already discussed Batista's electromagnetism, so I won't dwell any longer! Though I will say the duet with principals Lesley Rausch and James Kirby Rogers reminded me why I don't want her to retire this year—textbook precision and effortless grace, an absolute swan with the ability to whirl like a dynamo in a flash.
Ross's piece didn't just close out PNB's season on a big, bold, celebratory note—it gave the dancers a chance to strut their stuff, leaving me and the rest of the audience champing at the bit for next year's productions. An end that points to new beginnings—or, if you will, Worlds to Come—is about the best birthday gift you could ask for. Here's to another 50 years, at least. Cheers!