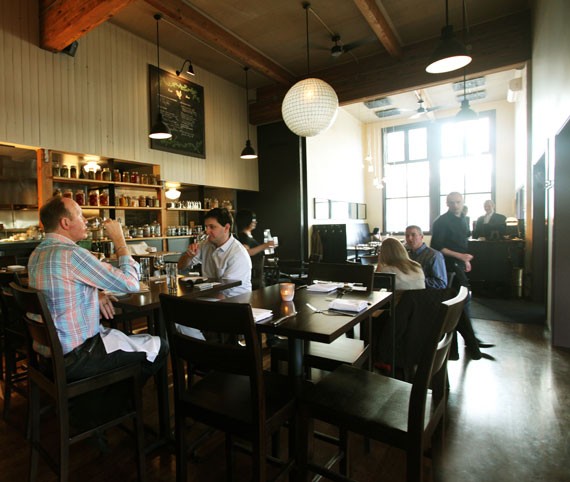 Kelly O
Delta Airlines and VICE Media have partnered up to present Delta Launchpad, a multi-city, multi-day "consumer experience for aspiring entrepreneurs" centered around our city's food culture. With stops in New York, Los Angeles and Seattle, the program is designed to bring together local influencers and aspirants for an interactive glimpse into what it takes to be a food blogger, coffee roaster, brewer and more. Most events are free, so check out the full lineup below and RSVP to the event of your choice.
How to Open a Restaurant (August 8, 5-6 pm): Join food blogger Fadia Kader, speakers Chef Ethan Stowell, Skillet Founder Josh Henderson and Starbucks Director of Global Coffee Traceability Arthur Karuletwa to discuss best practices on getting started.

Coffee Workshop (August 9, 1-3 pm): Learn about the process of coffee roasting and more with coffee farmer Edwin Martinez and Starbucks Director of Global Coffee Traceability Arthur Karuletwa, as well as La Marzocco and Victrola Coffee Roasters.

Seafood Workshop (August 9, 5-6 pm): Take a hands-on seafood workshop with celebrated local chef Renee Erickson.

Beer Workshop (August 9, 7 pm): A tasting and food pairing workshop hosted by No Anchor Bar.

Sustainability Workshop (August 10, 5-6 pm): Join food scientist Maxime Bilet for a presentation on the connection between technology and food.
Food Truck Workshop (August 11, 3-4 pm): Sample bites from Skillet, Marination, Bread and Circuses and more during this workshop on starting a mobile food business.

The Future of Farming is Female (August 11, 5-6 pm): Meet LinYee Yuan, Founder and Editor of Mold, the "first magazine about the future of food". She will also be joined by local female farmers who will discuss their experiences.
Found something you like and don't want to forget about it later?
Just click "Save Event" on any event page to save it to your own private list.
Event Times
This event is in the past.
Category