Crocodile Belltown
Mon Aug 13, 7 pm All Ages
$15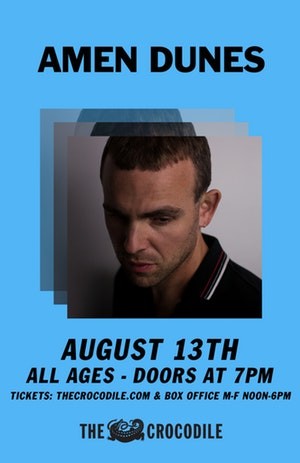 The cover of Amen Dunes' fine new album, Freedom, features Damon McMahon looking more like a buffed and polished Supercuts model than the unruly acid-folk maestro of yore. But the odd textures unique to his singular project remain in glorious evidence. Over five studio albums, most on Brooklyn's ever-tasteful Sacred Bones, the New York artist croons and moans like a more guttural Alan Vega—or a slightly subdued Chris Knox—over pulsing, galloping, echo-laden backdrops. This time around, his lyrics take on an especially nostalgic cast in light of his mother's passing, but the vibe is more reflective than funereal.
Weather Advisory: Due to extreme Seattle weather, events are subject to change or cancellation. We're doing our best to keep up with changes, but do consider double-checking event websites.
Event Times
This event is in the past.
Category