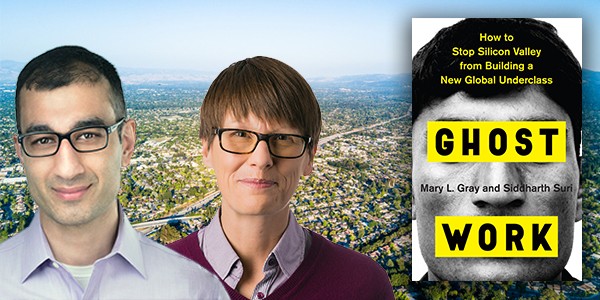 "Hidden beneath the surface of the web, there is an unseen workforce of proofreaders, designers, and content watchdogs who make the internet seem smart. Co-authors Mary Gray and Siddharth Suri take the stage to shine a light on these laborers in Ghost Work: How to Stop Silicon Valley from Building a New Global Underclass. They assert that companies like Amazon, Google, Microsoft, and Uber depend on the judgment and experience of this vast, invisible human labor force—yet despite their necessity, these workers usually earn less than minimum wage, have no health benefits, and can be fired at any time for any reason, or none. Gray and Suri introduce us to the people who make up these latter-day assembly lines: harried young mothers, professionals forced into early retirement, recent grads who can't get a toehold on the traditional employment ladder, and minorities shut out of the jobs they want. Join Gray and Suri for an exposition on 'ghost work,' and a discussion on the ways we can ensure that this new kind of work creates opportunity—rather than misery—for those who do it." (Promo Copy)
Found something you like and don't want to forget about it later?
Just click "Save Event" on any event page to save it to your own private list.