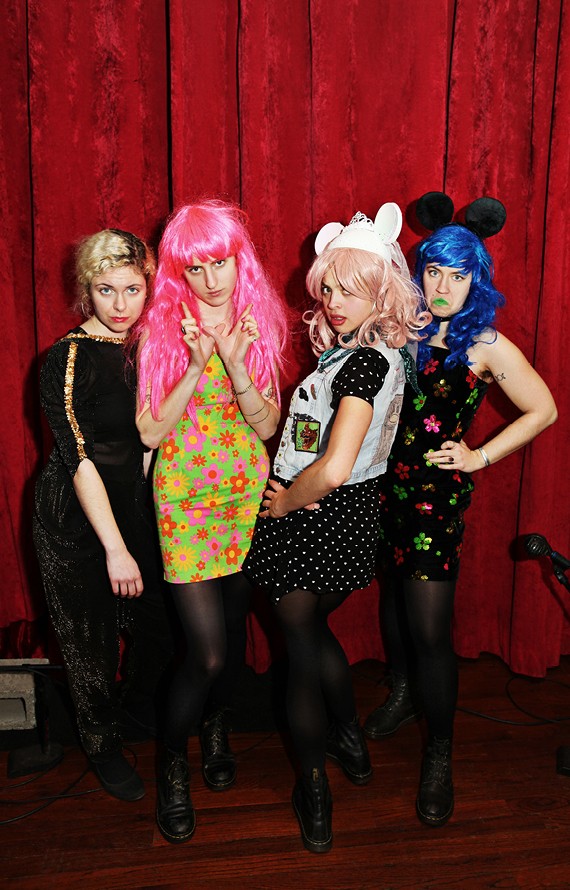 Brat-punk, in the most endearing sense, is probably the best way to describe one of Mommy Long Legs' newest songs, "Assholes." The gleeful lyrics: "You can take your money and put it in your asshole! / You can take your condo and put it in your bungalow!" Like so many bands, they can't help but be concerned with Seattle's changing economy, and their songs become mini-anthems of anticlassism. Their feminist super-chants are cleverly veiled inside songs like "Weird Girl," "Haunted Housewives," and "Catcallers."
Members Lilly, Cory, Melissa, and Leah have been playing together for a little over a year, but they're making waves, getting hearty hoorays for their first album, Life Rips, and their new EP, Assholes, from reviewers like MTV News and Vice's Noisey (in an article that included Mommy Long Legs called "Forget Flannel: Seattle's New Artistic Hope Is Its Feminist Punk Scene"). While that "flannel" reference might be tired and old, Mommy Long Legs are anything but.
Mommy Long Legs play El Corazón on February 13. And in March, they'll get in their minivan (Handsome Vansome) for a West Coast tour with the band Boyfriends.
Sponsored

Back by popular demand, Dan answers your burning relationship questions live on Zoom!