It sounded crazy: Mere weeks away from the release of All the Money in the World, director Ridley Scott decided to erase every trace of Kevin Spacey from his movie following disturbing allegations of that actor's sexual assault and harassment. Scott quickly refilmed large sections with Christopher Plummer, who replaced Spacey in the role of J. Paul Getty, founder of Getty Oil and one of the richest men of the 20th century.
I can see why Scott went to such extremes. He knew he was sitting on top of a taut, exciting thriller about the 1973 Italian kidnapping of Getty's grandson, John Paul Getty III, and damned if he was gonna let Spacey torpedo it. That Scott pulled off the switcheroo relatively seamlessly is an achievement unto itself; that All the Money in the World works on its own merits is another altogether.
It's likely a different movie than it would have been. In early previews, Spacey seemed to be playing up his intrinsic nastiness to amplify the hardheaded cruelty of Getty, who notoriously refused to pay his grandson's ransom. Plummer, on the other hand, can't help his intrinsic charm, and his version of this historic bastard is more sympathetically nuanced. (Late in the film, there's a development regarding Getty's character that seems to come out of nowhere—perhaps the only lingering evidence of what ended up on the cutting room floor.)
The rest of the time, All the Money in the World is as fun to watch as a lit fuse. The story primarily focuses on Paul III's mother, Gail (Michelle Williams), who teams up with Getty's security man, former CIA agent Fletcher Chase (Mark Wahlberg), to negotiate with the Italian kidnappers. The script adroitly handles themes of money and family, and Scott's virtuosic skill in building suspense serves him well in a handful of excellent, nail-biting sequences. This thing should have been a disaster. In Scott's hands, it's anything but.
Sponsored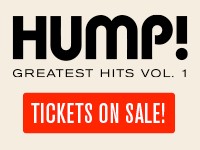 What are YOUR favorite HUMP! films? Start with HUMP! Greatest Hits, Volume One! Relive the memories!