Remember to be grateful for the little things. It's hard, I know—America's a cesspool, our democratic process has been decimated by Twitter eggs, and the reigning party seems depressingly intent on protecting child murderers. But on the upside: Sharon Horgan, the hilarious Irish actress from Catastrophe, has a small part in a halfway decent, big-budget Hollywood comedy! And so does Lamorne Morris, who was the only part of New Girl that didn't make you want to stab your eyes out! And hey, there's Kylie Bunbury, who was terrific in Pitch, that short-lived, kinda okay TV show about the woman baseball pitcher!
They're part of an overachieving supporting cast that makes the perfunctory Game Night a much better movie than it should have been. Outliers like Girls Trip and The Big Sick notwithstanding, the comedy-movie genre is probably in its worst shape ever, so when Game Night achieves the bare minimum—making you laugh—it's downright refreshing. The plot, not that it matters, involves Jason Bateman and Rachel McAdams and a group of friends trying to solve a puzzle mystery that may or may not include Bulgarian gangsters, Fabergé eggs, and the kidnapping of Bateman's brother (Kyle Chandler). Is it all a game? Is any of it real? I 100 percent guaran-fucking-tee you will not care.
What makes Game Night not totally horrible is the aforementioned supporting cast, which also includes an amazing performance from Jesse Plemons, who never lets go of a Westie Terrier. And the ridiculously likeable McAdams proves yet again she's the Meryl Streep of her generation. Look—Game Night isn't worth a lot of deep thought, and it's not going to provoke any type of cultural conversation. Hell, it's probably not worth this 300-word review! But it's got some laughs, and that feels like a lot right now.
Sponsored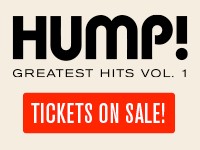 What are YOUR favorite HUMP! films? Start with HUMP! Greatest Hits, Volume One! Relive the memories!