I've never been a parent or a junkie (yet!), but I found a lot that resonated in Beautiful Boy, a low-key film based on a pair of interconnected memoirs from father and son David and Nicolas Sheff.
It's a narrative that could have easily been filled with blame and recrimination—not to mention a lot of slammed doors, teary shouting, and woozy Velvet Underground songs—but director Felix Van Groeningen (The Broken Circle Breakdown) isn't interested in making something visceral or edgy.
He's instead chosen to unspool the Sheffs' story with frankness and compassion, and that makes Beautiful Boy the type of movie that asks questions rather than prescribing answers. Even during its most sentimental moments, it lets the viewer decide how to feel.
There's not much to it: David (Steve Carell) chews himself up over son Nic's (Timothée Chalamet) spiral into meth and heroin addiction, asking what he could have done to prevent it and wondering how he can fix it. Nic, meanwhile, copes with not only his body's betrayal but with the disappointment he feels, both self-directed and from his patient, confused father.
The movie itself is careful to not adjudicate or assign any blame: From Beautiful Boy's perspective, Nic is really only guilty of having a curious mind, while David, a good father in every recognizable way, might have simply waited too long to show his beloved son some tough love.
The performances make the whole thing sing. Carell and Chalamet both do expectedly good work, and they're matched by Amy Ryan as Nic's mother and Maura Tierney as his stepmother.
Beautiful Boy is driven by the real-life horror of watching a loved one succumb to drugs, but it's a family drama devoid of most of the genre's manipulative qualities, substituting them with honesty, empathy, and fully drawn human beings.
Sponsored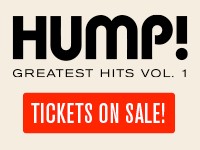 What are YOUR favorite HUMP! films? Start with HUMP! Greatest Hits, Volume One! Relive the memories!