Arriving a week before Thanksgiving, Widows is an overflowing plateful of entertainment, piled high with juicy plot, buttery performances, and plenty of sweet genre pie. It's a mash-up of pulp and prestige that shouldn't work well on paper, but plays out tremendously well on-screen.
Director Steve McQueen (12 Years a Slave, Shame) cowrote the twisty script with novelist Gillian Flynn (Gone Girl, Sharp Objects), and while the interconnected webs of Chicago's crime underworld and its racially charged local politics contain more than enough intrigue, the performances are what'll grab you.
I mean, just look at this cast: Harry (Liam Neeson) leads a crew of career criminals (including Jon Bernthal and Manuel Garcia-Rulfo) in a heist that goes disastrously wrong, leaving their widows Veronica (Viola Davis), Linda (Michelle Rodriguez), and Alice (Elizabeth Debicki) with a serious problem when crime boss Jamal Manning (Brian Tyree Henry) and his enforcer brother Jatemme (Daniel Kaluuya) demand they return the stolen money.
Meanwhile, Jamal is running for alderman against slimy carpetbagger Jack Mulligan (Colin Farrell), whose father (Robert Duvall) is even slimier. And I haven't even mentioned that Carrie Coon and Cynthia Erivo are also in this thing.
Davis, leading the crew of widows, is expectedly great, but the real standouts are Erivo and Debicki, playing women who discover their own agency as they go deeper into the world of crime. Henry is, no surprise, as good as he is on Atlanta, but Kaluuya is fearsomely magnetic here, tearing into his role with brutality and delight.
Based on a 1980s UK TV series, Widows translates and updates the story by taking on issues of race and class, generally with success. But it slightly oversteps its bounds by trying on one too many hats late in the movie—a dramatic element unfolds that's supposed to pull at your heartstrings but ends up feeling false, as well as being a distraction from all the toothsome crime stuff.
The real fun is watching McQueen, Flynn, and this ridiculously large talent pool of actors lay the groundwork for a slick, rich, tantalizing thriller, and then connecting all the dots.
Sponsored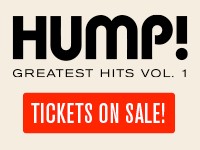 What are YOUR favorite HUMP! films? Start with HUMP! Greatest Hits, Volume One! Relive the memories!