The Front Runner doesn't really know what to make of Gary Hart. That's to the movie's credit, I think—the Colorado senator who made a bid for the presidency in 1987 is neither hailed as a mistreated, martyred political genius nor condemned as a sleazebag whom the press caught cheating on his wife.
Played by Hugh Jackman, Hart is just kind of a blank slate, so director Jason Reitman focuses on the campaign staffers and journalists who surround him, by way of impressively staged Altmanesque tracking shots with overlapping dialogue.
The large, great cast makes The Front Runner worth watching—Mamoudou Athie as the Washington Post's A.J. Parker and Steve Zissis as the Miami Herald's Tom Fielder are especially good—so long as you ignore the movie's promotional campaign that insists Hart's downfall was the moment American history changed forever, marking the precise instant politics devolved into tabloid sensationalism.
Now that's a bullshit headline.
Sponsored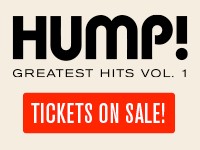 What are YOUR favorite HUMP! films? Start with HUMP! Greatest Hits, Volume One! Relive the memories!