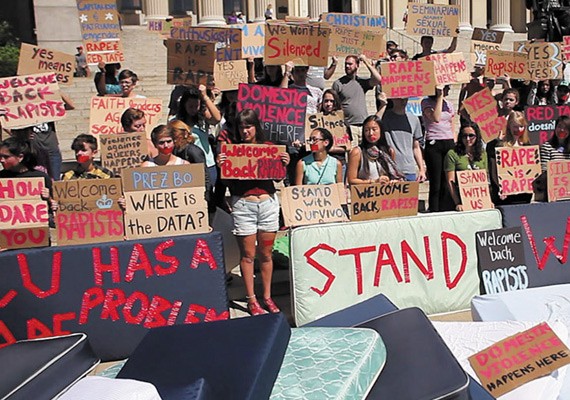 I was not prepared for this movie. Being a feminist writer, I spend a lot of my time examining many of the abuses and injustices that women face in this society. I've developed the thick skin required to do such work, but I must admit that it has left me pretty numb. So when I sat down to watch a documentary on the rape crisis on college campuses, I wasn't expecting anything to shock or surprise me. But this film, focused primarily on the direct testimonies of victims of sexual assault, almost immediately elicits an emotional response. These young people recount how their excitement for college life turned into a nightmare as they became one of the 25 percent of women, according to One in Four, across America who are assaulted during their college years. The heartbreaking testimonies of victims are juxtaposed with interviews of college professors and officials discussing the politics behind how colleges handle reports of sexual abuse. It is quickly apparent, yet no less shocking, how far these institutions will go to silence victims and sweep assault under the rug. Repeatedly, these women are not only let down by the institution that is supposed to care for them, but they are often revictimized by hostility and victim-blaming.
Sponsored

Join PNB for a timeless tale of holiday adventure performed by PNB's amazing dancers and orchestra.
Backing up these interviews are data that the filmmakers have received from the schools profiled. In stark contrast to the alarmist rhetoric of men's rights activists claiming that there are scores of innocent young men whose futures are being destroyed by false rape accusations on college campuses, we see that young men accused of sexual assault are unlikely to face any disciplinary action at all. It is not an exaggeration to say that young men caught cheating on an exam are more likely to face expulsion than a campus rapist is. The school with one of the highest numbers of expulsions for sexual assault shown was Harvard, with 10 expulsions from 2009 to 2013. This number pales in comparison to the 135 reported cases of sexual assault on the campus for the same time period. But even that low number of 10 isn't what it seems. In a rebuttal of the film, Harvard newspaper the Crimson pointed out that the 10 students weren't actually expelled; they were asked to leave but could come back. In fact, the board overseeing these cases doesn't have the power to expel students at all. Numbers like these are not new. A 2014 Senate report showed that a shocking 40 percent of colleges report that they have not conducted a single investigation into campus sexual assault in the last five years.
In a time when we are seeing an extreme backlash against the anti-rape movement as a result of the Rolling Stone University of Virginia rape scandal, these facts and testimonies are especially important. One very irresponsibly written and edited article threatens to undo years of work to shed light on the hidden horrors of campus sexual assault. The brave words of these people are needed more than ever to remind us that for every "Jackie," there are hundreds of young women and men who are denied safety and justice on college campuses across America. In preparation for this film, the producers interviewed hundreds of survivors of sexual assault on campus, eventually narrowing down the interviews to the ones shown on the film.
While there is some controversy around some of the testimonies in the film, (most notably that of NFL hopeful Jameis Winston's accuser, Erica Kinsman), all of these women have spoken openly and on the record with the filmmakers, their identities revealed to the scrutiny of fact-checkers and critics. The only anonymous interview was done with a self-confessed rapist. And in the months since this film was first screened, most of the film's data and testimonies have withstood scrutiny.
Directed by Kirby Dick, whose 2004 Academy Award–nominated documentary Twist of Faith investigated the abuses a man experienced in the Catholic Church, The Hunting Ground balances the emotional with the factual very well. The testimonies of victims, while gut-wrenching at times, never feel manipulated to manufacture a response. The editing is simple and focused, allowing the words of the victims to speak for themselves. Numbers on assault and college responses are presented boldly, without comment, as none is needed. This is also one of the few investigations of sexual assault on campus to include interviews with male victims of sexual assault, a segment so underrepresented in discussions of the crime that we don't even have estimates of how many victims there are or the scale of the problem.
Throughout the film, I could hear audible gasps of outrage and surprise from the audience. A screening room filled with writers, who had all sat down to dispassionately review a documentary, was overtaken by emotion. You could feel it in the air. I could see older men shaking their heads in dismay as a young woman explained what it was like to be forced to see your rapist on campus every day. A woman next to me whispered "Oh my god" as a young woman talked about how afraid she was to tell her parents she'd been raped, because she didn't want them to look at her differently. I spent the majority of the two hours with a lump of rage in my throat as I blinked back tears.
Alone, this is enough. The violation, the injustice, the deception—it is all enough to make the compelling call to action that this film is definitely striving for. But what made me want to march in the streets and call my senator wasn't outrage, it was the courage of these young people.
Watching these young women and men bravely fight entire academic institutions in their quest for justice is both inspiring and shame inducing. The strength of these kids is directly juxtaposed with the cowardice of the adults around them. Seeing 19-year-olds relive the violation they faced while enduring intimidation by college officials and harassment by fellow students, while high-paid college presidents fret over their reputations and alumni donations, exposes how badly our society has failed these kids. These women and men are survivors. Through the pain and the tears we see their resilience and faith that they can find justice if they just keep fighting. These students study the law, file legal complaints, and organize press conferences. While we whine about the selfishness and laziness of the millennial generation, these young people are out there confronting some of the most powerful institutions in the country. As these kids cobble together a network of support and activism to take on not only rapists but their own universities and even their communities in the name of justice, we learn from students who've set off to learn about the world.
The controversy at Rolling Stone over its reporting of rape on the UVA campus is important, especially when discussing journalism ethics. But to let one story of one case on one campus deter you from this film is an injustice. These brave students deserve to be heard.