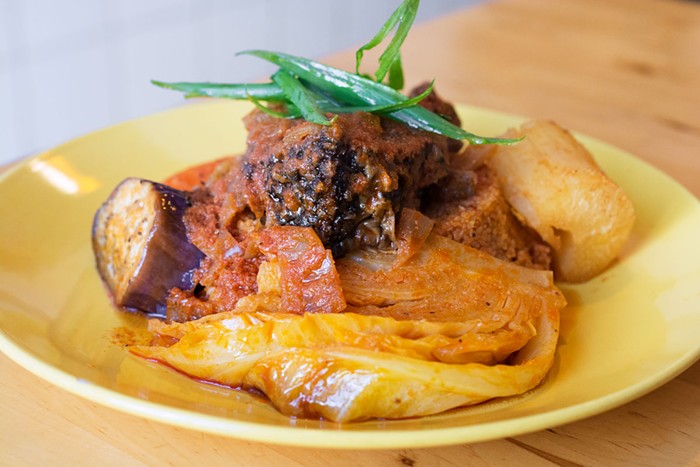 In a city where tacos abound, bánh mì shops spring up infinitely, and it's hard to go a few blocks without smelling Thai food, bucking the trend can be a dangerous move for a restaurateur. Only a few brave souls venture out into the city holding aloft a cuisine almost impossible to find anywhere else in town. But if Seattle wants to be the welcoming, multicultural town it claims to be—and also to eat uniquely great food—it needs to make haste to the places that dare to be different. Places like Mani's Kitchen, which offers Bhutanese food, La Teranga for Senegalese cuisine, Safari Njema for Kenyan tastes, and La Cabaña for Latin American comfort foods.
The owner of Greenwood's La Cabaña, Selvin Oseguera, hails from Honduras, but his menu lists dishes from wide swaths of Central America—whose comforting familiarity serves as a taste of home for other Hondurans, Nicaraguans, Guatemalans, and Salvadorans. While the greater Seattle area has at least one other Honduran restaurant and a Salvadoran bakery, La Cabaña is the only, lonely spot serving Guatemalan hilachas de carne or Nicaraguan buñuelos de yuca.
La Cabaña, despite its website's claim to be in "the heart of Fremont," sits between Aurora and Greenwood at 105th, in a weird non-neighborhood, next to an old dive bar. While the exterior is unassuming and unremarkable, the inside evokes the sunshine of warmer climes, something matched by Oseguera's attitude as he drops menus, greets regulars, and switches between English and Spanish a half-dozen times in one tour of the dining room.
Instead of offering a broad array of different dishes, the menu does something fascinating: It features versions of similar dishes as served in each different country. It caters to the people who care deeply about the difference between a Nicaraguan and a Costa Rican chicken salad. This suits customers who will not accept the Nicaraguan bistec encebollado (chunks of beef with a sauce of tomatoes and onions) when what they want is hilachas de carne (shredded beef with vegetables in a tomato sauce). About the only unifying factor is that almost everything, starting with the breakfast options, comes with freshly made tortillas that rank among the city's finest. Not the slim, supple Mexican tortillas that fold gently around tacos, but thick, beefy, warm Central American specimens that sop up the juicy meats and help ferry the comforting soups from bowl to mouth.
Just a dash further north, Mani's Kitchen in Pinehurst also serves the cuisines of a collection of countries. After tiring of the high prices and high pressure of operating their previous restaurant, Mani Chhetri and his wife, Sheila, escaped Capitol Hill, where they'd operated India Express, and migrated north. While much of the menu at the new spot resembles the previous one—and that of so many Indian restaurants—one page makes all the difference. Chhetri is Bhutanese, so the final page of the menu incorporates his experience with Bhutanese food, as well as Nepali, Tibetan, and Indo-Chinese. Newcomers should start with the ema datchi, the national dish of Bhutan; its name translates to "chili cheese," a perfect description: radish, meat, and potato with ample chopped peppers, quilted together with melted cheese. The non-Indian dishes on the menu take a bit more time, but the khasi ko masu (Nepali goat) and Bhutanese pha (mushrooms with meat)—brought to the table by Sheila with the kind of warmth and service that come only from years in the restaurant industry—set this spot apart from the myriad places serving warmed-over saag paneer.
Across town and from halfway around the world, two Columbia City restaurants offer a taste of Africa. Seattle wants not for Ethiopian or Eritrean food, and it even boasts a few Somalian restaurants, a South African teahouse, and a couple Egyptian cafes. But only La Teranga serves Senegalese food.
Once half of a pair of Senegalese restaurateurs in the neighborhood, owner Mamadou Diakhate alone now represents the West African nation. Like, really alone: He greets customers, cooks, and serves everyone in the tiny sliver of a space. His signature dish—and Senegal's national dish—thiebou djeun, features fish swimming in tomato sauce, served over rice and with vegetables. The lamb mafe, with its chunks of root vegetables afloat in a peanut gravy, emits some sort of universal comfort food pheromone, encouraging anyone and everyone to claim it tastes like home and grandma and safety. Washing it down with kinkeliba tea, pepper-spiked coffee, or a spicy ginger juice, though, firmly reminds diners that in Seattle, there's only one place for this.
Just up the street, chef Jane Kagira runs Safari Njema, serving food from across the continent in Kenya. Kagira works magic with the Indian-influenced spices woven into Kenya's culinary DNA, whether dressing up pan-fried goat meat or stewing chicken thighs. Tilapia comes whole, the length of a forearm, and fried stiff as a board, with a sunshine-yellow sauce to liven up the otherwise ordinary fish. Diners are invited to mix and match their own starch and vegetables, but, when pressed, the server will patiently help you match the chewy, char-speckled chapati (flatbread) to the bone-in, onion-laden goat. The ugali, she says of the dough-like cooked cornmeal starch with a texture like yesterday's grits, goes well with the saucy chicken. But no matter if you pick matoke (green banana) or mukimo (verdant potatoes with split peas, corn, and greens), everything you order should get smothered under Kagira's house-made hot sauce. Almost as orange as the walls, the bold, citrusy condiment hides inside innocuous-looking squeeze bottles. Released onto the mild foods of Kagira's Kenyan kitchen, it burns with the fire and complexity of various peppers, muted not at all by the fragrant spices. This might be the only spot in Seattle to find Kenyan food, but it's definitely the only place in the world you'll find her hot sauce.