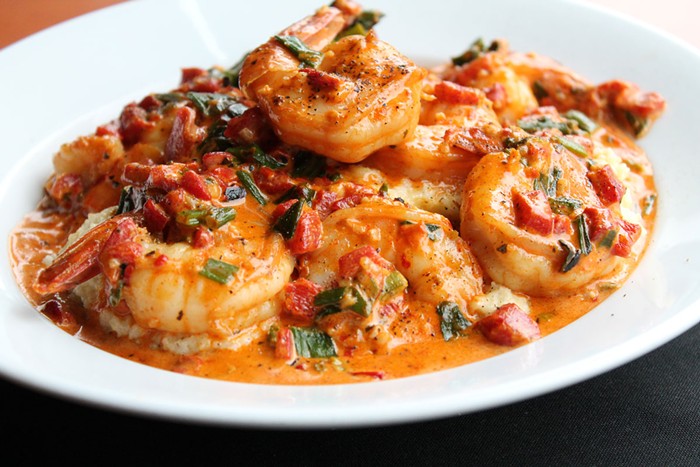 I
f you come from sunny southern climes, you've probably been searching for restaurants that offer a taste of home. Or maybe you aren't from the South at all, but you do want to enjoy some authentic flavor. Here's our picks for the best places to satisfy your hankering for down-home cooking.
Sponsored
Get to know the world-renowned whiskey distillery in your own backyard.
Even if Seattle were blessed with a wealth of Southern food, Edouardo Jordan's Ravenna spot would stand out. Jordan gives Seattle the Southern food it thinks it wants—pimento cheese and buttermilk biscuits—while peppering his menu with gems rarely served at a restaurant with $13 cocktails, like hog maw stew and crispy pig ear. The menu cooks each dish into a story, describing Jordan's personal journey from St. Petersburg, Florida, to fine dining in New York City, and on to Seattle's neighborhood restaurant scene. From the pickle-lined walls to Jordan's own smile beaming out of the kitchen's peekaboo window, the warmth of the restaurant invites diners to kindly abandon stereotypes of Southern food and step into Jordan's world of smoked chili vinaigrette and charred okra. NAOMI TOMKY
French Quarter Kitchen is located in Belltown, is run by three women (chef, general manager, and bar manager), and was formerly known as Absinthe Brasserie. They still serve 16 varieties of that highly alcoholic beverage, and several of the restaurant's specialty cocktails make drinking it a pleasure. The Amuse Vert is a mix of absinthe, lime, mint, and pineapple that is vaguely reminiscent of a mojito, but with more subtle layers of flavor that end with refreshing mint notes. But the real focus is the food. Among the menu highlights are the fried green tomatoes and fried catfish, both crispy-delicious and cornmeal-battered for those practicing a gluten-free lifestyle, and shrimp and grits, the house creole sauce velvety and rich with just the right amount of spicy kick to complement creamy stone-ground grits. LEILANI POLK
Jack's feels like an authentic Texas-style barbecue restaurant, from the long community tables to the staff's congenial Southern hospitality. The metal serving trays are big and festooned with pieces of white bread. The meat dishes are plentiful, smoked and flavorful (try the jalapeño-stuffed sausage links). The creamy mac and cheese and Jack's meaty house chili will transport you to a Dallas mess hall teeming with cowboy hats and jangly boots, but the standout has to be Jack's rib tips. Juicy, smoked, and charred to perfection, they are the perfect bite-size snack. JAKE UITTI
Walking through the charming saloon-style restaurants (with locations in Frelard and White Center) like a contemporary cow-person, it's easy to lust after the smoked chicken, beef brisket, or sausage links on plates passing you by. Drunky's broad menu—which is decidedly Texas-inspired, save for the Saint Louis–style pork ribs—is both expansive and enticing. If you order nothing else, however, make it Drunky's collard greens. Packed with a deep, dark umami flavor, the pork-rich dish has a caramelized, almost French-onion-soup appeal. Drunky's $20 plate of ribs are thick and toothsome, the meat sliding easily off the bone and pairing deliciously with Drunky's house-made table hot sauce. JAKE UITTI
One look at the giant cakes by the register at this Capitol Hill eatery—whose menu is informed by the flavors of North Carolina—and you know what you're in store for: heaping portions. Our favorite offering is the Sawmill, a big biscuit stuffed with an even bigger piece of perfectly fried chicken, all of it swimming in a pool of spicy sausage gravy. For dessert, the hand-smashed, glazed cinnamon roll is rather memorable—they make it with biscuit dough, which gives a bit more heft to the traditional pastry—and the seemingly 35-story red velvet cake is unforgettable, as delectable as it is decadent. JAKE UITTI
Seattle's other noteworthy Cajun-Creole restaurant has a more extensive menu than what you find at French Quarter Kitchen, minus the absinthe, and plenty of what you find on it is delicious (try the jambalaya). But their breakfast and brunch is where it's at: pork cheeks confit hash (which was featured on the Food Network show The Best Thing I Ever Ate), the Bayou Fisherman's Breakfast (shrimp, fish, crawfish, and tasso, served in a mini-skillet with grits and a fried egg on top), and Cajun meatloaf and eggs are just a few of the savory options. Plus, you can get the same menu, with discounts, during the weekday breakfast happy hour, from 9 to 11 a.m. After dark is also a fine time to visit—the candles placed on the walls all around the room are lit, filling the place with a dreamy, flickering orange glow. LEILANI POLK
A New Orleans–influenced Southern food gem in the heart of the Central District, Fat's has some of our favorite on-the-bone fried chicken—you can get a pair of drumsticks for a mere $5—but there are also plenty of other standouts: the savory-sweet sausage links, absolutely divine red beans and rice, toasted corn bread, and crispy fried okra. Get all of it together, and you'll be sure to have nothing but cleaned plates at the end of your meal. JAKE UITTI
You might be surprised to find an amazing soul food restaurant tucked away in Madison Valley, but Simply Soulful is there to defy your expectations. The staff works within a delicate, welcoming balance that's both professional and warmly familial, much to the pleasure of smiling patrons. You can't go wrong with anything on the menu here, so I'd suggest starting with a sampler plate. We ordered the absolutely divine candied yams, the flavorful red beans and rice, the savory black-eyed peas, the melt-in-your-mouth grits, and the bountiful biscuit sandwich with Andouille sausage. The star of the show was most certainly the candied yams, but the supporting cast for the meal was award-worthy, as well. JAKE UITTI
Though it doesn't have traditional Southern roots—RoRo owner Rob Carson is from Seattle, and got into smoking meats while living in California—this cozy place evokes that down-home feeling with its small yet cozy interior, all light woods and barn-red gingham with matching accents. The menu skews heavy to giant sandwiches featuring RoRo's smoked offerings—beef brisket and tri-tip, pulled pork and chicken, portobello, hot links. You can top of any of these with coleslaw or "spike" your sandwich with bacon or a hot link. Pork ribs and chicken thighs are also offered, as entrées with two sides, and all the meats can be purchased by the pound (outside the sammies). The sides include bright, crunchy Seattle succotash (sans lima beans, plus black beans, edamame, red onion, red pepper, and cilantro in a lime vinaigrette) and perfectly sweet barbecue baked beans. LEILANI POLk
Sponsored
Then score some dank herb from Ruckus to help with the stress.