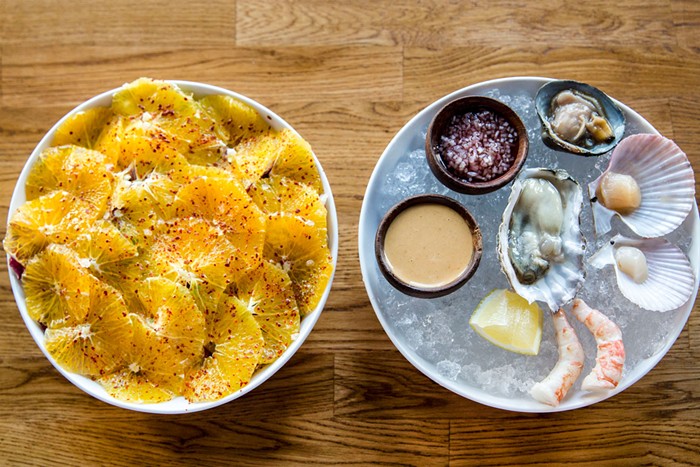 Today, the corner of 13th Avenue and East Jefferson Street smells overwhelmingly of beef, which is a bit disorienting for diners arriving to L'Oursin, a French-inspired seafood restaurant. The smell on that corner—an intersection of the ever-expanding borders of the Central District and Capitol Hill—is new, coming from Eric Banh's Vietnamese style steak house, Seven Beef. Five years ago, in this same spot, it was the smell of nitter kibbeh (spiced butter) and injera (flatbread) that wafted out of the Ethiopian restaurants here, and the fragrant spices of a Haitian joint called Waid's.
Sponsored
A world premiere musical that you can really sink your teeth into Get your tickets
HERE
!
Though dwarfed in aroma and stature—physically and in reputation—by its neighbor, L'Oursin rises quietly as the latest jewel in the corner's culinary crown. Chef JJ Proville and partner Zac Overman searched for more than three years to find the perfect space to fit their vision before settling on this junction of Seattle neighborhoods. "Ideally, we wanted to be on the water: Lake Union, Elliott Bay, with a beautiful view. But that's not how things panned out," Proville explained. Instead, they landed where the landlord was willing to help create a custom space for the duo.
The pair met while working as writer and graphic designer for StarChefs, an industry-focused culinary content site. Overman's design sensibility drives much of the visuals, which Proville says they mostly did on their own using a book of French cafes from an airport stand as inspiration. Facing inward, it's easy to envision the wide windows in the front of the space opening toward a great blue expanse, the scent of saltwater rolling in as diners slurp sea creatures. But since that view lost to the realities of real estate, they chose to make the best of a space they could customize, combining—as the name, a French word for sea urchin and a local seafood delicacy, indicates—their French bistro style with their Northwest seafood inspirations. The result is a restaurant that doesn't exactly fit into a traditional genre.
Using "whatever's fresh" became something of a trope as the farm-to-table trend tumbled into existence, but with a tiny menu (about a dozen dishes of varying sizes), Proville can afford to be picky. Particularly when it comes to the eponymous urchin: After I enjoyed it on the half shell, served simply with a side of crusty toast and savory seaweed butter on Friday, Proville tells me the following Thursday they won't have it that week. "I ordered 10 on Monday, but my provider called today and the divers came up empty-handed." Rather than serve lesser urchin shipped from farther away than the San Juan Islands, he rejiggered the menu, leaving only the sea urchin sauce over poached steelhead as a trace of the namesake ingredient.
Like the location, and partially because of it, L'Oursin's food comes from a crossroads. Proville's French heritage—he was born in Los Angeles to French parents, and then lived in France from age 10 until he left for McGill University in Montreal—informs the food, but few of the individual dishes are recognizable classics. He cites the influence of shopping at places like Viet-Wah, Uwajimaya, and Wong Tung Seafood on 12th Avenue South, letting the flavors mix with those of France, "the land of meat and cheese," where he spent his formative years, just over the border from Geneva. Proville credits his time in Montreal for teaching him the North American farmers-market ethos: "There were acres of tomatoes as far as the eye could see. I was impressionable and started wanting to cook." In 2012, shortly after a trip sailing through British Columbia's Desolation Sound ("There were oysters everywhere!"), Proville's Brooklyn apartment was flooded by Hurricane Sandy, and he took it as a sign to follow a dream he'd conceived on the trip.
Arriving in Seattle, Proville worked at Il Corvo with Mike Easton, and the similarity to Easton's adherence to simplicity is clear in dishes like the radicchio salad buried in Parmesan, the grilled leeks, and, of course, the entirely unfettered sea urchin. It's a style that requires a certain confidence—both in the ingredients and the skills of the chef—that what is being served can stand alone.
It's the same kind of confidence required to open a restaurant and fill so little of it with seats. At L'Oursin, wood banquettes line the yellow walls, but only a few small bistro-style tables and chairs stand in the center. Warm lighting from ample sconces reflects against the many mirrors, while a rather urchin-like light fixture hangs over the host desk. The carefully curated bar and sparsely placed tables give an illusion of grandeur, a white-space trick surely masterminded by Overman, the former graphic designer. It's a surprising move for a restaurant on a popular corner in a hot market. They looked to French cafes for ideas, Proville says, though it remains a restaurant for Northwesterners, and "Seattleites like their space." But while L'Oursin is designed for the comfort of locals, the drinks, brazened with the confidence of the menu, go in their own direction.
"We have a mutual interest in natural wines," says Proville of himself and Overman, describing them as "so in love with the raw expression of grape." With the help of wine director Kathryn Olson (previously of Bar Ferdinand, to which Proville gives a nod for first daring to bring the style to Seattle), they've passed up the Washington wine trend and found their own niche. For those not familiar with natural wines, the menu offers intense, creative descriptions to help you choose, like that of the Domaine Dieu-Le-Fit Pouizin "Les Pious": "You'll find at home in the kitchen, one big hairy arm kneading bread, while the other reaches out to pluck an eyelash from right off your face... Big and tall and loves us all." The by-the-glass list is quirky, short (about a dozen), and affordable (none more than $15), but most importantly, it focuses on wines that pair perfectly with the simple flavors of the food. The cocktails, by Overman, are equally nontraditional, using aperitifs like pastis, Pineau des Charentes, and gentiane to craft low-alcohol, food-friendly drinks like the Pourquois-pas, a manhattan-like digestif made with concentrated Rancio wine.
The laser focus of the food and drink combined with the eclectic sources of inspiration bring a winning formula to the corner where Zobel restaurant is one of the few remnants of the Little Ethiopia it once was. If you miss Waid's dance-club vibe with a restaurant afterthought, Taste of the Caribbean does it with Jamaican flair. Peloton, a bike shop and cafe, serves avocado toast and trendiness as if it were at the corner of 11th Avenue and Pike Street. And, from Nate's Wings and Waffles, the faint whiff of fried chicken, a staple smell of the neighborhood from the original location of Ezell's 10 blocks up Jefferson, fights for a piece of the aromatic action. Somewhere in this mix of flavors from around the world, amid old buildings and new construction, L'Oursin has found a home.