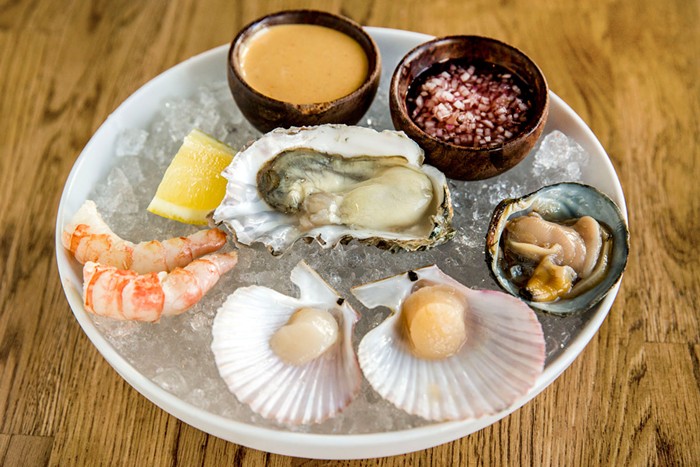 Whether you're in the mood for Vietnamese street food, fresh and reasonably-priced sushi, home-style Mexican, rustic Italian, upscale French-inspired seafood, or wood-fired pizza and gourmet burgers, these are essential stops.
Central District
Ba Bar fuses two of Seattle's strongest culinary forces—pho, the Vietnamese rice noodle soup that is the lifeblood of the city, and an obsession with local ingredients—into an affordable menu of Vietnamese street food made with responsibly raised meats. Rich, aromatic bowls of broth are filled with oxtail, brisket, and eye-of-round from Painted Hills ranches; the succulent, rotisserie-roasted pork belly that sits atop fresh banh hoi noodles comes from Oregon's Carlton Farms. The cocktails are good, and the food is served until late—11 p.m. on weeknights, 4 a.m. on weekends.
If you're not looking for a full sit-down meal but still want to try some Vietnamese food, head to Saigon Deli in the International District for banh mi, rice paper rolls, grilled beef in betel leaves, fried spring rolls, and other grab-and-go snacks.
Georgetown
If you're willing to spend more money, chef and restaurateur Matt Dillon has rightfully earned a reputation for crafting food that both defines and is defined by the bounty of the Pacific Northwest. It's easy enough (and certainly worth your while) to eat at Dillon's restaurants Sitka & Spruce, Upper Bar Ferdinand, and the London Plane, but if you have the time to seek out the Corson Building, a house and garden with limited hours hidden underneath a highway overpass in the industrial neighborhood of Georgetown, the rewards will be significant. On Thursday and Friday nights, choose dishes from chef Emily Crawford's handwritten menus filled with summer dishes such as braised pork with zucchini, plums, and radicchio, and marinated squid with melon, cucumbers, and shishito peppers. On Saturday and Sunday, dinners are prix fixe feasts drawn from the same seasonal inspirations.
Georgetown
Seattleites, like everyone else in America, eat plenty of quick meals of burritos and tacos. But when they want to sit down to flavorful, home-style Mexican food, they head to Georgetown's Fonda La Catrina for handmade tortillas, long-simmered pozole, fiery camarones sautéed in a crimson chile de árbol sauce, grass-fed hanger steak tacos, and slow-roasted cochinita pibil. (Tasty margaritas and cocktails are also a draw.) The love extends beyond the food into the welcoming space and service, including a back patio, which can accommodate large groups and all ages with grace and ease. If there's a wait (and there usually is), those over 21 can pass the time next door at Catrina's sibling bar, El Sirenito, with drinks, an extensive selection of tequilas and mezcal, and snacks such as ceviche and fish tacos.
Pioneer Square
You know you've found Pioneer Square's Il Corvo when you see a line of people snaking out of its unassuming storefront and up James Street. Chef and owner Mike Easton wanted to be able to spend time with his family, so he serves only one meal a day—lunch—and only Monday to Friday. Turns out you can make a living in the restaurant industry without sacrificing too much—but only if your food makes no sacrifices when it comes to artistry and flavor. With the exception of the ever-present rigatoni Bolognese, Easton's brief menu of three handmade pastas, as well as a few antipasti, changes daily. Spring brings sauces such as wild nettle béchamel, while summer brings dishes such as cavatelli with sweet corn. Over the years, Il Corvo's beautiful, rustic food has become an integral part of how Seattleites track and understand the changing seasons.
Central District
L'Oursin, a relative newcomer, feels like the restaurant Seattle has been waiting for its whole life: very much of this place (think local seafood, and lots of it), steeped in the technique of classic French cooking, but also inventive and forward-thinking. The menu is refined, more than a little fancy, but never pretentious: black cod with oxtail ragout, grilled spot prawns with anchovy butter, poached artic char with sea urchin sauce, raw scallops and radishes with cured egg yolk that's shaved as fine as a dusting of pure snow. The food is beautiful, and the drinks are, too—aromatic, unexpected cocktails and a wine list devoted entirely to natural wines. The wine descriptions alone are worth the trip, as evidenced by this characterization of a sauvignon blanc: "A natural beauty who doesn't know she's being raised by a pet rock and a can of pears. Almost lost forever in a New Jersey warehouse."
International District
Seattle's oldest Japanese restaurant is also its best. Maneki opened in 1904 and, under the loving direction of longtime owner Jean Nakayama, is still doing steady business today. Maneki serves beautiful, fresh, and reasonably priced sushi—don't miss the wild salmon and aji horse mackerel—as well as hot izakaya dishes including broiled, miso-marinated black cod collar, chicken karaage, and handmade gyoza. In the 100-plus years that the restaurant has been in existence, it's only had one major interruption to business—when it shut down because the US government sent Japanese Americans to internment camps during World War II.
Other sushi recommendations: If you have the time and money for a decadent dinner, head to the sushi bar at Pike Place Market's Sushi Kashiba, where master Shiro Kashiba (who installed Seattle's first sushi bar at Maneki) will serve you a leisurely, multicourse feast. Or venture north to Ravenna for chef Kotaru Kumita's stunning omakase meal at Wataru. Both meals will consist of the freshest seafood available, prepared and presented with a variety of techniques, and lightly seasoned to highlight the natural flavors of each fish.
Central District
East Africans are one of the fastest-growing immigrant populations in Seattle, which means that the city is awash in a number of excellent Ethiopian and Eritrean restaurants. In their dining rooms, the lingering scent of incense commingles with the intoxicating aroma of the dozen or so spices—chilies, paprika, cinnamon, ginger, cardamom, clove, and more—that make up berbere, the complex seasoning that is the backbone of the cuisines. Meskel, located in a house on the corner of Cherry Street and 26th Avenue in the Central District, is one of the city's most consistent sources of excellent, deeply flavorful stews made with berbere, lentils, chicken, and lamb. It's all served family-style over spongy, tangy injera bread, which you feast on with your bare hands.
Downtown
Tom Douglas is Seattle's most well-known chef. He's also the city's most prolific restaurateur, the owner of more than a dozen restaurants ranging from seafood to wood-fired pizza to Italian to pan-Asian. But his best restaurant is downtown's Palace Kitchen, open since 1996, where much of the cooking is done over a wood-fired grill, and much of the produce comes from Douglas's own farm in Eastern Washington. The food is unfussy and familiar, executed at a high level, and guaranteed to please both out-of-town visitors and jaded locals. The Palace Burger is possibly the city's original gourmet burger, and still one of its greatest. The full dinner menu is served until 1 a.m. Hold out for a booth; you can always wait and have a few drinks at the bar.
Central District
Seattle is known as a coffee town—and for good reason. Every day, we spend hours within the coffee-scented walls of its many neighborhood cafes, having meetings, reading books, and answering e-mails. Cafes are where Seattleites go for caffeine, community, and, increasingly, great food. No other cafe embodies the ethos behind the city's food as well as its uninhibited, creative energy more than Peloton, where chef Mckenzie Hart puts together hearty and vibrant salads and sandwiches with seasonal and local ingredients. Peloton is equal parts cafe and bicycle shop—you can enjoy your avocado toast while soaking in a bit of the city's thriving bike culture as well.
Pike Place Market
Downtown
There's a reason Pike Place Market is always filled with tourists: It's magic. Wander through cobblestones and tiled hallways, amid beautiful produce, artisan cheeses, pickles, and breads, and—most striking—abundant, fresh seafood. Eat Dungeness crab and steamer clams at Jack's Fish Spot; chowder, blackened salmon and halibut sandwiches at the Market Grill; and shucked-to-order oysters ordered off the brown paper bag menus at Emmett Watson's Oyster Bar.
And no Seattle place is more magical than the lounge at the Athenian Inn during happy hour, which runs from 4 to 9 p.m., Monday through Saturday. Four dollars gets you a frosty mug of draft beer—so cold, a crust of icy crystals forms on top of the glass. Squeeze into one of the bar's tiny wooden booths, order the fried calamari, and then stare at the Olympic Mountains, Puget Sound, and the ferries shuttling back and forth across the water. This is Seattle; there's nothing better.