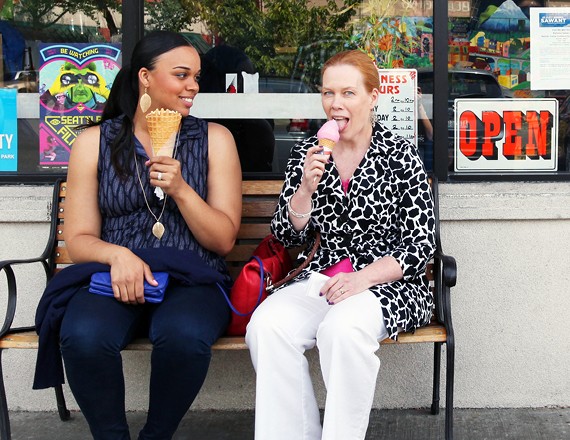 Ken Anderson and Lenore Sharp knew they were taking a risk when they opened their ice-cream shop, Full Tilt Columbia City, in a small, dingy plaza just off of Rainier Avenue six years ago.
"When we first moved in, the parking lot was shady. There was a storm fence across the front with plastic woven in, so you couldn't see anything going on in here," Anderson recalled. "There was barbed wire on top. And inside it was basically an open-air drug and prostitution market." Sharp's mother, who was visiting from out of town at the time, was horrified.
But Anderson and Sharp were optimistic about the location. Like their friends Justin Cline and Ann Magyar, who founded the Full Tilt in White Center, the couple believed their business could create a safer, more active community in their diverse neighborhood.
Today, their vision looks like it has become a reality: The barbed-wire fence is long gone, and the little plaza has become home to more than half a dozen businesses, including Hummingbird Saloon (which is also owned by Anderson and Sharp, along with family members Steve and Bridget Sharp), microbrewery Flying Lion, Kenyan restaurant Safari Njema, and Vietnamese eatery Watercress Bistro. There's also a Vietnamese hair and nail salon, Mexican tienda, African convenience store, and Kenyan dance hall.
In a gentrifying South Seattle neighborhood that was once mostly black, with a significant Latino and Asian population, the plaza serves the many tastes of its community. By all accounts, the retail strip is a mutually beneficial environment for business owners, who patronize each other's establishments and encourage their customers to do the same.
For example, it's not uncommon for a customer to walk into Full Tilt, whose flavors include a cinnamon-spiked Mexican chocolate and ube, made from Filipino purple yam, with an empty pint glass. Once they get a scoop, they walk back over to Flying Lion Brewery to enjoy an ice-cream-and-beer float. Steve Sharp, who tends bar at Hummingbird four nights a week, said he's also seen a frazzled father steal away from his family at Full Tilt, order a quick shot or a beer, then rush out saying that his wife will be in shortly for her own drink and to pay the bill.
Hummingbird serves familiar bar food like nachos, but also Cornish pasties, traditional meat pies that, while common in the Midwest, are rare in Seattle. The recipe comes from Anderson's grandmother, who used to make them for her husband who worked in the copper mines of Michigan. "We don't have a lot of cultural recipes, but that is the one thing we don't change," Anderson said. "We don't mess with the recipe, we just make it like it is."
Hummingbird also keeps a keg of Flying Lion beer—"the most local beer possible," said Anderson—on tap. The keg makes the long journey from two doors down on a hand truck.
"Honestly," said Griffin Williams, co-owner and head brewer of Flying Lion, "I wouldn't have sold to them, but they started asking for kegs three or four months before we even opened." Williams oversees a small operation, and while he's gotten requests from a few bars and is about to double his production, Flying Lion beers aren't available anywhere else in town.
Williams owns Flying Lion with two of his brothers (and his investors include every member of his immediate family). He comes from a family of home brewers—most of his beers, including the top-selling single hop pale ale and IPA, are family recipes. Williams's own preference is for brewing and drinking darker beers, and Flying Lion's excellent rye stout is made from his own recipe.
Williams, who moved to Seattle from Minneapolis in 2013, spent months biking around the city, checking out neighborhoods, all with an eye for a small industrial space in an area with good walkability. He chose Columbia City because he liked the feel of it, and because it was an up-and-coming neighborhood.
"The overall crowd here is the gentrification crowd," said Williams. "I didn't factor that in or realize that we might be contributing to [displacing people] until two months after we opened. It has occurred to me, 'How can I be a respectful business?' I don't have an answer to that, but I like the fact that we are here in this building."
There certainly isn't another brewery in town where you'll find a mostly white, middle-aged clientele chowing down on Kenyan mbuzi (spiced, stewed goat) and ugali (a steamed corn bread) doused in a wonderful, citrusy, bright-orange hot sauce. The food is made next door by chef Jane Kagira, who, along with her husband, George Murigo, has owned and operated Safari Njema for the last five years.
"We will even take food over to customers," said Kagira, who was born and raised in Kenya before immigrating to the United States almost 20 years ago. Being sandwiched between a brewery and a bar that don't serve food is especially good for Kagira and Murigo, who, following personal beliefs, do not serve alcohol at their restaurant. "It has helped our business," Kagira said, grinning. "A lot."
Vietnamese restaurant Watercress Bistro, tucked into the back corner of the plaza, is also popular among Flying Lion's customers, according to Williams. Diners will often order a beer while waiting to pick up their food and then return with fragrant takeout containers filled with grilled pork, pickled carrots and radishes, and rice vermicelli noodles.
Watercress's specialty dishes include a terrific banh xeo—a savory, turmeric-scented pancake made from rice flour and filled with bean sprouts, seafood, and pork—and bo ne, marinated cubes of beef with a sunny-side-up egg served on a sizzling platter. The menu, like those of the other restaurants in the plaza, is based on family recipes—in this case, those of Watercress owner Loan Hua.
Traditions abound in the little plaza and, as Columbia City grows and changes, they find new audiences. "I have nine tables in here," said Kagira, looking around her restaurant. "On any day, you'll see Asians over here, Somalis over there, Americans over here, Indians over there." Kagira flashed her beautiful, wide smile again. "Different kinds of people—they keep coming."