Tonight, Seattle's most prominent puppet butt has a problem. It technically always has a problem—which is why it's been invaded by a plastic tube, examined by a camera, and made available to bar patrons as an interactive "colonoscopy game." But on a cold, wet February weeknight, its co-creator is, ahem, bummed for a different reason.
"I was here for 11 hours over the weekend trying to get that curtain working," engineer, coder, and artist Andrew Cole says as he unscrews the back of The Simpsons Colonoscopy Party, an arcade cabinet that currently resides at Time Warp in Capitol Hill. He arrived in time to see a patron try and fail to get the game working. Cole's next steps: apologize to the patron, then immediately repair his freakshow version of Homer Simpson's intestinal tract.
Eleven hours may seem like a lot of time to spend on a puppet-butt mechanism, but that count barely accounts for the elaborate project's lifespan. This anal facsimile of the world's most famous cartoon dad is the result of a years-long artistic collaboration. And in Seattle's art scene, think of Colonoscopy Party as a butt-shaped iceberg. The unusual game draws a direct line between the region's biggest annual tech-arts showcase and this summer's ambitious City of the Future exhibition.
Cole holds court at one of Time Warp's booths, positioned between the din of a '90s alt-rock playlist and the dinging and banging of pinball machines. He's joined by his Colonoscopy Party collaborator, graphic designer Jeffrey Larson, and the duo—Larson with long black hair and a contemplative disposition, Cole with short reddish hair and more excitability—almost immediately resembles a Northwest version of Beavis & Butt-Head. At least, if the cartoon teens had fallen for the tidy glasses and form-fitting flannel of Death Cab for Cutie.
We meet here to demo their arcade machine, but they also cop to the ASMR sensation that they get out of the bar's noisy "pins." They share their romantic origin stories about discovering pinball in their youth, each old enough to remember a '90s era of jam-packed arcades. And they emphasize that their nearly decade-long partnership began thanks to their shared love of Skill Shot, a local pinball zine in operation since 2005.
Larson says he stumbled upon the zine's third-ever issue at a bar in Georgetown, well before the city was inundated with gaming-filled pubs. It functioned as a lifeline for pin fanatics, since it listed which machines could be found at which locations in town. "I was like, I love pinball, and I love what this is," Larson says. He emailed "a cover letter" to the zine's listed email address, hoping to donate his graphic design talents, and he waited a full month for a response. "We really have to talk about this 'cause we've never... no one's ever asked us to help before," the email read.
Cole discovered Skill Shot a few years later and sent the zine's creators a similar cold call, which got him invited to the zine's "folding parties" (where printed-out tabloid pages are folded into a flippable format). At his first party in 2011, he bluntly approached Skill Shot's founders to tell them, "your website sucks." They agreed, and Cole started maintaining the zine's online database, building a searchable map, and doing other pinball-obsessive coding tasks.
Though the duo met at this folding party, neither remembers much about it. ("I don't know," Larson says when pressed, then looks directly at Cole. "I mean, I always liked you!") Their first overt collaboration came in 2016 when Larson invited Cole to Electric Sky, an annual technology-art retreat he'd learned about as a member of Seattle's Totally Legit LLC tech-arts collective.
The 4Culture-sponsored retreat is hosted at the Skykomish Ballpark campground roughly 70 miles east of Seattle. Its biggest hook is an exhibition of tech-art projects, all built on the campground by a mix of technologists, engineers, and traditional artists over a span of a few days. Electric Sky's participants aren't bound by rules, but each artistic project should fit into an annual theme, and each must be clearly visible at nighttime. (Thus, it helps that the Skykomish Ballpark's campsites are dotted with power outlets and Wi-Fi access.) Larson isn't much of a coder or engineer, but he knew Cole was and thought he'd be a good fit for the second retreat. Maybe someone fun to collaborate with.
After all, Cole could build and work on things that Larson couldn't. An early example was seeing Cole repair pinball machines. "There's no pinball school," Cole says, indicating that his work in that field (and others) was self-taught. "You know, you take a screw out, and you can put the screw back in, if you're so inclined." Larson feels differently about such work: "I don't touch the insides of those things."That dichotomy has thus far led to a fruitful pairing: Cole the hacker, Larson the designer; Cole the 3D printer, Larson the sculptor. Their first full Electric Sky collaboration, dubbed Borealis Breaks, was built to evoke the terror and wonder of a black hole. It combined a series of cloth tubes hanging from tree branches, a custom light show that reflected off those tubes to simulate a water effect on the ground, and a Cole-engineered system that played distorted static when anyone walked near the display (as measured by a proximity sensor).
This was followed by 2019's Pocket Optus, a more complex Electric Sky installation that looked to passersby like a simple microscope setup on a basic table. But when viewers put their eyes onto its lenses, they saw a bizarre micro-universe of textures and shapes—which, turns out, were Larson's creations, ranging from polymer clay sculptures to laser-cut cardboard pieces to custom-painted toys. In addition to hiding a table-swapping mechanism beneath the table, Cole carefully engineered the lenses: "I wanted to make it seem like it might be digital, but it's all real," he says.
After reflecting on Pocket Optus, Cole admits that Colonoscopy Party was guided by similar artistic principles: "I like creating a whole bunch of complexity and then hiding it from the viewer," he says. While attempting to repair the newer game at Time Warp, Cole opens its back door to reveal the magic tricks inside. These include a bicycle chain track, on top of which runs a tiny webcam with custom lenses attached. This system glides through a bunched-up tube of pink felt, which is dotted with Larson's sculptures. As exposed, the table-length system looks a bit like a pinball machine.
Cole drew inspiration from a remote camera rig he'd purchased and fished through his own home's walls as part of a rewiring project. ("Was that legal?" Larson interrupts. Cole pauses for a beat, puts on a coy smile, and replies, "...yes?") The resulting camera feed looked fascinating: "I saw lath and plaster that was put up 110 years ago and wiring that hadn't been touched in that amount of time," Cole says. "There's this whole world inside the walls." Thanks to the camera's pinhole-sized aperture, it was distorted and dusty. It kind of looked like a colonoscopy.
"I watched four or five colonoscopy videos on YouTube before I was like, okay, this looks the same," Cole says. "How's your algorithm now?" Larson quips, to which Cole replies, "It's great."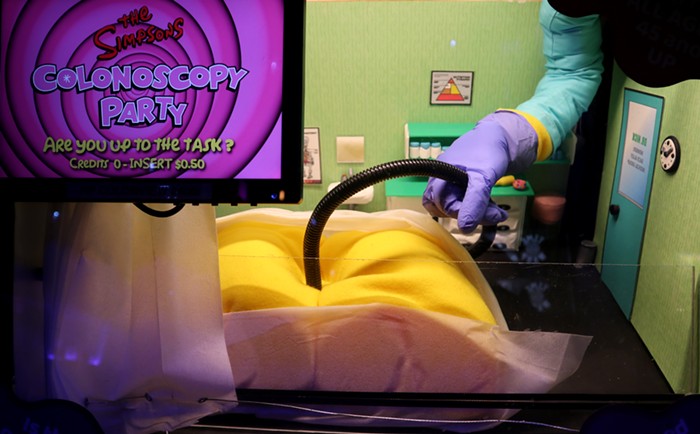 Larson remembers that the colonoscopy-as-a-game concept came first, to match the 2021 Electric Sky theme of "Game On." The pop culture crossover followed after Cole went to a fabric store. "I remember you were researching, 'How am I going to make this butt?'" Larson says. "When you found that that colored fabric, I think that's when something sparked in your head, which was, that looks like Homer Simpson's color."
Work began in earnest to make an arcade cabinet mock-up that would power on and play itself at that year's Electric Sky event, complete with Simpsons mainstay Dr. Nick Riviera as the visible mascot on the front of the cabinet. A brief video introduction shows an actual Simpsons animation about Homer getting a colonoscopy (which the creators didn't know existed until after they'd started their version). Once this concludes, a curtain opens to expose a big, puppet butt, and the video screen displays the duo's camera rig as it moves through a crowded colon, lined with 3D-sculpted objects like a hamburger, a hot dog, and a wedding ring. As the camera moves, a puppet hand wiggles a tube as if unsafely drilling the thing into Homer's ass.
 

 

View this post on Instagram

 
The duo had agreed to show off their Electric Sky creation a few months later at Capitol Hill bar and gallery Vermillion, so they tuned and expanded the cabinet to let people control the camera's forward and backward movement through the fleece-lined colon. After the month-long exhibition concluded, Larson and Cole needed a place to put the arcade cabinet. "I don't want it at my home," Cole admits; he's already got six pinball machines there (which, yes, he's repaired by himself).
Serendipity struck: some of Passable's members were about to open a gaming-themed bar around the corner. When Time Warp opened in December 2022, it featured a ton of custom tables, light installations, and art pieces made by various Passable members, but Colonoscopy Party is arguably the biggest standout of that collection. It enjoyed 15 minutes of Internet fame thanks to a viral TikTok video (whose top comment was posted by one of Larson's family members: "That's my uncle!"). Yet while the machine remains a Time Warp mainstay, it so far hasn't been noticed by a certain litigious IP holder.
I ask Larson if the duo has thought about such a problem arising down the line. "You mean, a cease-and-desist?" he asks. "Let's just say, we'll find a way to transfer [Colonoscopy Party] to a private collector."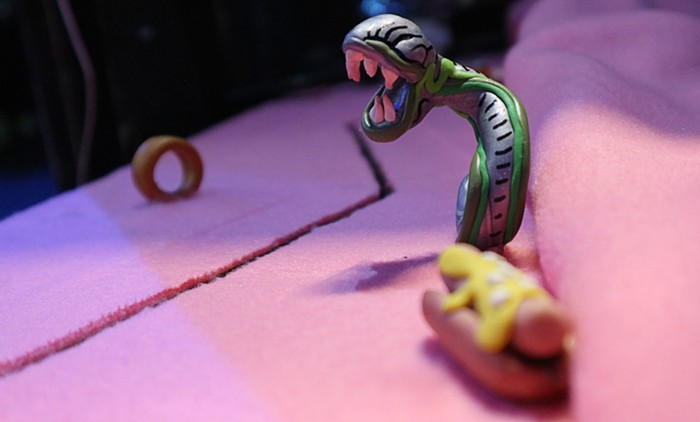 Whether that happens or not, the duo admits they're ultimately happy with how the project turned out, even if it has required considerable time, energy, and upkeep since its 2021 creation. "I like to confuse people," Cole says about this game and the other projects he's made. "I want people to think, like, 'What is this? What am I looking at?'"
Larson agrees, though his perspective is different. "As a graphic designer, I like to make things look good and help communicate," he says. "So when I do art projects, I don't have to communicate. I can just, you know, have fun and make things. Not just Andrew—a lot of people I will partner with and just, you know, 'What do you need?' Not for money. Just, let's have fun."
To that end, Larson mentions his next major project: City of the Future, an exhibition of room-filling art projects that will be hosted inside the Teal Building (R Place's old home) for most of June 2023 (including a closing showcase on Pride weekend). It's a collaboration with local tech-arts non-profit Third Place Technologies, where Larson is a board member. Larson says he's excited to step back and serve more as an artist's liaison for this project–to see the region's weirdest fusions of technology and classic art fill the Teal Building's multiple stories. When pressed about possibly helping Cole make something new, he smiles and says he'd offer "a little somethin'-somethin'" if his longtime collaborator asks.
Two weeks after our Time Warp chat, I tour the empty building, where various artists talk about ideas for installations that might fill entire rooms, or even stretch from the basement to the ceiling, to stage either a utopian or dystopian vision of Seattle's future. While there, Cole approaches me with his own vision of a happier future: "You gotta see the new curtain!" He's about to repair Colonoscopy Party with a newly 3D-printed rig, which he pulls out of his bicycle's cargo compartment and shows off with the excitement of a science fair participant. "We won't have a friction problem anymore," he beams. Or, at least, the friction will once again be limited to Homer Simpson's tube-invaded puppet ass.