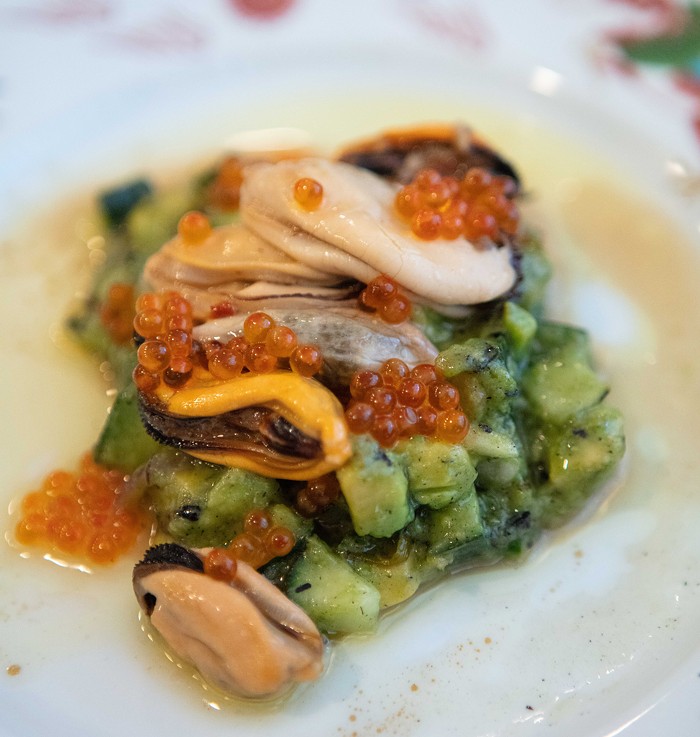 I first noticed it when I bit into that crispy anchovy. The tiny fried fish was surrounded by soft scrambled eggs and a vinegary fresh tomato. The contrasting textures and flavors gave a radiating brilliance to each ingredient. And as I ate, I realized I was most definitely feeling it. A familiar warm body feeling and relaxed mood was setting in.
I was getting high. And this haute cuisine was doing it to me.
I was eating inside an iconic restaurant in Seattle's International District for the first pot-infused meal of a new supper club. State law and the county health code make this kind of event completely illegal—you can never legally consume pot in public, even if it is infused into food—but the five local chefs behind this event decided they were tired of waiting for the law to catch up with common sense.
These chefs cook at some of Seattle's most celebrated restaurants. They spend their time working for the places that put Seattle on the national culinary map. They win James Beard Awards. New York Times food critics eat at their restaurants. But on this night, they were making a clandestine cannabis-infused dinner.
This was only the second pot-infused dinner I'd ever attended. My first experience was mediocre. It was a private dinner put on by a local pot retailer at a downtown Seattle luxury tower. We had cannabis-infused cocktails and the food was dipped in pot oil, but the event was more about hobnobbing than food.
At the first dinner, I was seated next to state senator Cindy Ryu (she opted for the non-infused menu), and there was a brief appearance by King County executive Dow Constantine (he did not appear high). Their presence reminded me how ridiculous it is that dinners like this are illegal—our own elected representatives clearly didn't think adults eating infused food posed any danger to society. Before long, I was standing on a balcony smoking a joint with an Eastern Washington cannabis farmer, which obscured any effects the food may have had on me.
The clandestine supper club in the International District was far different.
The food was sublime, and so was the effect. The high was a slowly building sensation that felt entirely new. I didn't have the feeling of eating a 10 milligram edible (basically nothing) or downing a 100 milligram soda (getting entirely stoned). Instead, bite by bite, course by course, the chefs got me slowly and delightfully stoned. By the end of the meal, when I walked out of the restaurant into the late summer light, shining on Elliott Bay and casting horizontal shadows across Jackson Street, I felt a beaming and radiant high.
It was the cannabinoids making me high, but the inspired food was definitely not getting in the way. One of the chefs behind the dinner, all of whom asked to remain anonymous because of the current laws surrounding weed dinners, is Filipino, and that influence was felt throughout the meal. Those anchovies were referred to by their Filipino name, dilis, and the main course included green coconut curry and a pork-belly adobo that my dinner partner said was so lusciously tender that she "forgot what she was eating" mid-bite.
The second course was a plate of mussels, charred scallions, salmon roe, avocado, and cucumber—and it was the most delicious thing I have eaten this year. The mussels were like butter, the cucumbers and avocado were an expression of freshness, the roe popped open with briny vibrance, and the charred scallions were burned like the skin of barbecued chicken. As I was eating the dish, I was reminded of the feeling of sitting next to a bonfire on a sunny and windy beach. And I wasn't even high at that point in the dinner.
I pulled one of the chefs aside after the dinner, and she told me the meal was meant to explore how pot can be an ingredient—one component of a meal, just like flour or a tomato.
"Cannabis is an ingredient," she told me. "That's what this entire thing is all about. We're exploring how cannabis can be used as an ingredient, not just as recreation or medication."
The chefs infused their food with strain-specific cannabis oil created by a celebrated local pot processor. The menu showed guests which strains were infused into each course: a Tangie strain in the adobo, a Blueberry strain in the fruit salad dessert.
The meal started with a yerba mate mocktail that was infused with something even the headiest of stoners have probably never heard of: terpene water. It is the byproduct of concentrating cannabis down to an oil. That nug of pot in your hand is composed of about 5 percent water, and careful processors like the one that supplied the oil for this dinner are able to save it. These chefs used the water to make this yerba mate drink taste like lychee.
The level of ingenuity involved in that terpene-water-infused mocktail was incredible. That kind of thing deserves to be in a Michelin Guide. But since these dishes have pot in them, they put the whole event on the wrong side of the law. Eating pot in public, as mentioned, is illegal in Seattle, thanks to our state's draconian public-consumption laws.
Sam Méndez, a Seattle attorney with the firm Lane Powell, told me over e-mail that the event probably wouldn't land anyone in jail, but he also wouldn't be surprised if the authorities handed out a fine if they heard about it.
"There's nothing illegal with privately having a few friends over and consuming cannabis-infused foods," Méndez said. "But it is illegal to do so in a way that's for commercial purposes, particularly if it's construed as an association hosting an event."
The chefs behind this new dinner series asked for donations after the meal. Méndez said asking for an optional donation did "muddy the waters a little, but I doubt that would be enough for government officials to consider the purposes 'noncommercial.'"
Méndez said the club could also possibly fall under the category of a marijuana consumption club, which Méndez said is also prohibited under state law.
I asked one of the chefs about the legal status, and he said that he was trying to create something that could be a positive example of cannabis dining for the authorities to see. "This right here is us trying to show what the model could be," he said, between running plates of food to various booths. "There is no law. We're trying to show what could be. We're trying to create a model."
When I responded that there very much was a law that made this dinner illegal, he responded by putting his hands in the air and saying, "What law? I don't know anything about the law," and walked away. I sympathized with him.
It's easier to eat cannabis-infused meals in places like Chicago and New York City, not because it's legal—it's not—but because local authorities there aren't emboldened to shut down edible weed events. In Seattle, the state government and county health board could and would shut down a weed dinner as soon as they heard about it.
That's unfortunate. Weed-infused meals should be a point of municipal pride in Seattle, where there's a natural connection between our top-shelf weed industry and our amazing culinary scene. I'll be thinking about that mussel appetizer—the char of the scallions, the brine of the mussels, the salty roe, and the waves of fresh cucumber and avocado–for the rest of winter.
Maybe by the time it fades from my memory, our state government will have woken up and legalized that appetizer.