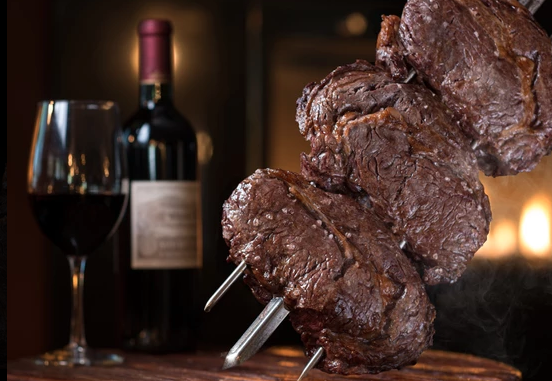 Novilhos Brazilian Steakhouse
In Brazil, a rodízio is a traditional establishment meant exclusively for carnivores and basically no one else. It is an all-you-can-eat steakhouse in the most literal sense of the word--a house piled high with steak like you've never experienced steak before. South Lake Union's Novilhos Steakhouse (with another location in Bellevue) ambitiously recreates the rodízio dining experience and does a stellar job of providing first-class meats to its guests. The beef (in nine different cuts and varieties) is presented to guests table-side, and carved right in front of them. Guests are presented with a special card that is green on one side (MOREEEE MEAT!) and red on the other side (I'm so full I want to sleep and never wake up). Doesn't it seem like the red side should indicate more meat? Anyhow, it's a genius idea. It lets you, the voracious eater, guide your waiters accordingly, and saves precious mouth energy for chewing instead of talking.
Novilhos Brazilian Steakhouse
901 Fairview Ave N, Seattle, WA 98109
206-494-3375
Hours: Mon-Thu 4 pm - 9 pm, Fri 4 pm - 10 pm, Sat 12 pm - 2:30 pm and 5 pm - 10 pm, Sun 12 pm - 2:30 pm and 4 pm - 9 pm
Restaurant Details
Features

Bar/Happy Hour, Dinner, Family Friendly, Good for Groups

Cuisine

Steakhouse

Price

$$$
Bar Details
Features

Happy Hour, Good for Groups

Scene

Happy Hour

Daily 4-7 pm (house well drinks for $7, house wine for $5-11, an array of appetizers at discounted prices, and draft beer for $4-5).