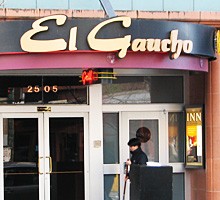 A swank spot to fill up on quality steaks and martinis in either Belltown or Bellevue, with notably great service (ladies are even escorted to the restroom). Great for expense-account dinners or if other people are paying; if you're financially challenged and want to get a taste, happy hour is a screaming deal. The Seattle edition has mink-backed booths. Steak. House. Mink. Backed. Booths. Cheers, PETA.
Make reservations for El Gaucho here.
El Gaucho
2505 First Ave, Seattle, WA 98121
206-728-1337
Hours: Daily 5 pm-close
Bar Details
Features

Full Menu, Live Music, Happy Hour, Snacks Available

Scene

Wine Bar, Cocktail Lounge

Happy Hour

Mon, Sun 4-10 pm; Mon-Fri 9-10 pm; Tue-Fri 4-7 pm; Sat 4-5 pm; Sat-Sun 10-noon ($5 beer, $6-$10 wine, $10 specialty cocktails, $9-$16 food menu).
Read More About It