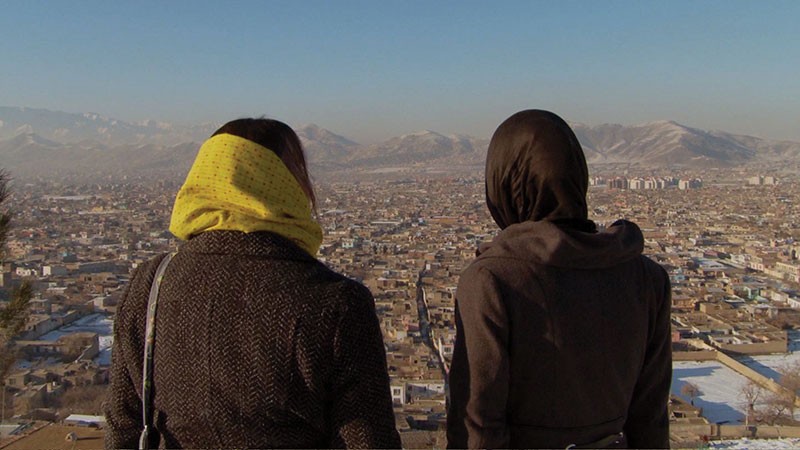 Stranger Says:
This is a different kind of edge-of-your-seat movie. It's a tragedy in slow, inexorable motion. You lean forward, hold your head in your hands, mutter, "No." And so does the director. But intervention is impossible, a feeling embodied by the director, Kirsi Mattila, the Finnish documentarian who follows four years in the life of Marzia, the hopeful Afghan TV journalist. Incremental step by incremental step, Marzia falls deeper and deeper. Her choices narrow. She is threatened with death and acid. She goes from feisty, educated, 19-year-old working woman with a fiancé who supports her drive to work, to unemployed married shut-in with a husband who sometimes hits her (it's only when he can't figure out how to express himself, she explains) and a daughter that Marzia knows she won't be able to do any better for. She may as well be an illiterate woman, she tells Kirsi, because she never leaves home anymore. Every night on TV, she watches her husband. He's the journalist she wanted to be. Kirsi's documentary is a love letter to Marzia, with a voiceover script full of sorrow and a rising acknowledgement of outsider naivete. "I don't understand," Marzia, a free, working woman, tells Kirsi at one point. It's an embarrassing admission. There's nothing to understand, only to mourn. (JEN GRAVES)
This documentary must be seen with two others in this festival,
Presenting Princess Shaw
and
Sonita
. These documentaries (which concern young and poor women who live with very difficult pasts and are trying to take control of their futures) are connected in ways that deserve careful examination and deep discussion. (CHARLES MUDEDE)
SIFF Says:
In 2011, Finnish documentary filmmaker Kirsi Mattila traveled to Kabul, Afghanistan as part of a program to provide training for local female journalists. There, she meets Marzia, a young Afghan woman and television news anchor. Only 19, Marzia has big dreams: She wants to go to law school, and then into politics. She wants to travel, to be active, and to work for her country. But there are obstacles, too: Marzia has worries about the return of the Taliban after the withdrawal of international troops; she struggles with the disapproval of her neighbors—journalism is a problematic profession for women as it requires them to interact with men—as well as the ambivalence of her family and her fiancé. Once Kirsi returns to Finland, Marzia sends her an email, beginning a correspondence and series of visits that continue over the next four years. As Marzia introduces Kirsi to her friends and family, offering a window into the country not usually available to outsiders, Kirsi documents Marzia's life and her struggle to make decisions about her future. In the process she creates a larger reflection of Afghan women's position as well as the possibilities and limitations of friendship.
No Showtimes Found