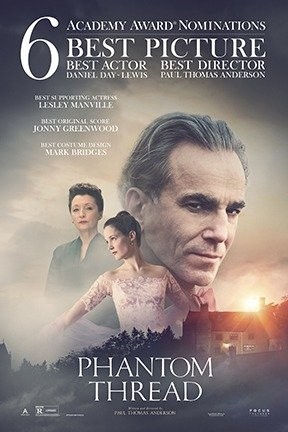 The alleged news that this will be Daniel Day-Lewis's final outing as an actor would only be reason enough to see this film if you actually believe he truly won't ever act again once he's finished cobbling or whatever he's doing this time. But really, all you need to know is that he's in it. Boom, it's a don't miss. But then you see the trailer, in which obsessive jealousy burns slowly, causing terrible damage as it mounts, and you see the makings of a Paul Thomas Anderson gem, and another brilliant performance by Day-Lewis, one of the finest actors who ever drew breath.
Click here for SIFF tickets.
Buy Ark Lodge CInemas tickets here.
Sunday 2/18
Columbia City
Sun 12:15 pm, 3:30 pm, 6:30 pm, 9:30 pm
Downtown
Sun 12:45 pm, 3:45 pm, 6:45 pm, 9:45 pm
Queen Anne
Sun 1 pm, 3:45 pm, 6:30 pm, 9:15 pm
University District
Sun 10:05 am, 12:45 pm, 3:40 pm, 6:40 pm, 9:45 pm
North Seattle
Out of Town
Tacoma
Sun 12 pm, 2:45 pm, 5:35 pm, 8:25 pm