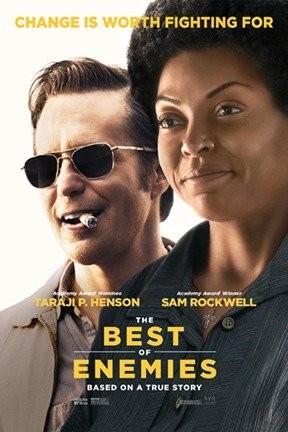 The Best of Enemies
is based on events that took place during the summer of 1971 in Durham, North Carolina. Durham held a 10-day community forum on school integration, co-chaired by opposing town leaders: Black community organizer Ann Atwater (played here by Taraji P. Henson), and president of the local chapter for the Ku Klux Klan, C.P. Ellis (Sam Rockwell). But even to say these people are just "opposing"—that doesn't work. You can't "Let's hear them out!" or "There were very fine people on both sides!" with white supremacy, yet that's exactly what
The Best of Enemies
attempts. And even if both-sides-ing this were possible (which it's not),
The Best of Enemies
fails wildly. The film opens with a voiceover from Ellis, and he's the one who gets to deliver the big speech at the end about how far he's come. Like the journey is fucking his, and the victory was his, and his personal growth was the point—and not, say, school integration, or even the trauma inflicted upon the Black community by having to negotiate with people who don't believe in their basic humanity.
Read the full review
here
.
No Showtimes Found