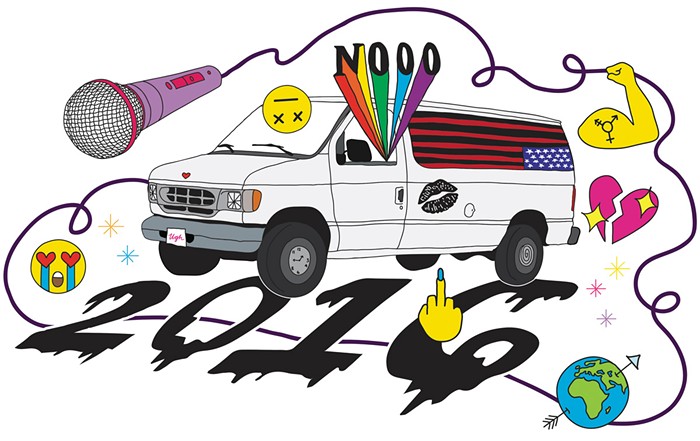 What. A. Fucking. Year.
It's difficult to summarize the past 12 months within the frame of "So how was all that touring and being a musician and stuff?" Time is a bizarre frenemy, and reaching backward into 2016 feels heavier than it would have, say, one month ago.
Tacocat, my band, has been with me longer than any pet, partner, job, or hair color. This was the year we were able to do it bigger and better than before. We have toured at least once a year for the past nine years—nearly a third of my life—including about 110 days of 2016. (Before I continue, I want to acknowledge the obvious fact that the opportunity to do any of this is pure privilege.)
Memories mush together. In nearly a decade, bands we've played with and loved have broken up and/or become different bands. The punkest people you ever saw had to hang it up for a job with insurance or other forms of stability not often offered to artists. Good venues become artisan weed dealerships (and much worse). House parties have grown scarcer as rents continue to skyrocket. We owe so much to DIY spaces—particularly the ones that provided refuge for people across the LGBTQ spectrum, people of color, and women. They teach us how to be better musicians and better people.
While I am indebted to these communities, taking the step to do our band full-time has involved certain uncomfortable realities. If you want to reach a bigger audience, eventually someone else needs to book your tours, which has changed the scenery quite a bit for us in the last few years. Instead of playing Jimmy Misogyny's Famous Leaking Flea Basement or the Terrifying Hardcore Heroin Bunker, you might find yourself suddenly playing Club More Than One Working Toilet, or even hitting the jackpot at Inclusive Radical Feminists' Place. We've had a lot of luck, but it's still bittersweet.
The reason for all this touring was the release of Lost Time, our third full-length album, on April Fools' Day. Putting out an album takes a loooong time. We wrote the songs in the summer of 2015. Making a piece of art and then sitting with it for six months is anxiety purgatory. Should I have sung that differently? Are these lyrics too dumb? Is this song too serious? Too slow? Can everyone hear the Sudafed? Is this even good?
A month before the record came out, we took a 10-day trip to South by Southwest to practice our new songs live and remind people that we were still a band or whatever people are supposed to be doing there (the lowlights of SXSW are too numerous and widely reported on to bother with, but two main highlights stick out in my mind: drinking Topo Chico fizzy water and meeting the band Daddy Issues). Later in March, we played a Bernie Sanders rally at Safeco Field in Seattle. I wore a sweatshirt with "79/100" written on it over and over in puffy paint. I cried when he spoke. I wish we could have played Hillary Clinton's rally, but Macklemore beat us out.
A week later, we played two album-release shows in one day—one all ages and one 21+ evening show—at Chop Suey. Both were sold out. It was the most fun. I cried then, too. We all cried. I was so overwhelmed by the sheer number of people in the room that night that I didn't even have a chance to talk to my own sister. Two days later, we left on a monthlong US tour, followed by a monthlong European one, followed by two more tours in the United States.
Memories from the first US leg are scattered. Lisa Prank joined us on the first half and charmed everyone at every show. Far too few gas stations in the US carry Schweppes black-cherry carbonated water. Shout-out to my bandmate Bree (bass, Libra, Chihuahua enthusiast) for taking the time to insist that we play with like-minded bands as much as possible—a task we realized most venue bookers kind of suck at. ("How about this dudely rockabilly band with a grudge against every girl who never dated them?")
In New York, I had a dream that Bree and I got to interview Kathleen Hanna in an extreme hangover scenario where we met up at Bed Bath & Beyond and talked about feminism, music, tour tips, and coupon scams. AND THEN IT WASN'T A DREAM—AHHHHH. (At least I hope not.)
Right before our show in North Carolina, they passed HB2, the awful transphobic bathroom law. Lots of bands decided to cancel their North Carolina appearances, but we didn't, reasoning that doing so would have deprived the folks there who actually needed community the most a chance to be around like-minded people. Also, it's not like Tacocat bailing on the Pinhook in Durham would've had the same economic impact as Pearl Jam or Bruce Springsteen pulling out of a stadium show. Instead, we played to a crowd that was so full of love, and then we donated a bunch of the proceeds to Trans Lifeline.
In Richmond, Virginia, I sang along to a Prince song and made a buddy at the venue who told me how much he LOVED Prince, and proved it by showing me a photo album of himself dressed up as the Purple One. The resemblance was pretty striking. Two days later, Prince passed away. I cried in the booth of a diner in Nashville and found the Richmond kid on Facebook to send him my condolences.
There is more crying in this than I thought there would be.
Since American bands likely don't know what they're doing driving around Europe, it's usually a good idea to get a driver. We were assigned Rafael. All we knew about Rafael before meeting him was that he was Brazilian, loved hardcore music (like, he toured with the Cro-Mags whooaaaa), and sent enthusiastic text messages that nearly matched our own for excessive use of emojis and exclamation points. After about two days into tour, we knew he was an actual angel. He told us that while a life of tour and tour management was ruining his health and romantic relationships back home, he simply loved it too much to quit. When the constant rain and homesickness started to seep in, Raf's unstoppable optimism, advice, and commitment to our sometimes-weird and sometimes-awful shows was life-saving.
Touring Europe is as bipolar as it gets. One minute, you're feeling like a rad witch who sold out a decent-sized show in England. The next minute, you're ready to jump off the "stage" at the squat you're playing in Germany (to 12 people) to confront the sound guy who is literally hiding—ducking down behind the mixing board—because he gave up on getting your microphone to work. At all. Throughout the entire show. (The best part, though, is when a man e-mails to tell you how bad the show was and that "next time you should play somewhere else.")
One day, you're meeting young women in Glasgow forming their first feminist collective to fight back against the violence and misogyny within their music community. The next, you're shielding yourself from verbal and physical confrontations hurled by drunk Englishmen (the ur-bros).
One day, you're playing a magical show in France where a crew of rad femmes surprises you with homemade Dana Scully masks. The next, you're peeing in a public park on your period because the Twizzler-shaped venue you're playing has one bathroom all the way in the back and no one will let you through the crowd.
One day you're whining and the same day you're somehow simultaneously bragging. This is a weird piece to write.
Four days after barely making our flight home (this story would require its own article) we played Sasquatch! at the Gorge. We were slotted to open the main stage, but the wind created a safety issue. All dressed up with no show to play, we sipped warm beer and waited. A stage tech asked me if I was "one of the dancers." I literally thought he was kidding and laughed in his face. A half hour later, a man who worked with the Cure saw my armpit hair and told me: "I like that. Most men wouldn't say that, but I think it's all right." I knew he wasn't kidding, unfortunately. We ended up playing a slot at the rave tent, which was more our (drunk) speed anyway.
In California, we played a few shows with the Regrettes (adolescent punk mixed with 1950s pop, the sweetest band ever). I can't imagine what life would be like if I had been that talented, confident, or smart when I was that young (the singer is 16). Being that they're a major-label band with three young female members, I wondered about their experience of sexism: Did they already encounter it regularly? Would they eventually experience it more or less than we did, given that they have a support system? They definitely dealt with age issues on the regular—a super aggro bouncer wouldn't let them stay and politely watch our San Diego show, even with Xs on their hands, even though none of them care about drinking and their very wonderful dad was there! Underage venue laws are also the topic for another piece altogether...
Our final tour of 2016 started off pretty rough. Eric (guitar, Libra, poodle enthusiast) woke up the day before we were supposed to leave for tour with searing shoulder pain that wouldn't allow him to sit up straight, let alone play guitar. Since we would be touring the first leg with Dude York, we decided to call "Peter 911" and ask if their guitarist (who is Peter) would please learn all our songs in 24 hours and join us for as many shows as Eric could not do. He agreed and learned our set list in one practice. What a guy.
Since we had to cancel our first date in Spokane, the three gals of Tacocat took off. Lelah (drums, Gemini, Pomeranian enthusiast) and I—the only licensed drivers—each took 10-hour shifts until we hit Minneapolis. The show ruled. I met a bunch of incredible abortion-care providers who came to our show because of the #ShoutYourAbortion connection. It was a lovefest.
We got Eric back two days later when he flew to Chicago with some edibles and a chiropractic device that looked like a giant cheddar Combo. We said good-bye to our loves Dude York and took up with Daddy Issues for the rest of the tour. Sometimes I think about the wonderful bands we've played with and feel anxious about all the people who might not ever hear them.
I'm rambling. My linear memory is horrible. How was tour? It was everything. To us, anyway. I can't deny the weird irony that our band had "a pretty good year" during a year that will most certainly go down in history as The Actual Worst. All I can say is that spending as much time as we did outside our Seattle bubble gave us the perspective that the world is not as balkanized as Fox News would have you believe, nor is it as homogenous as your Facebook feed looks. There are real, live progressive communities everywhere, all in different stages of figuring it out. Maybe they have a lot to learn, maybe they have a lot to teach—either way, dismantling oppression includes reaching out and nurturing one another as like-minded freaks. It might be absurd to say that the act of singing songs while being a woman and touring in a band (cringey cringe cringe) feels important during times like these. But in a small way, it kind of does.