"I want to run my fingers up your pussy," Fever Ray sings with pervy earnestness in "To the Moon and Back," the first single from her latest album, Plunge. Huh. ABBA never did it like this. In fact, nobody else from Sweden has had the huge success Fever Ray (aka Karin Dreijer) has enjoyed both with her now-defunct group the Knife and in her solo career by defying pop conventions so flagrantly. That's remarkable for an artist who produces music that scans darker and colder than a February day near the Arctic Circle.
Recent press photos of Dreijer trick your mind into thinking it's on a mushroom trip gone awry. The one that accompanies a recent New York Times feature (cropped from the video for "To the Moon and Back") shows the Swedish vocalist with two mysterious circles dotting her bald skull, as she wears makeup that suggests erratic aim or scary-clown aspirations. The message: This ain't your typical squeaky-clean Scandinavian diva.
Dreijer's warped visual signifiers extend to her sound. She rose to prominence with the Knife, the coolly tumultuous electronic-dance group she fronted alongside her brother Olof. The decadently despondent duo disbanded shortly after 2013's epic Shaking the Habitual, which capped a 15-year run of gothic-shrouded techno with an uncharacteristic buoyancy. Karin's voice distinguished the Knife from their peers—its distressed, witchy timbre hinting at the seemingly paradoxical conditions of profound angst and strident defiance. The Knife brought a brooding vitality to the club-going masses that countered the atmosphere of manufactured ecstasy and shallow hedonism that marks most popular electronic music.
The Dreijer siblings performed while donning masks, mostly avoided doing press, and, despite winning industry awards, refused to attend the ceremonies. In this way, they maintained an air of mystery not afforded fellow Nordic music luminaries such as Björk, Robyn, and Little Dragon.
But with the release of Plunge, Dreijer has decided to reveal more of herself to the media. The album emerges after an eight-year gap between her self-titled debut full-length, which found the singer frequently pitching her voice down to a grotesquely ghoulish tone. Her songs may have darkly beautiful melodies, but Dreijer didn't want to make it easy for listeners to embrace them.
In the time between those records, Dreijer's marriage ended and she began to experiment with her sexuality, seeking kinky experiences with women. The 11 tracks on Plunge explore the complex feelings of losing and finding love and lust. The music's rhythmic adventurousness and tonal extremity mirror Dreijer's emotional state—a liberatory, omnidirectional openness to novel arrangements. With her newfound personal freedom, she's also allowed some light into her compositions, which are produced with vibrant rigor by Peder Mannerfelt, Paula Temple, Johannes Berglund, and Dreijer herself.
A standout on Plunge, the chamber- orchestra piece "Red Trails" opens with "Blood was our favorite paint/You were my favorite pain/Waiting for your love to happen/Is like waiting for a drug that never kicks in"—and its morose lilt recalls the tragic German brooder Nico. That Dreijer can take such darkness to large crowds speaks volumes about her strange relatability, despite all her literal and figurative masks.
Sponsored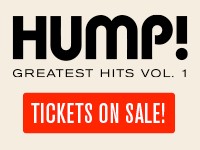 What are YOUR favorite HUMP! films? Start with HUMP! Greatest Hits, Volume One! Relive the memories!