You have to love a 70-year-old musician who keeps you guessing by changing up the setlist every night of a tour. That's just one reason why Nashville-based British rock legend Robyn Hitchcock rules. At an age and stature when most musicians play it safe, the former Soft Boys leader still keeps it (sur)real. On Friday night at the Neptune Theatre, Hitchcock plucked 20 songs from his vast and rich catalog, dating back to 1980, and while he and his crack pickup band may not have played all of your and my faves, they did cover a lot of fertile psych-rock and twisted-folk ground in three different configurations. 
Wearing his trademark blue-and-white polka-dot shirt, Hitchcock began the set by himself on acoustic guitar, getting down to business without any preamble. As he strummed the gorgeous, poignant ballad "Raymond Chandler Evening," a girl of about 7 planted herself in front of me. She stood there rapt for several tunes, a refreshing contrast to all the middle-aged folks in the 85% full venue—plus a testament to Hitchcock's generation-spanning appeal.
The buoyant, college radio hit "Balloon Man" and the cheerfully morbid "My Wife and My Dead Wife" concluded the solo segment. Before the latter, Hitchcock commented on his recent 70th birthday and, noticing the advanced age of most of the audience, quipped, "If you ever see me again, you'll probably be on stretchers."
Then Robyn's very live wife, Emma Swift, walked onstage and resolved a nastily buzzing amp issue that her husband somehow hadn't clocked during the previous three songs. (Maybe this was a bit?) The scenario led to some cheeky bickering between the couple, their cozily confrontational chemistry reminiscent of Sonny and Cher's on their '70s TV show. Moving on, Swift lent her lovely voice to "Glass Hotel" and "The Man Who Loves the Rain," with the latter containing the cogent line, "Respect the dead / You'll be joining them soon."
Then the full-band segment of the evening commenced, with local guitar hero Kurt Bloch, drummer and former Sub Pop artist Kelley Stoltz, and bassist Bart Davenport kicking into "The Shuffle Man," a rollicking rocker that spilled over with the ebullience at which Hitchcock excels, complete with Yardbirds-y rave-up. Then came the first Soft Boys song of the night, "Queen of Eyes" from the 1980 classic LP, Underwater Moonlight; it's one of the purest expressions of jangly joy that Robyn's ever produced. 
After the psychedelic slink of "Autumn Sunglasses" and before the R.E.M.-ish rambler "Sally Was a Legend," Hitchcock got off one of his funniest observations of the night, comparing the righting two out-of-tune guitar strings with separating squabbling parents. And while his stage banter wasn't as verbose as in years past, he did get more talkative as the show progressed. He introduced the low-key, seething jangler "Goodnight Oslo" as a murder ballad in which nobody gets killed and then veered off on a tangent about how "Venmo is an anagram of venom, but it's not that dangerous."
Describing the Soft Boys' stone classic "I Wanna Destroy You" as "a protest song against human nature," Hitch proved yet again the paradox of such bilious lyrics being sung to such a maniacally effusive melody. After that nihilistic rush, Robyn said, "We'll leave you with a benediction," which was the exquisitely wrought "Airscape" (from Element of Light), one of the man's—and, hell, rock's—most beautiful songs. It's safe to say that, were he alive, John Lennon—one of Hitchcock's heroes—would've loved this tune.
The highlight of the encore was a gem from the not-very-popular 1982 solo album, Groovy Decay, "Grooving on an Inner Plane." Stoltz proved he could get funky as hell, and the leader allowed every player to really stretch out and solo. It was a magnanimous gesture in more ways than one, and it epitomized Hitchcock's instinct for surprises. Most artists in his position would've closed with the most popular track from the newest album (Shufflemania!, in this case), but Robyn's wired differently, thank Syd.
Sporting electric guitars and occasionally relying on a drum-machine effects box, Stoltz and Davenport offered a solid set of distinguished, middle-aged-man rock in their opening slot. Stoltz prefaced their spangly, midtempo-rock-heavy set by admitting, "It's hard opening for a genius like Robyn Hitchcock. It's like Bob Ross opening for Van Gogh." It may have been the truest—and funniest—utterance of the night... which is amazing when you're competing against the master of between-song witticisms.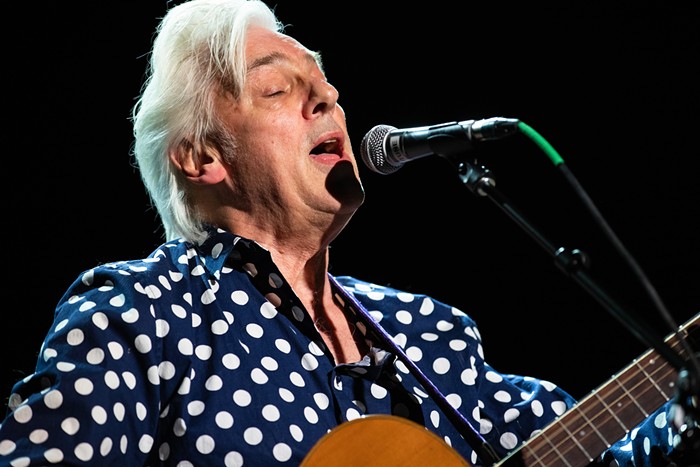 Robyn Hitchcock setlist 
01 Raymond Chandler Evening [Robyn Hitchcock and the Egyptians song]
02 Balloon Man [Robyn Hitchcock and the Egyptians song]
03 My Wife and My Dead Wife [Robyn Hitchcock and the Egyptians song]
04 Glass Hotel [with Emma Swift on vocals]
05 The Man Who Loves the Rain [with Emma Swift on vocals]
06 The Shuffle Man 
07 The Queen of Eyes [Soft Boys song]
08 Sounds Great When You're Dead
09 The Sir Tommy Shovel
10 Virginia Woolf
11 Autumn Sunglasses
12 Sally Was a Legend
13 Goodnight Oslo
14 Viva! Sea-Tac [Robyn Hitchcock & the Venus 3 song]
15 Madonna of the Wasps [Robyn Hitchcock and the Egyptians song]
16 I Wanna Destroy You [Soft Boys song]
17 Airscape [Robyn Hitchcock and the Egyptians song]
18 Queen Elvis [with Emma Swift on vocals]
19 Oceanside [Robyn Hitchcock and the Egyptians song]
20 Grooving on an Inner Plane