Very popular British psychedelic-glam-rock trio Love and Rockets have no natural frontman and offer very little stage banter and showmanship. So it's a testament to the power of their music that crowd reactions at the Moore Theatre on Sunday night were often as loud as Daniel Ash's piercing guitar flourishes.
A trio with the enviable lineup stability of ZZ Top and Rush, Love and Rockets are back in the business of peddling nostalgia to (mainly) Gen Xers and Boomers. These guys engaged in similar machinations with goth-rock pioneers Bauhaus last year, and it was wonderful.
Now fresh off a reportedly killer set at the Cruel World Festival, L&R mainstays Ash, bassist/vocalist David J, and drummer Kevin Haskins ran through a crowd-pleasing 18-song performance (same setlist as in Portland, Sandy City, Utah, and Oakland) with efficiency and few outward signs of joy. It was as close to the "another day at the office" demeanor as I've seen in a legacy band. Their song "No Big Deal"—an ominous, two-bass-powered chugger that they played for us—could be Love and Rockets' motto on this tour. Nobody in the not-quite-capacity crowd seemed to be complaining, though.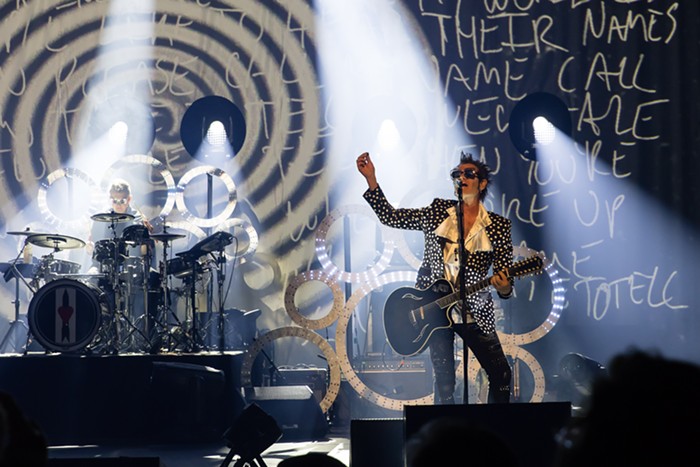 Love and Rockets were so confident that they had the audience on their side, they opened with "I Feel Speed," a desolate, slow-building ballad from their self-titled 1989 LP. They did some other contemplative ones, including "An American Dream," "Judgement Day," and perhaps their prettiest tune, "Sweet F.A."—all of which display L&R's mastery of doleful, soaring rock.
Although L&R did no songs from their 1994 electronic-oriented album, Hot Trip to Heaven, they did bestow the seriously funky trip-hop of "Deep Deep Down" from 1998's Lift. But mostly, Love and Rockets rocked hard; at least one patron had his tinnitus triggered by the Jesus & Mary Chain-like scree of "Holiday on the Moon." (Hi.) "Mirror People"—which triggered a huge audience reaction—almost had the mad propulsion of Loop's "Soundhead" while "The Light" emitted the stern vibes of the Stooges' "Not Right." And I didn't notice it till this show, but there's one riff in the radio smash "No New Tale to Tell" that mirrored the main one in Boss Hog's "Dandelion." And of course, the perfect glamadelia of "Kundalini Express" bore the finest "woo woo"s since the Stones' "Sympathy for the Devil." Surely these are all accidental similarities... or the hallucinations of somebody with too many records.
One of the highlights for this casual fan was the anthemic "Yin and Yang (The Flowerpot Man)," which ramalama'd with hardcore fury. Ash finally showboated a bit and his and J's unison vocals were on point. Haskins did not falter at all during this exhausting burner, which ended with a shattering climax.
The group could've called it a night there and sent everyone home buzzing with ecstasy. But there was more—two encores' worth, the peak of which was the Norman Whitfield-Barrett Strong classic "Ball of Confusion (That's What the World Is Today)." Love and Rockets stretched and freaked out the Temptations' psychedelic-soul pressure-cooker as if their livelihoods depended on it—they even threw in a line from the same songwriting team's "War" ("War! What is it good for?! Absolutely nothing!"), and one could imagine Berry Gordy smiling at the spectacle. That these pallid, goth-friendly Brits executed one of the most monumental Motown covers is the sort of surprise outcome that makes life worth living.
Following "Sweet F.A.," Love and Rockets walked off the stage without so much as a "Ta" to the adoring throng. You have to respect that kind of tradition-flouting.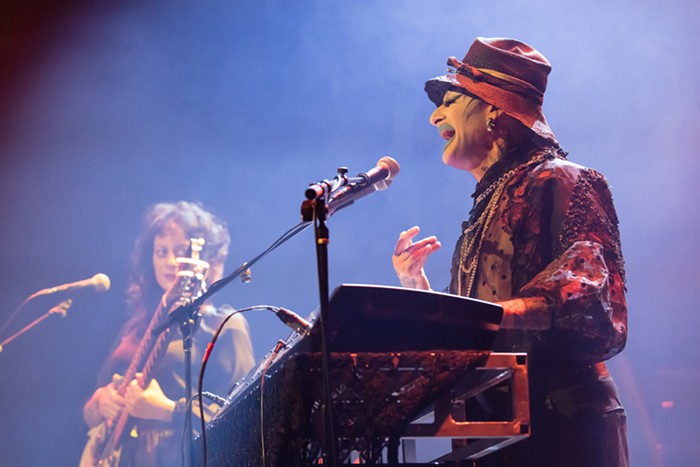 Looking like Boy George's more sinister sister, drag-cabaret vocalist/keyboardist Vinsantos opened the night with a half dozen dirge-y ballads that writhed with revenge, sadness, and angst. The New Orleans/Mississippi-based entertainer was accompanied by a woman playing a double-necked guitar, which she sometimes used to drape elegant, metallic power chords over Vinsantos's Roland RD-700 synth reveries. Better than the music, though, were Vinsantos's between-song anecdotes and confessions, which induced laughter and empathy among the folks in the theater who weren't in the long-ass merch line that snaked up the balcony stairs.
Love and Rockets setlist
01 I Feel Speed
02 No Big Deal
03 Kundalini Express
04 The Dog-End of a Day Gone By
05 Judgement Day
06 Haunted When the Minutes Drag
07 An American Dream
08 No New Tale to Tell
09 So Alive
10 Deep Deep Down
11 My Dark Twin
12 The Light
13 Mirror People
14 Yin and Yang (The Flowerpot Man)
ENCORE
15 Holiday on the Moon
16 Love Me
17 Ball of Confusion (That's What the World Is Today) [written by Norman Whitfield-Barrett Strong]
ENCORE 2
18 Sweet F.A.