The last dozen years or so have seen jazz enjoying a resurgence in popularity and artistic excellence. London, Chicago, Los Angeles, and New York's scenes are especially thriving, and Long Island harpist/composer Brandee Younger has ridden that wave to prominence and a deal with the revered Impulse! label and its modern-day equal as an incubator of forward-thinking jazz, International Anthem.
After many years working as a session musician, including dates with giants such as Pharoah Sanders, Charlie Haden, Jack DeJohnette, and the Roots, Younger embarked on a solo career in 2011. She's seriously increased her profile in this decade, with releases such as Force Majeure (with bassist Dezron Douglas), Somewhere Different, and Brand New Life.
Besides being an exceptionally deft harpist, Younger is a student of jazz, as evidenced by her excellent covers of compositions by Sanders, Alice and John Coltrane, and Dorothy Ashby, among others. Notably, Alice Coltrane and Ashby are jazz's preeminent harpists, and Younger rightfully sees herself as heir to their historic legacies. And Younger proved that she belonged in this exalted company Tuesday night at Jazz Alley.
Her trio with Rashaan Carter (double and electric basses; no relation to Ron Carter) and Allan Mednard (drums) make the sort of jazz for which earplugs are unnecessary. Rather, their sound alights with exquisite poise. Even when Mednard went off on a seven-minute, tom-tom-heavy drum solo on the elegantly turbulent "Unrest" (written during the height of 2020's Black Lives Matters protests), things never reached Tony Williams- or Billy Cobham-level explosiveness. As chaotic as the piece got, it never swerved out of control.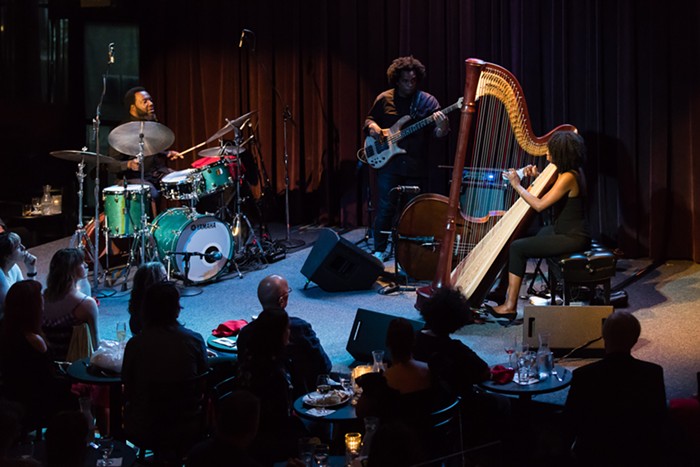 Now, the harp is not an instrument conducive to what music scholars call "shredding," so Carter and Mednard know they have to keep things rather understated to let Younger shine. You could hear that approach in its platonic form on the sprightly and hopeful "Love & Struggle," an ideal specimen of jazz as ASMR shiverfest. Speaking of shivers, BYT began the set with a cover of Alice Coltrane's "Rama Rama," "one of her more obscure recordings [from 1987's Divine Songs]," as Younger helpfully explained before the group manifested its lush gravitas and featherlight rhythms.
BYT later covered another Alice tune, "Turiya & Ramakrishna "; she jocularly prefaced the performance by saying even though the track had appeared in the TV show Atlanta, Younger "was into it way before that. To be clear, I'm not jumping on the bandwagon—I am the wagon." The band expertly rendered the intricately gorgeous melody and its lustrous timbres before serendipitously ending on a rhythm that harked back to Portishead's first LP. 
BYT also covered Ashby's "You're a Girl for One Man Only" and Stevie Wonder's "If It's Magic" (Ashby played on the original from Songs in the Key of Life). The former was a pretty, romantic gem; the latter was distinguished by Younger's utterly poignant and beautiful solo. Younger related that John Coltrane's "Wise One" had come to her attention via Apple Music's algorithm, so she thought, why not cover it? As much as one hates to commend AI, this time it resulted in a brilliant interpretation of a classic from the sax legend's Crescent. The title of the night's final song escaped me, but in it Younger's harp carried the brash, noble air of a '70s Chick Corea composition.
After that, Younger thanked the audience—which included legendary jazz trombonist Julian Priester, which speaks to the lofty echelon Brandee has reached—and implored, "Come back tomorrow; it'll be better." Listen to the woman.
Brandee Younger Trio perform at 7:30 tonight at Jazz Alley.