Bumbershoot is officially back. The music and arts festival took over the Seattle Center over Labor Day weekend for the first time since 2019. Not only was it Bumbershoot's big return, but it was also its 50th anniversary.
As expected, this year was a little different. In March New Rising Sun, a collective founded by Neumos and Barboza co-owner Steven Severin, Museum of Museums and Vital 5 Productions founder Greg Lundgren, and McCaw Hall's general manager Joe Paganelli, announced they'd be producing a smaller, more art-focused event with the help of the local nonprofit education organization Third Stone. Ticket prices were lower, there were fewer music stages and more diverse art offerings, and no world-famous headliners packed the 12,000-capacity Memorial Stadium. 
But it was still fun! New Rising Sun is "thrilled" with the turnout, they say, and they saw "approximately 40,000 attendees over the course of the weekend." 
Here's everything we saw over the weekend, starting with Saturday. Cute kittens! A crying clown! An ejaculatory fountain! Legendary British shoegaze rockers! And more!

(Click here for Sunday's recap.)
Saturday
The Dip
Seattle septet the Dip are pretty much the platonic ideal of the early-afternoon summer-festival band. Earnest traditionalists indebted to popular '70s ensembles such as Tower of Power and Chicago, the Dip play tight, horn-intensive funk and green-eyed soul ballads with studious professionalism. "Slow Sipper" and "Fill My Cup" were simmering ballads with undercurrents of lascivious funk that showcased vocalist Tom Eddy's dulcet pipes. "Crickets," from their album Sticking With It, opened with the provocative line "If it feels like the world's burning down, it's because it is," an aptly astringent sentiment for the song's stark, politically conscious funk in the James Brown/Sly & the Family Stone vein. The Dip executed a couple of swift, motivational movers that would impress the latter's first and best drummer, Greg Errico, as well as Northern soul aficionados, but I had to cut out a bit early to catch Slift at the Mural Stage.
Side note: a drone was flying over the crowd during the Dip's set at the Fisher Stage. This shit is sinister and antithetical to the feel-good vibes that summer festivals such as Bumbershoot want to foster. DAVE SEGAL
Slift
Coming all the way from France, the trio Slift began their set eight minutes late and the guitarist's first words were "Good evening, Bumbershoot!" even though it was around 2:30 pm. Nevertheless, thoughts of these mild flubs were soon obliterated by a wild synth loop and shrieking feedback, a prelude to dour Stooges-esque riffing that gradually built to the sound of comets on fire streaking through Hawkwind-ian space.
Slift's second song began with oscillating synth drones and then shifted into shattering, Loop-like psych rock heavy on wah-wah guitar and end-of-tether vocalizing. I feared that the Space Needle—looming over the Mural Stage—might topple. The third track was a massive psych-prog explosion growing out of space-dusted synth whorls that Keith Emerson would've envied. This was followed by what sounded like a quiet, tender tune—wholly out of character for these guys. But no! The song quickly blossomed into a bulbous, wah-heavy sludge-funk opus of monstrous dimensions. The finale was a speedy anthem, a rocket-launched racket that threatened to fly off the rails, replete with synth freq-out at the end. Rapturous applause and "woo"s ensued.
This kind of beastly, lysergic rock has been AWOL from Bumbershoot for many years, and god damn, it felt good to have it back. (DAVE SEGAL)
Wimps
On Friday Wimps released their first new song since 2018, "Mom," a biting but bouncy punk rock number about motherhood. By the time the band took the stage at Bumbershoot on Saturday afternoon, the song had only been out for about 27 hours. I was surprised and delighted to see that when the fun-as-punk trio played the new single several people packed in the at-capacity Vera Project already knew all the words. Or, at least, most of the words. They know the chorus. And that's the great thing about Wimps! They keep things simple. The band's main songwriter Rachel Ratner finds inspiration in her everyday life and pairs her relatable thoughts with catchy and classic pepped-up punk rock. It's easy and fun. Plus, they closed their quick 30-minute set with the greatest quartet of Wimps tunes ever played: "O.P.P" into "Mom" into "Nap" into "Garbage People." Hell yeah. (MEGAN SELING)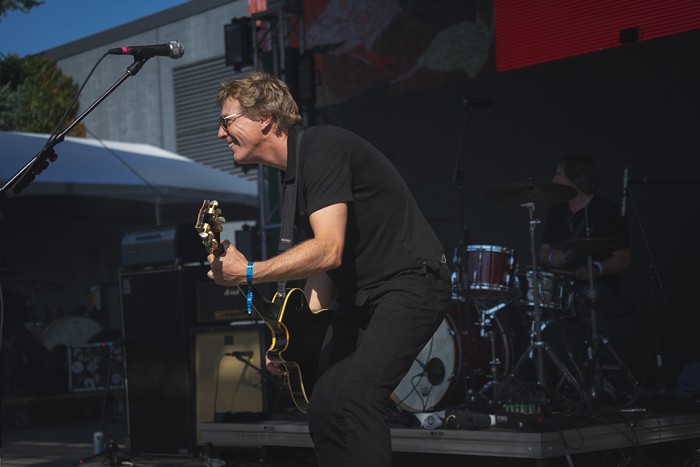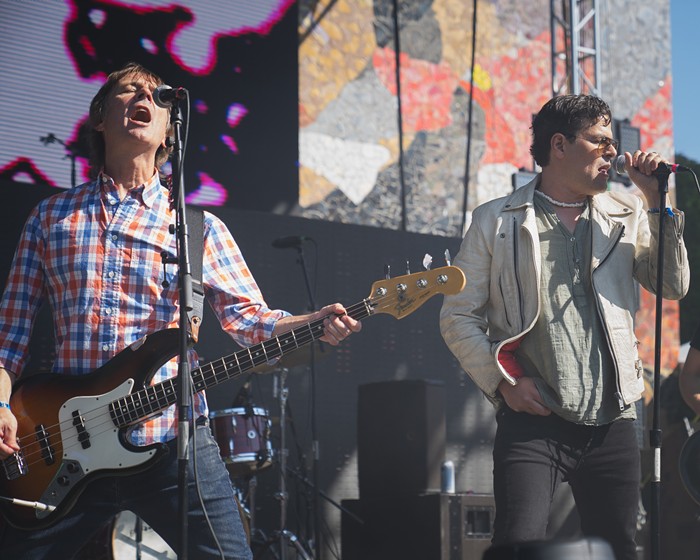 Sweet Water
Sweet Water were hot shit in Seattle in the 90s. The guitar-heavy rock 'n' roll band rose from the ashes of SGM, a grunge band who shared stages with Nirvana and the Melvins. In an old issue of The Rocket, Sub Pop co-founder Bruce Pavvitt described SGM as "better than Soundgarden and Green River put together." You put respect on their name.
When SGM became Sweet Water and they released their album Superfriends in 1995, the single "Superstar" was played on 107.7 the End constantly. They had cocky rock 'n' roll swagger but paired it with Pacific Northwest's unique brand of humility. I was 15 years old and obsessed after seeing the band play Bumbershoot in 1995. I moshed. I lost but then found my shoe. It was amazing.
The band has continued releasing music, but they very rarely play shows. And at Bumbershoot, they knew exactly what the people wanted to hear. They opened with "Cake and Strychnine" and as soon as that big rock guitar riff kicked in it was 1995 all over again. Though they dipped into non-Superfriends material (and it became apparent that much of the crowd has stuck with them over the years, even when I drifted away) it felt as though there was a little extra spark when they played "Feed Yourself," "Big Rock Show," and, yes "Superstar." It was magnificent. (MEGAN SELING)
 

 

View this post on Instagram

 
Bumbermania
People were confused. As the first of four Bumbermania performances began on Saturday, the small crowd that had gathered around the ring outside MoPOP began mumbling questions to one another. Most folks seemed to be sitting there in the small bleachers and at the picnic tables to rest their legs, not catch a wrestling show. "Is it real wrestling?" "What do you mean they're gonna wrestle?" Those in the know tried their best to answer questions, but all was cleared up soon enough.
The crowd grew as people wandered over obviously intrigued by the chants and cheers and the sounds of bodies slamming against the mat. During one match I saw Ethan HD—I'm sorry, ETHAN HD ("ALL CAPS!")—nearly lost it all to Steve Migs and his bodyguards. It was a tough fight! But Ethan was able to turn it around at the last minute with some kind of move that involved BENDING MIGS IN HALF. More wrestling at Bumbershoot; wrestling at Bumbershoot forever! (MEGAN SELING)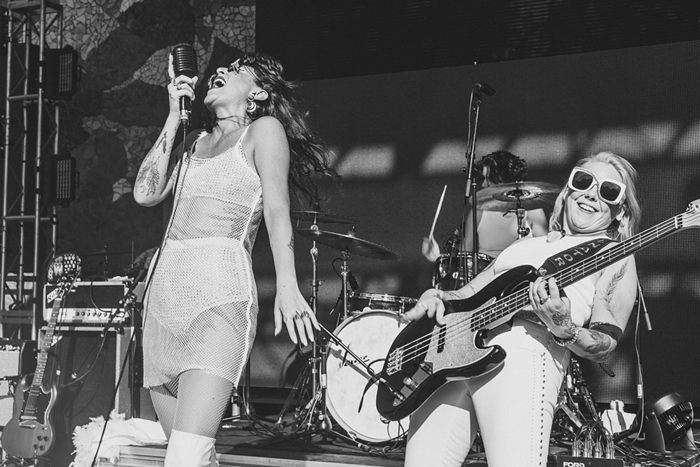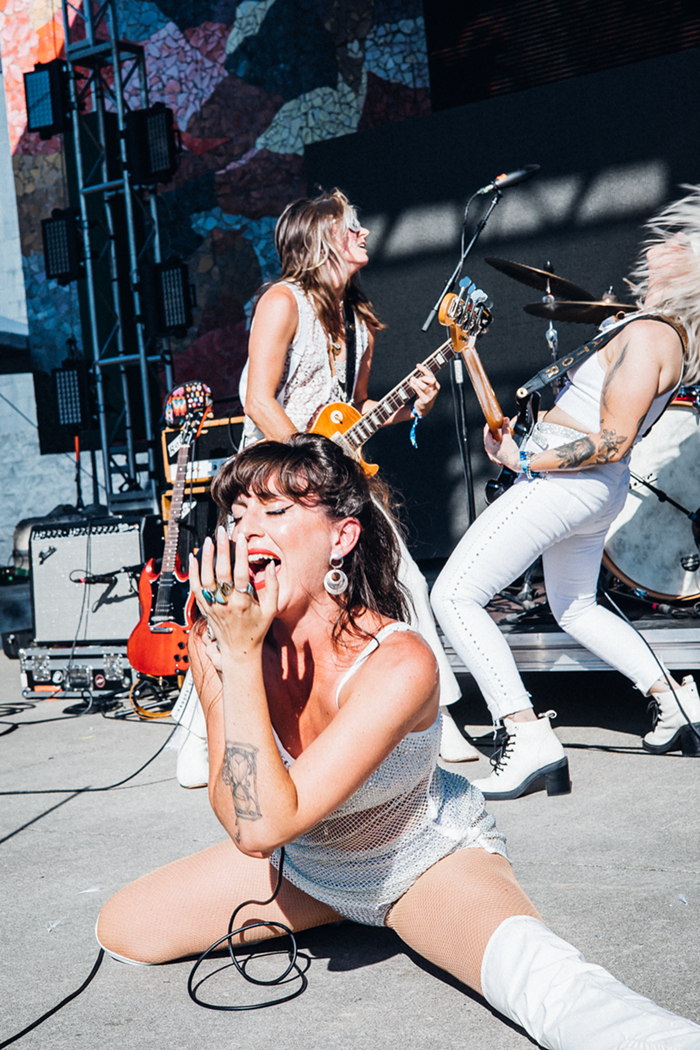 Thunderpussy
Thunderpussy's show started at 4:20 pm. Both the bassist and the guitarist sauntered out with joints hanging between their lips. Lead singer Molly Sides came out wrapped in a dress made of white boa feathers. The whole band wore white. The theatrics were just beginning. 
The band broke into their new single "Firebreather," a smoky, leathery, explosion of rock n' roll that feels like it was born of a bygone era. As the tempo picked up speed, people dressed in all orange—I'm talking orange skin, beards, hair, clothes—tossed orange streamers across the crowd. They streaked through the sky like flames. The orange helpers squirted water, bubbles, and silly string at the audience as the show went on.
Props aside, the show was so immersive because Sides is maybe one of the best performers I've ever witnessed. She shakes, she shimmies, she backbends, and sings upside down, she writhes on the floor, she kicks her leg up higher than it should be able to go. She shook off her boa dress to reveal a slinky, sparkly mini dress. She oozed sex and talent. I fell in love with her. She coiled the audience around her fingers in the same way she toyed with the microphone wire like we were all one big game of Cat's Cradle. (NATHALIE GRAHAM)
Puddles Pity Party
A sad Pagliacci clown wandered through the crowd. Meanwhile, the screen above the stage showed facts about adult loneliness and Kevin Costner. The clown climbed up on stage. This was Puddles Pity Party. 
Puddles never said a word. He opened by inflating a balloon and then letting the air out into the microphone. It hurt my ears. Before I could resent him, Puddles broke into a heart-wrenching rendition of Billie Eilish's "When the Party's Over." The screen played clips of him looking longingly at milk. 
Puddles's mixed robust, velvety vocals with absurd visuals and clowning. He covered "Crazy Train" to clips of anti-ASMR (unsatisfying footage of people cutting tomatoes wrong, mixing Skittles and M&Ms, fragile objects dropping but never landing, etc.). Throughout his set, Puddles drank water, then spat half of it out. He strummed a cardboard guitar. He pulled an endless supply of guitar picks out of his pockets and flung them at the audience.
Puddles ended with a hard rock cover of the Gilligan's Island theme to clips from "Water World." When Kevin Costner pissed into a cup, Puddles pulled out a cup. Kevin and Puddles drank from their cups at the same time. I loved it. (NATHALIE GRAHAM)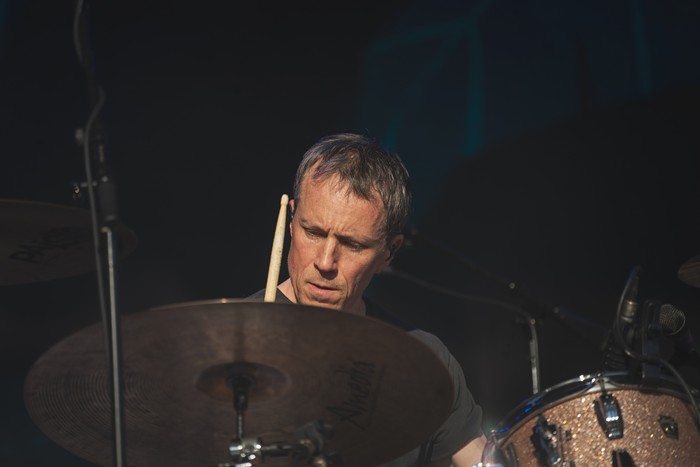 Ride
It appeared that British shoegaze legends Ride had gone through some travails in order to make it to the Fountain Stage on time... something about hassles with security, maybe? Anyway, they had to do a last-minute soundcheck, during which Loz Colbert's drums sounded painfully boomy. But everything got sorted out and Ride sounded anything but discombobulated as they replicated their brilliant 1992 sophomore album, Going Blank Again, with aplomb.
After the ambitious and noisy 1990 debut LP, Nowhere, Going Blank Again came across as a lighter-weight, more accessible work. I remember feeling underwhelmed at the time, but 31 years later, these songs sound amazing. The momentous synth burbles of "Leave Them All Behind" start before the band walks onstage, and it's clear that this is the "Baba O'Riley" of shoegaze, but funkier and more John Bonham-esque. Guitarist Mark Gardener and Andy Bell nailed the yearning "AAHH"s of this majestic epic, proving that their voices haven't diminished at all over the decades; their harmonies remain as velvety as ever.
"We haven't played these songs in a while, so bear with us," Gardener unnecessarily announced after a positively buoyant "Twisterella," one of Ride's catchiest songs. And so the set progressed, from feathery, melancholic rock ("Chrome Waves") to morose power ballad ("Cool Your Boots") to Pink Floydian psychedelia ("Making Judy Smile") to dubgaze ("Time Machine") and more.
The bonus songs included a strong new one called "Monica" (if I heard correctly) that recalled peak Siouxsie & the Banshees, sans gothitude, and the sadboi classic "Vapour Trail," the epitome of 'gaze bittersweetness. Ride were a serious Bumbershoot highlight. (DAVE SEGAL)
The Cat Circus
Redmond-based animal rescue, Motley Zoo, hosted Bumbershoot's mysterious "Cat Circus." The event promised adoptable cats doing "death-defying acts." My expectations? Sky high. 
A line of around 100 people spilled out from the geodesic dome next to the Mural Stage. Someone walking by scoffed, "It's like a three-hour wait to get into the 'Cat Circus.'" In reality, it took 20 minutes. A barefoot woman with a paw print tattoo on the top of one foot waved me into the tent. "This better be worth it," a woman in a Tegan and Sara shirt said. 
Inside, benches faced three circular stages. Planted in the stages were two cat trees connected by a "tight rope." A stuffed tiger hung out of a cardboard cannon. A wooden "ring of fire" formed the backdrop. Unfortunately, by Saturday afternoon most of the cats were asleep or were so overstimulated by human interaction they'd been put away. 
I stroked Cayenne, a sleeping tabby. Shoshito and Habanero hid inside a circus stool. Kittens Camembert and Gorgonzola snuggled together inside a carrier. Camembert licked my hand. There weren't any tricks, death-defying or otherwise. But, taking a break from the festival's chaos to pet cats was so worth it. (NATHALIE GRAHAM)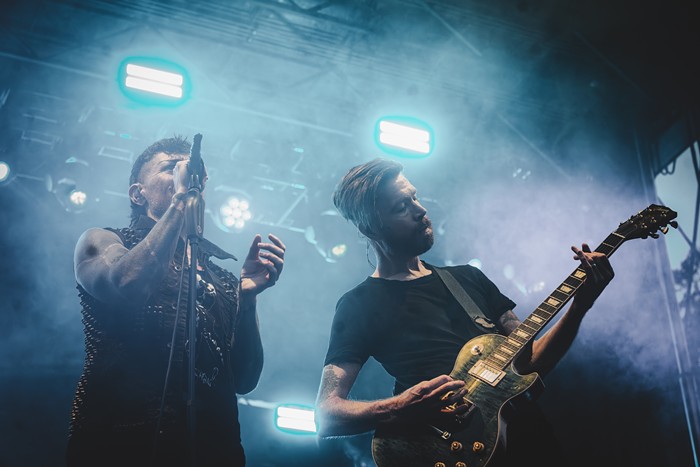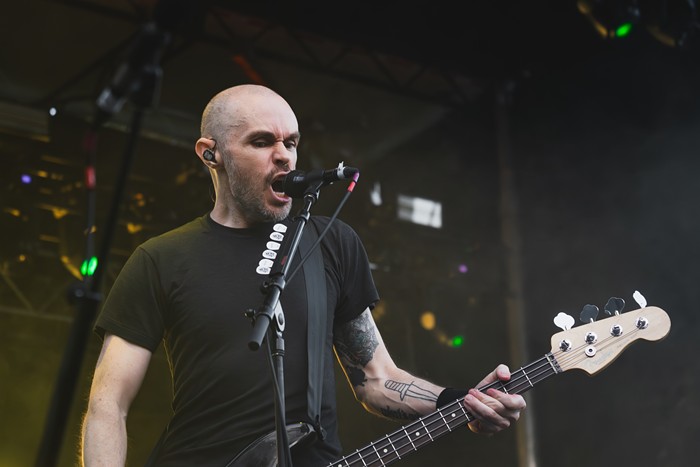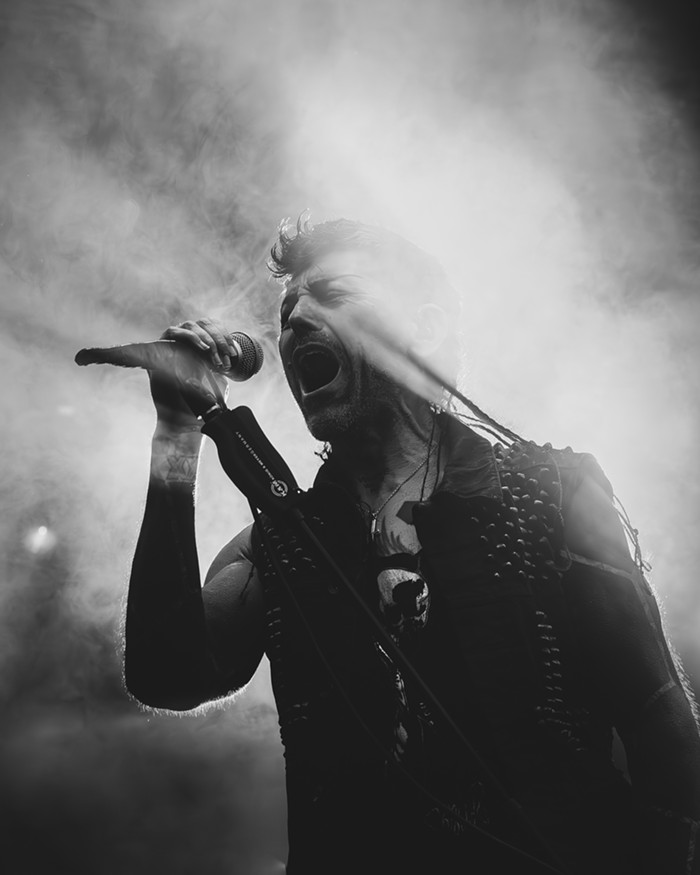 AFI
AFI took the stage at 7:30 on Saturday as the crowd started to erupt with chants of "Through our bleeding, we are one!" (A line that begins their 1999 album Black Sails in the Sunset). Over the years, AFI has evolved from a snotty East Bay DIY hardcore band who wrote lyrics like "I want a mohawk but my mom won't let me get one" into the cult favorite Misfits-inspired goth-y Hot Topic heartthrobs who found major label and mainstream radio success with their melodramatic and oh-so-memorable whoah-oh choruses into their current, more post-punk and new wave sound. Though the diehards in the front chanting the band's late-90s anthem may have been disappointed that the band didn't tread too deep into the old school waters—their oldest song of the set was 2000's "The Days of the Phoenix"—the intensity at which these seasoned scene veterans perform is proof they still have all the energy of the youngsters who hit the RCKNDY stage with fury back in 1997. Ever a showman, vocalist Davey Havok swung the microphone stand as he jumped around the stage and even at one time during the set, spontaneously jumped into the crowd and incited a giant sing-along session. "I don't know if this mic stand is gonna make it," Havok said. "Toughen up, mic stand. Toughen up."
The sun was going down and the space needle above us was illuminating in what was a pretty damn magical moment. Instead of focusing his attention on the needle, though, all Havok was fixated on was the fountain in front of him. "There's a fountain that keeps erupting in ejaculatory fashion in front of me." The purple smoke onstage billowed over the band as fans recited the lyrics to the final song of the set, AFI's early-Aughts radio single "Miss Murder." (KEVIN DIERS)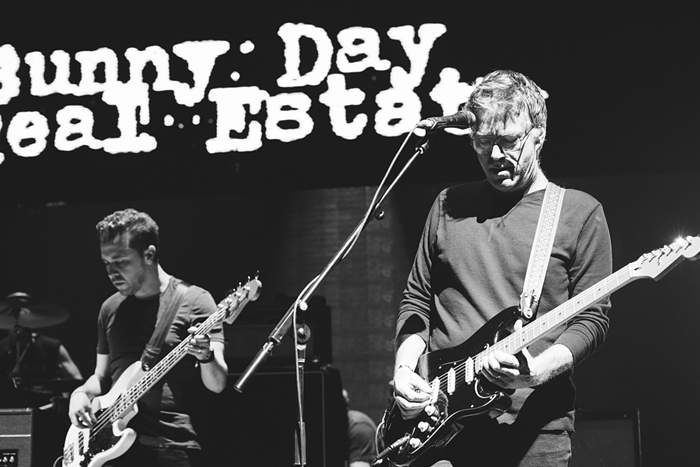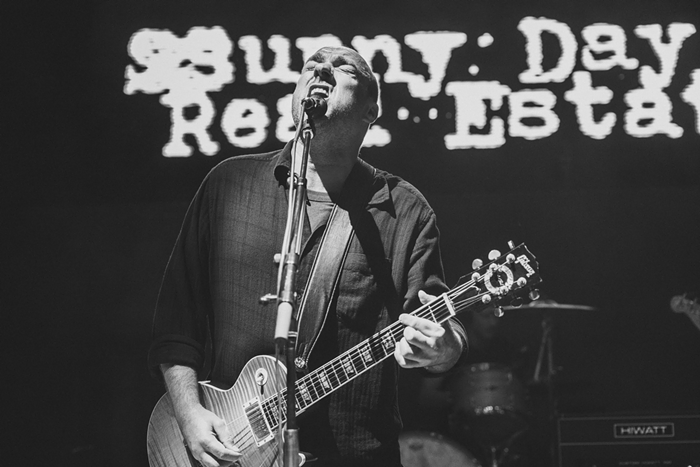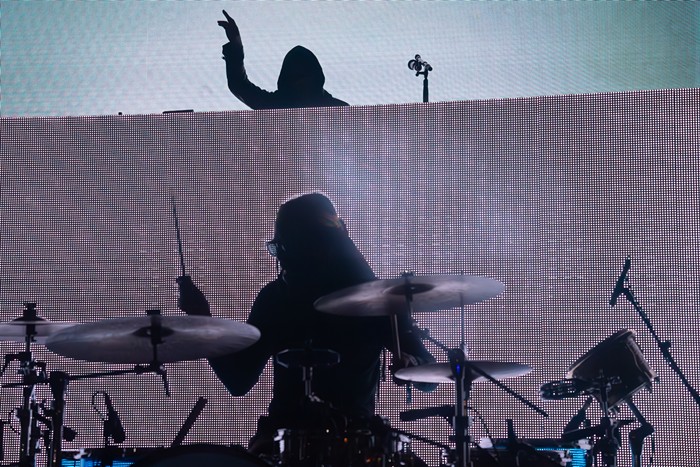 ZHU
Bay Area DJ and producer ZHU has played Seattle a number of times, most recently at Climate Pledge last fall with Swedish House Mafia. As the middle-aged crowd of Sunny Day Real Estate thinned out at the mural stage on Saturday night, it was replaced by frat boys and people who might rather be at Burning Man (or maybe not, given the gorgeous weather in Seattle on Saturday and the flooding at BM). The crowd was absolutely buzzing when ZHU came out, and ready to dance. 
Though ZHU held the mic to his lips for the first few songs, it was hard to know if he was actually singing. As if hearing my question, he came down to the lower level of the stage with the band, spoke into the mic, and sang the first few lines of "In the Morning," a cappella. Turns out that falsetto on his dance tracks is really him. His set was a mix of vocals, beats, and live instrumentation from a guitarist, drummer, and saxophone player. 
At the start of "Stormy Love, NM.," the college boys next to me jumped for a minute straight and sang along offkey. This was immediately followed by "Guilty Love," which featured a lot of blissed-out makeout sessions in my vicinity. ZHU transitioned into 2016's "Hometown Girl," even interjecting the city name in the final bars of the song: "There's nothing like you, Seattle, nothing like this moment, nothing like my hometown girl." The band left the stage for the end of the set, and he finished with arguably his most famous track, 2014's "Faded." The crowd went crazy. Regardless of whether or not you'd consumed any mind-altering substances, you were transported. The song wrapped around 11:30 pm, and ZHU raised his hands in thanks to the crowd. I watched him turn back to the mic (presumably to thank the crowd again), but it appeared the sound was cut. Even EDM gods have to obey curfew. (SHANNON LUBETICH)
 

 

View this post on Instagram