When Tangerine Dream composer/multi-instrumentalist Edgar Froese passed away in 2015, that should have spelled the end of the band/brand as the world knows and loves it. He'd founded the vastly influential German electronic group in 1967 and was its only constant member till his death. Key musicians from TD's essential '70s era—Peter Baumann and Christopher Franke—were long gone and not interested in rejoining. Tangerine Dream had had a great run and could've called it a career and everyone would've understood.
But meister Froese wanted the Dream to continue, so in 2013 he tapped masterly synthesizer player Thorsten Quaeschning to guide the monumental ship onward, perhaps indefinitely, like some Teutonic version of the Sun Ra Arkestra—figurehead-less, yes, but still bursting with vital sounds that should eternally be revived and repurposed on stages.
So now in 2023, Quaeschning, electric violinist Hoshiko Yamane, and synthesist/beatmaker Paul Frick (of the German organic-techno band Brandt Brauer Frick) have the heavy burden of animating the sprawling Tangerine Dream catalog for a dedicated fanbase. These 40-something musicians are indeed excellent, and one can understand why Froese would trust them with his precious catalog—which, admittedly, I haven't explored much after the mid-'80s. (I did check out 2022's Raum before this show and wasn't very impressed.) Just so you know my biases, my Tangerine Dream sweet spot ranges from 1974 (Phaedra is the peak) to 1985 (special mention to the Thief soundtrack). The early space-rock/infernal-ambient albums from Electronic Meditation to Atem have their brain-sizzling moments, too. Read Julian Cope's effusions about them in Krautrocksampler, if you can find a copy or .pdf.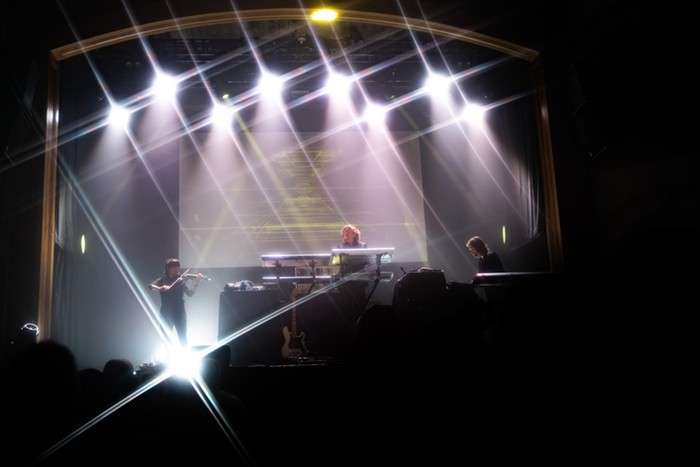 On Monday night at the Neptune, the large, seated audience lapped up the 140-minute, Edgar-free Tangerine Dream experience. Before the trio of relative newcomers appeared, the screen projected rain on waves, a real "coals to Newcastle" image for Seattleites. Quaeschning—centerstage behind four synths—congenially greeted us and rambled on a bit before saying, "This room sounds amazing in G minor, so we're going to play in that. I'm going to stop talking now, because the human voice is distracting and grounding." The guy behind me said, "Finally."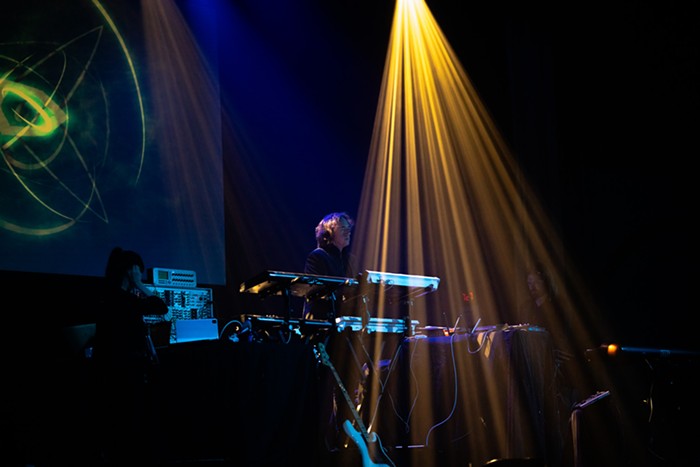 Warning: I'm bad with Tangerine Dream titles, so forgive the absence of hard data. The opening song eased us into the band's trademark kosmische drift with a gorgeous, tranquil drone, as TQ sometimes smiled along with certain chord progressions. As it did all night, Yamane's violin blended serendipitously with the battalion of Korgs finessed by Frick and TQ. We were jolted out of our reverie by the urgent arpeggios of "Stratosfear," which sounded like the most majestic car-chase score ever. With its increasingly intensifying starburst crescendos, the track seemed more like a climax than the gig's second offering. Like, goddamn, it was kind of a showstopper.
Then came a jump-cut to stomping techno—not what you'd expect from TD if you checked out in '85, but okay, we're doing this, even if the wailing synth solo belonged in a typical TV movie-of-the-week drama. In fact, foundation-threatening beats recurred throughout the performance, sometimes as thicc, twitchy, and foonky as Chemical Brothers at an outdoor festival. (I think I heard "Central Park" from 1985's Le Parc in there somewhere.) The 14th piece of the night was an uptempo techno banger featuring quasi-Bernard Herrmann/Psycho violin slashes cutting across beats that hit with skull-shaking force.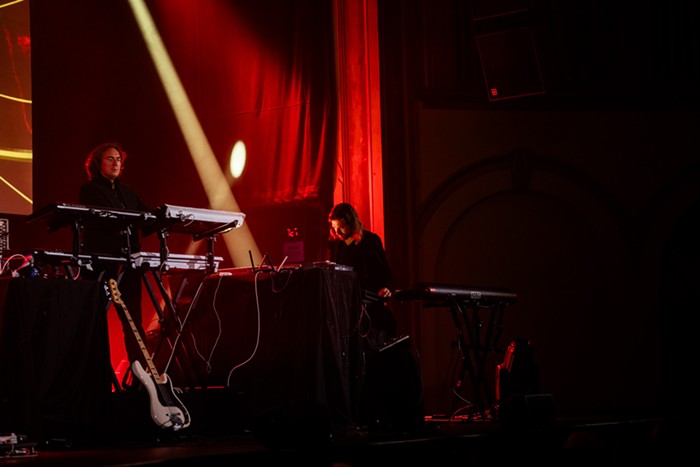 The 10th song sure sounded like "Love on a Real Train" from the soundtrack to 1983's Risky Business, with its arcing, aching melody over choppy synths and slapping beats that gradually coalesced into a chromium chug. There followed a couple of duds that represented the show's lowlights. One was a candy-coated trifle that probably came from a 21st-century release and the other bore stodgy 4/4 beats and a bloated, sentimental melody. Thankfully, these moments were infrequent. The final song before the encore throbbed with the intensity and thrilling darkness of Phaedra. The big beat drop added even more urgency to an already nerve-shredding opus.
For the encore, TD enlisted local super-session bassist Julie Slick, last heard earlier this year at the Moore in Cool Cool Cool, who opened for the Talking Heads tribute band Remain in Light. She contributed manic, subterranean riffing to these two tracks, lending ballast to the abstract space twinkles on the penultimate selection. The show's finale began in slow-motion-techno hypnosis mode before the tempo increased into a facsimile of Andy Stott's psychotropic output from the early 2010s. I did not see that coming, but was glad it did.
As bucket-list gigs go, 2023 Tangerine Dream is, by dint of having no original members, a compromised experience. Nevertheless, if you're a serious fan who's never seen their music performed live, you should go. It's what Edgar would have wanted.