Nestter Donuts
Friday, November 3 at Sunset Tavern
You don't see performers like Nestter Donuts every decade. The Alicante, Spain uno-hombre band calls his music "flamenco trash," but the primary mode is breakneck punkabilly played on electric guitar and a stripped-down kit of kickdrum and cymbal. The closest comparison might be Bob Log III, as both he and Donuts are raunchy motherfuckers who love to growl like feral beasts while they multi-task.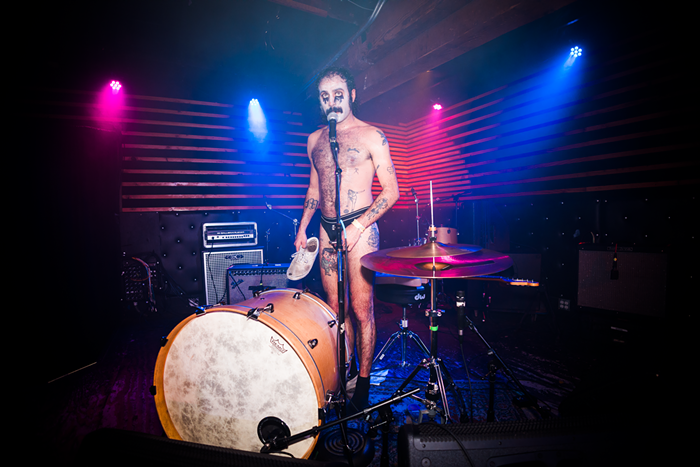 Nestter's songs zipped by in under two minutes as Donuts—dressed in black leather trousers and midriff-bearing polka-dot shirt and wearing clown makeup—alternated between said growls and over-the-top, romantic crooning. After every song, he would ask the crowd questions ("How many here like to masturbate?") and then introduced the next tune, usually about messed-up stuff that ex-girlfriends allegedly have done to him. During one speedy, noisy song, a dude from the audience thrust his face in Donuts's ass. "That was hot," the mustachioed treblemaker said afterward. Laced with absurdity and spontaneity (and nudity, as one friend who caught Thursday's performance reported), Nestter Donuts's live show is an unforgettable, unique experience.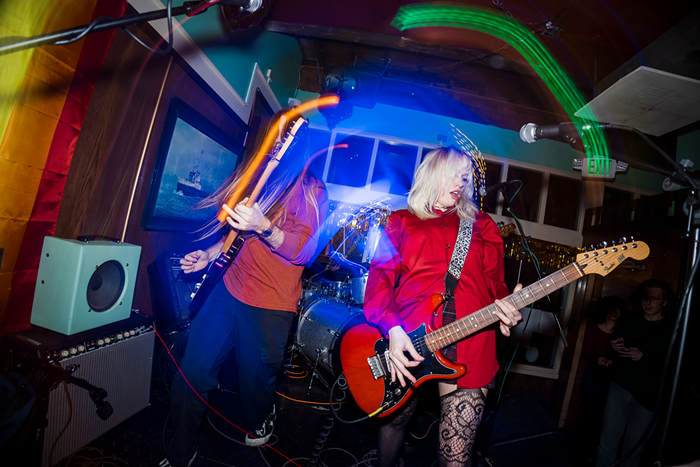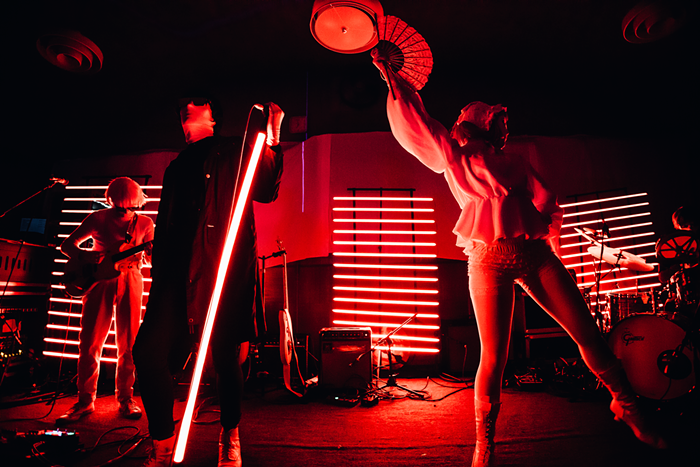 Day Soul Exquisite
Friday, November 3 at Caffe Umbria
I only caught the last two songs of Seattle sextet Day Soul Exquisite's set, but that was enough to convince me that they're something special. This queer/BIPOC-centric group proved that they could segue from liquid-sunshiny funk/soul to militant free jazz with preternatural poise. Led by vocalist/guitarist Francesca Eluhu, DSE primarily purvey socially aware R&B and spiritual funk, but on "Abattoir" they exploded into a cathartic free-jazz blowout that recalled Pharoah Sanders at his most agitated. Before this tune, Eluhu—who is Congolese—said that it was inspired by genocide happening in Democratic Republic of Congo and elsewhere. Great music such as this can help us mentally deal with these tragedies. (You can next catch Day Soul Exquisite at Clock-Out Lounge on January 20 for the record-release party of their debut EP, Sanguine & Cardamom.)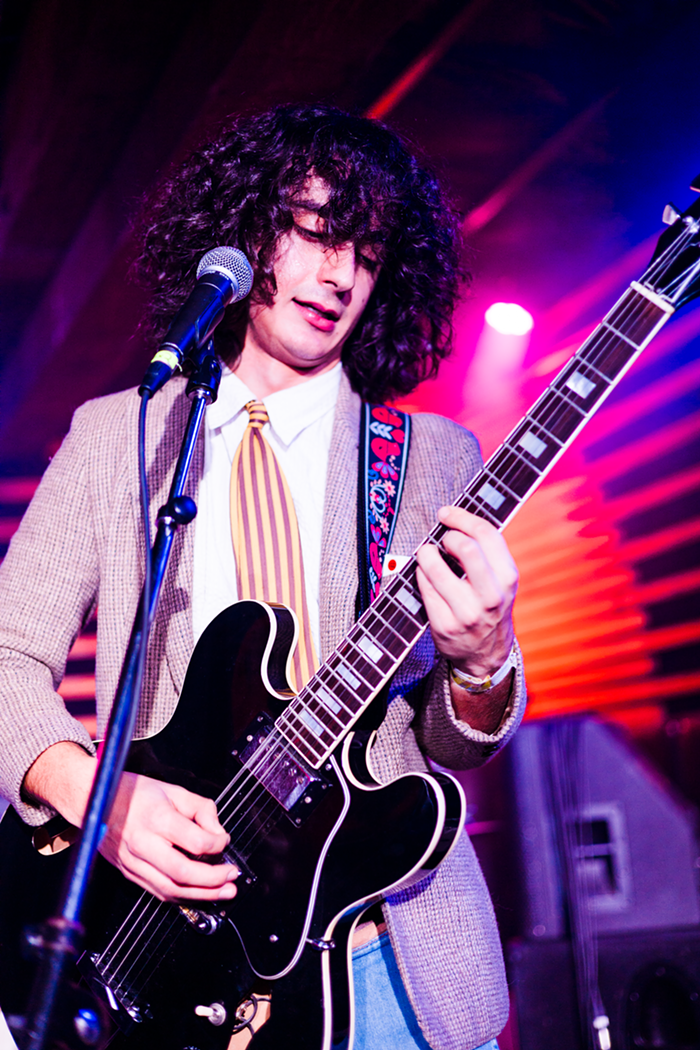 Sugar Tradition
Friday, November 3 at Sunset Tavern
Detroit trio Sugar Tradition are rock traditionalists whose conviction, instrumental prowess, and great taste in covers compensate for any lack of forward-thinking in their approach. Hell, guitarist/vocalist Antonio Keka even looks like the MC5's Fred "Sonic" Smith and Jimmy Page. Sugar Tradition may be living in an eternal 1969 (okay), but their thick, veiny sound and meaty hooks make the idea of "progress" seem like a moot point.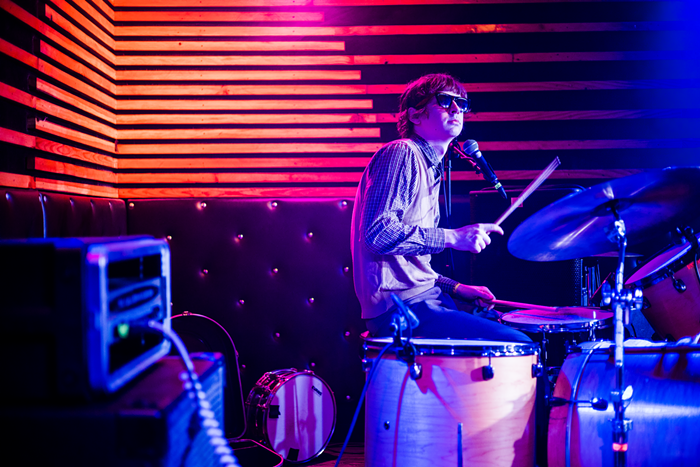 Sugar Tradition's influences may be easy to spot, but who cares when they're so powerfully executed? Just as I was thinking drummer Kevin Irwin was giving off Charlie Watts vibes, he broke into the beat from the Rolling Stones' "Get Off of My Cloud." Covers of the Creation's "Biff Bang Pow," the Velvet Underground's "Guess I'm Falling in Love," and Chuck Berry's "Come On" commingled with original songs cut from the same primal cloth. The energy never flags in a Sugar Tradition set and their final number—an MC5-like free-rock flamethrower—was no less exhilarating for being totally expected. Motor City's still burning...
Biblioteka
Saturday, November 4 at Sunset Tavern
Seattle trio Biblioteka play nutritious meat-and-potatoes rock that gets back to the basics—and sick bass—of aggressive Northwestern rock. They're fronted by vocalist/bassist Mary Robins, who exudes toughness onstage, like she'd knife you... but while smiling sweetly. With guitarist Hexx and drummer Jules, Biblioteka flexed their rhythmically punchy and compellingly hooky rock to a nearly full Sunset Tavern.
Rife with swerving dynamics, their best song recalled Pere Ubu's "Non-Alignment Pact." Even Biblioteka's ballads have rough edges. It's clear from witnessing just one gig that Robins possesses star power; there's something Cobain-esque about her commanding vocal style, gritty determination, prowling stage demeanor, and sharp features. It wouldn't at all be surprising if they became Seattle's next breakout artist.
The Gories
Saturday, November 4 at Salmon Bay Hi
Hundreds of punters lined up early for the first Seattle show by Detroit garage-rock legends the Gories since 2010. Some came to Freakout strictly to see guitarist/vocalists Mick Collins and Dan Kroha and drummer Peggy O'Neill get down to the nittiest of gritties. This was an event.
Folks love the Gories because they remind us of rock and blues' origins as raw, raunchy, and rambunctious expressions of marginalized people who possess more wild energy than instrumental finesse. During the 16 songs the Gories played on Saturday, Collins and Kroha's staccato twin-guitar attack crunched, scraped, and stung with audiophile-cringing ferocity and their vocal interplay was sharp and inspirational. O'Neill's drums were under-mic'd for the first three songs, but by the fourth, they were thumping mightily in a tom-heavy/cymbal-free manner that made Mo Tucker's approach seem overly fussy. Few bands can make such a primitive m.o. sound so exhilarating.
For the first four songs, a young white woman in front of me was dancing like mad... before she got subsumed by the surprise mosh pit that formed. Even the venue's DJ for the night, the great NYC selector Jonathan Toubin, rushed into the vortex—and did some crowd-surfing, to boot. As I was taking notes during the set's seventh song, a mosher body-checked the tall man in front of me and his back slammed right into my face. I literally did not see that coming.
I'm bad with Gories song titles, but they definitely played "Thunderbird ESQ" and "Nitroglycerine." They also did the one with the Bo Diddley beat on which Kroha blew a mean harmonica while also singing, they did the Slim Harpo-esque, blues-rock-minimalist one about Cass Corridor streetwalkers (if you're from Detroit, you know the deal), they did a Holland-Dozier-Holland composition that I couldn't ID, they did, in Kroha's words, "a garage-punk tune from the wilds of suburban Detroit," they did a menacing punisher that really riled the mosh pit, and, near the end, they forged a tinnitus-inducing feedback symphony. Overall, the Gories made the Cramps sound like Yes, and they left us wanting more.
Sextile
Saturday, November 4 at Tractor Tavern
Imagine the least stereotypical Tractor Tavern music ever to get aired in that venerable venue—that's what the young Los Angeles trio Sextile unleashed on the capacity crowd Saturday night. It seemed like the entire crowd was wired on charlie as these pogoing multi-instrumentalists gave off strong Atari Teenage Riot vibes. To paraphrase Jimi Hendrix, "You will never hear Americana again." (Kidding. You will hear it over and over until your dying day.)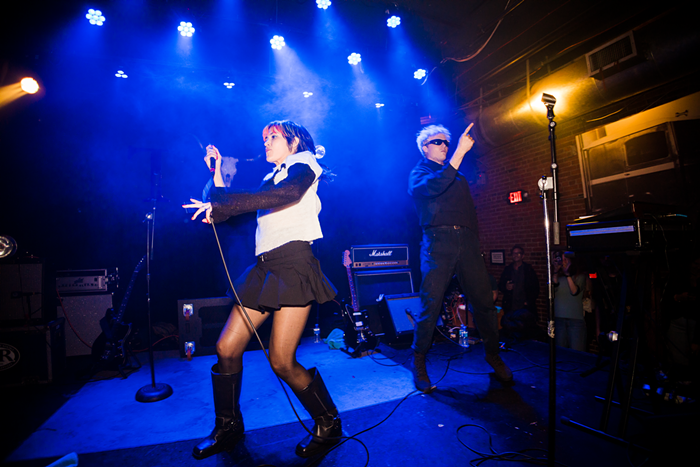 Some pundits have dubbed Sextile "post-punk," but I'm not hearing that at all. Yes, they deploy guitar and bass, but they're in the service of peak-time club bangers that encompass genres such as techno, disco, drum & bass, trance, and industrial... all with an undercurrent of noisy-glam attitude. As with ATR, even at their most ominous and pitiless, Sextile come off as cartoonish and non-threatening—especially their set-closing track about LA DJs, which was set to vitriolic acid techno. Whatever you want to call Sextile's music, it's undeniably fun—in 30-foot-tall, Monster Energy-green neon letters.
---
Keep scrolling for lots more Freakout Fest photos by Brittne Lunniss...