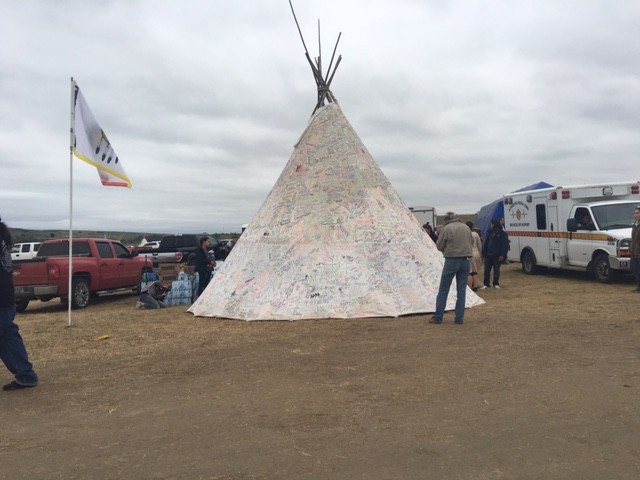 Drive south on Highway 1806 out of Mandan, near Bismarck, North Dakota, and usually it's a straight, hour-long shot to the Standing Rock Sioux reservation. But for the last three weeks, state troopers have cut off the main route from Bismarck to tribal land. Here in rural North Dakota, where cows outnumber people by more than two-to-one, anyone trying to access the reservation on that usual route will meet armed state troopers at a security checkpoint.
North Dakota state officials blocked the highway on August 17, a day after a federal judge agreed that the developers of an enormous crude oil pipeline traversing four states deserved a temporary restraining order against indigenous activists. The Dakota Access Pipeline is a $3.8 billion project that would carry crude from North Dakota's Bakken formation to Illinois over a distance of 1,172 miles, and some of that oil is planned to travel under the massive Missouri River itself. Members of the Standing Rock Sioux Tribe, whose land borders the river, have been praying and demonstrating against the project since April. In recent weeks, the demonstration numbers have swelled into the thousands.
It's an historic moment, and with the support of more than 90 tribes, it's the largest gathering of its kind in more than a century.
People sleeping in hundreds of tents and tipis are participating in a nonviolent spirit camp. And in one of the poorest communities in the country, communal kitchens are somehow producing enough hot food to feed everyone who arrives. Every day, new donations of tarps, baby food, and clothing roll in on the backs of pickup trucks and trailer beds. In a tipi near the entrance of one of the camp locations, a tribal member has even enrolled 30 to 40 children in an on-site school.
Eight tribes from Washington State arrived here last week, many of them facing—or having recently faced—similar conflicts with fossil fuel projects that threaten local waters. For the Swinomish Indian Tribal Community, it's crude-by-rail traffic crossing tribal land. For the Lummi Nation, it was a coal export facility that could have been the biggest in the nation. In both cases, the tribes have argued that the expansion of fossil fuel infrastructure on their ancestral lands would violate their treaty rights, their way of life, and nearby waters. In both cases, members of majority-white communities nearby also rallied behind them.
On August 26, Seattle mayor Ed Murray wrote to Standing Rock Chairman David Archambault II in solidarity.
"It's not a Native rights issue; it's a humans' rights issue," 26-year-old Dale American Horse Jr., Sicangu Lakota, told The Stranger. Last week, American Horse chained himself to an excavator used for pipeline work. "We're just fighting for clean water," American Horse said.
Water. Mni. At camp, the Lakota word used for "water" is written everywhere. But the word "Mni" has two parts that signify a much richer meaning: "Ni" means "to live" and the "M" prefix references the first person.
"So water literally translates to 'it gives me life,'" Matt Remle, a Seattle-based Lakota activist and the nephew of Ladonna Brave Bull Allard, the woman who started the Sacred Stone Spirit Camp, explained. "You fill up a cup, you really embed that into your psyche, and your relationship with that substance is going to be much different."
The law may also see the Standing Rock Sioux Tribe's relationship to water as different. Like 29 federally-recognized Washington tribes, the Standing Rock Sioux are recognized as a sovereign nation, with certain rights—like protection of ancestral lands—preserved by treaty. In their case, like in many cases, they may be the only people with the kind of legal standing to challenge such a project. The Standing Rock Sioux Tribe has filed a lawsuit against the pipeline company; this Friday is the date of the injunction hearing that could halt pipeline construction altogether.
We'll be here until then, talking to some of the thousands of people who have come to North Dakota for prayer, direct action, or both.