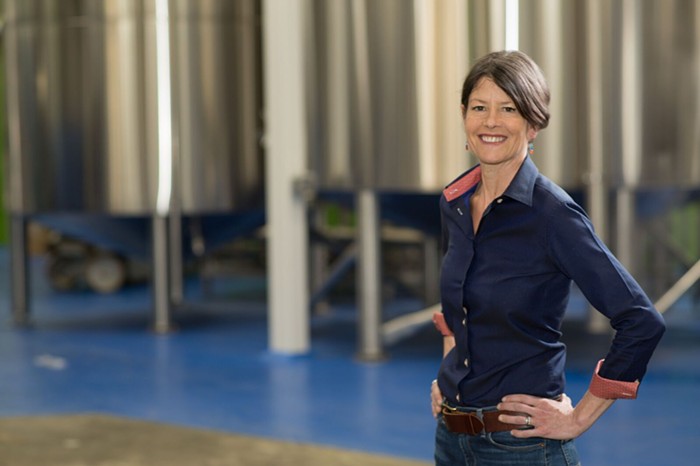 Sara Nelson, the co-owner of Fremont Brewing who once worked for former Seattle City Council member Richard Conlin, is announcing her bid for the council today.
Nelson, formerly an adjunct professor at the University of Washington and a policy advisor for Conlin, is co-founder and co-owner of Fremont Brewing Company. She lives near Green Lake, is 51 years old, and is running for Position 8, the seat being vacated by Council Member Tim Burgess. (Also in that race: tenant advocate Jon Grant, Teresa Mosqueda of the Washington State Labor Council, the Seattle/King County NAACP Vice President Sheley Secrest, and others.)
"As a neighborhood small business owner with progressive values and a track record of putting my values to work... I have an important voice to add to the city council with Tim Burgess leaving," Nelson said in an interview. "I have years of experience working as a policy advisor and I'm also a very committed environmentalist."
If elected, Nelson says she would work to expand city environmental programs like those that incentivize businesses to use renewable energy sources or conserve water and electricity.
On most of the ongoing city issues I asked about, she was noncommittal: A city income tax (she supported a statewide income tax but is "concerned with the constitutional question" of a local tax), private sector paid family leave ("I agree in spirit but it really does come down to details"), sweeps of homeless encampments (she supports increasing shelter options and transitional housing), a new police precinct in North Seattle ("Would I support it if it was stripped down to the bare basics? I don't know, maybe"), safe consumption sites for drug users ("It depends on how they are staffed and where they are"), and allowing duplexes and triplexes in single family zones ("where it makes sense"). During a city council meeting last year, Nelson raised concerns about the city's "secure scheduling" proposal to require employers to give hourly workers more predictable schedules, but says she later dropped those concerns because the law will not apply to her business.
On one of her opponent Grant's primary issues—whether the city should be requiring developers to build more affordable housing—Nelson is skeptical. "I admire someone who has that kind of certainty," she says of Grant. "I don't know what his background is in building buildings. I don't have any background in that. I'm not an expert, so I don't feel like I'm in any position to come out and say [the developer requirements] should be more."
Nelson also says she's concerned about Mayor Ed Murray's proposal for a soda tax because it is regressive and could hurt small businesses, but stopped short of opposing it altogether. (Not to get too hung up on the point about this week feeling like a return to the city hall of several years ago, but Jesus, this sure sounds a lot like former council member Sally Clark, who was best known for her inability to make a decision on just about anything.)
Unlike most other candidates in the race, Nelson says she won't use the city's new public campaign finance system because it requires citywide council candidates to gather at least 400 signatures and 400 $10 contributions in order to show viability.
"Because this is my first run, I need to introduce myself and my positions on the wide array of policy issues that I care about," Nelson said, "and those conversations can't happen if I'm scurrying around trying to collect 400 signatures and $10 from each person."
Along with working on Conlin's 2009 campaign, Nelson worked as a policy advisor focused on land use and other issues in Conlin's office until 2013. (Conlin is endorsing her in this race.) In 2013, Conlin lost his council seat in a surprise upset victory for socialist Kshama Sawant, a shift that has dramatically altered city politics. I asked Nelson what she thinks about Sawant.
"I'm just going to have to take a pass on that one," she said.