A coalition of police reform advocates announced a 2018 ballot initiative proposal today that will attempt to change Washington State's deadly force law to make it easier to hold police accountable for fatal shootings. The new initiative builds on a previous attempt to change language in state law that grants officers "de facto immunity" from criminal prosecution unless they use deadly force with "with malice and without a good faith belief."
The coalition that brought the legislation includes tribal representatives, immigrant rights activists and families whose loved ones have been fatally shot by police, including relatives of Che Taylor, Charleena Lyles, Jacqueline Salyers, and more.
Proving malice makes Washington State's police accountability law the most restrictive in the country, according to a Seattle Times analysis. So, like last year's failed attempt to change the state's deadly force law, Initiative 940, or De-Escalate Washington would remove the "malice" clause from state law (with an exception for law enforcement carrying out executions, or capital punishment). But unlike last year's attempted ballot measure, the new proposal keeps "good faith" and expands on what it actually means.
The same initiative also focuses on how police respond to mental health crises, an issue highlighted by the fatal shooting of Renée Davis on the Muckleshoot Reservation last year and the death of Charleena Lyles in Seattle last month. King County deputies shot Davis during a welfare check after her boyfriend told police she had threatened to shoot herself; Seattle police killed Lyles after she called 911 for help, just a week after her public defender raised concerns about how police dealt with Lyles in crisis. To address concerns raised by such shootings, I-940 would mandate mental health and de-escalation training statewide, as well as require officers to deliver first aid directly after police shootings.
"Maybe [my cousin] would still be alive if they rendered first aid after they shot her," Katrina Johnson, Lyles' cousin, said at the announcement of the new initiative on City Hall steps.
"And also, we want police accountability," Johnson continued. "If you're going to take a life, you have to be able to make it make sense to the family. And right now, none of it makes sense to us."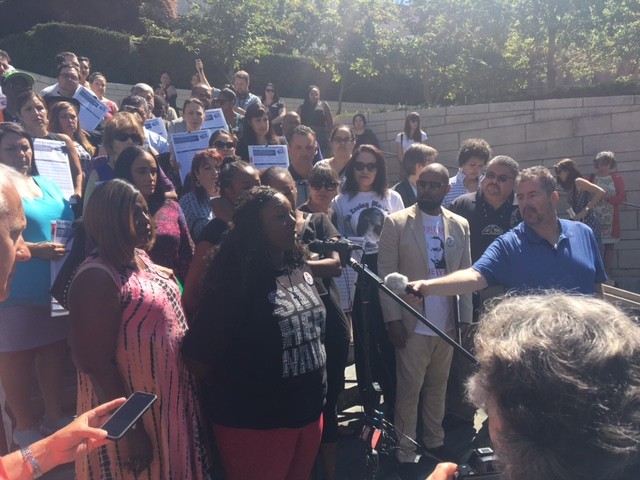 The initiative's proposed language on "good faith" would offer two definitions, Leslie Cushman, policy director of De-Escalate Washington, said. The new law would use an "objective" good faith test as well as a "subjective" one.
"The objective good faith test is met if a reasonable officer, in light of all the facts and circumstances known to the officer at the time, would have believed that the use of deadly force was necessary to prevent death or serious physical harm to the officer or another individual," the ballot measure's proposed language reads.
The subjective good faith test, on the other hand, "is met if the officer intended to use deadly force for a lawful purpose and sincerely and in good faith believed that the use of deadly force was warranted in the circumstance."
The Washington State Joint Legislative Task Force on Use of Force in Community Policing—a group made up of advocates, prosecutors, lawmakers, and law enforcement groups—recommended removing both the "malice" and "good faith" language from state law in November of 2016.
But the new initiative brings back the "good faith" language in the hopes of getting the ballot measure passed.
"We understood it was very important to law enforcement to keep that notion of what is in their mind when they're under these incredibly stressful circumstances, so we wanted to bring it back in," Kim Mosolf, staff attorney at Disability Rights Washington and a member of the state task force, said. "We just wanted to better define it."
Fe Lopez, director of the Seattle Community Policing Commission who attended the initiative announcement on behalf of immigrant rights group OneAmerica, added that the ballot measure language resulted from negotiations that had been ongoing for months.
So far, the initiative has won the endorsements of the Black Law Enforcement Association of Washington, as well as state representatives Nicole Macri (D-43) and Beth Doglio (D-22).
Cushman said that the group would be meeting next week with Sue Rahr, former King County Sheriff and executive director of the Washington Criminal Justice Training Commission—the same group that would be setting rules for the hours and training required by the ballot measure if it were to pass.
Read the full text of the initiative here.