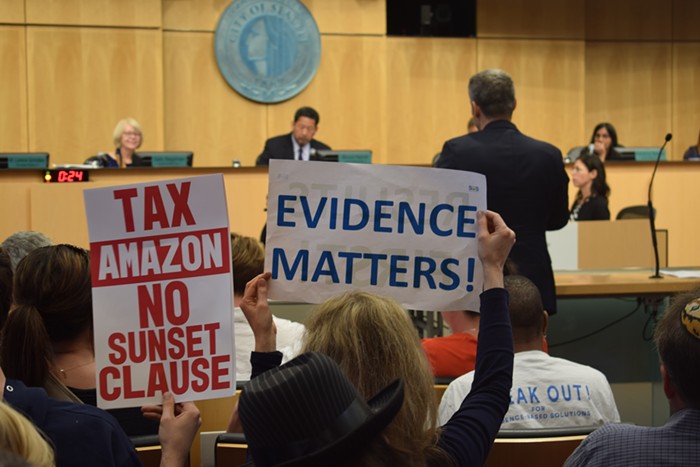 Following months of debate, raucous protests, and a threat from Amazon to erase 7,000 jobs from Seattle, the City Council on Monday voted to pass a head tax to fund housing and homelessness services.
The tax, which passed unanimously, is nearly half the size that four city council members originally proposed in April. Under the plan, Seattle would collect $275 per employee from businesses grossing more than $20 million in annual revenue, or about three percent of the businesses in the city.
The tax is projected to bring the city about $45 million of new annual revenue in its first year, according to a spending plan prepared by council staff. Under the legislation, council members would have the option of renewing the tax after five years.
Now the bill heads to Mayor Jenny Durkan's desk. In a statement, she says she plans to sign the legislation. "This legislation will help us address our homelessness crisis without jeopardizing critical jobs," Durkan said.
The tax proposal represents a compromise between city council members who aimed much higher—$500 per employee to raise $75 million—and their colleagues who believed the initially proposed rate would be too costly for businesses. Mayor Durkan fell in the latter camp. Late last week, she put her support behind a $250 per employee tax.
All but one council member co-sponsored an amendment lowering the tax rate, including Lisa Herbold, Rob Johnson, Lorena González, Sally Bagshaw, Bruce Harrell, Mike O'Brien, Teresa Mosqueda, and Deborah Juarez. Kshama Sawant was the sole non-sponsor.
Explaining the compromise, González said she did not believe the new rate meets the needs of the city, but that it was necessary to get a head tax passed. "We are left with limited viable choices to garner the votes we would need to send a bill to the mayor's desk that would not be vetoed," González said.
In a speech opposing the amendment to shrink the tax, Sawant said that the council passed a head tax at all is a victory for "the movement," a line echoed by Socialist Alternative members who spoke out during a public comment session. Sawant named and criticized her colleagues who opposed the original $500 tax and suggested they are putting the interest of businesses over the homeless.
"Make no mistake. Money is power under capitalism," Sawant said, noting that an independent expenditure supporting Durkan accepted $350,000 from Amazon.
Without naming Sawant, Juarez offered a retort. "I will not impugn the integrity or the motives of any of my colleagues because you are my colleagues," Juarez said. "Sometimes you have to lead. Sometimes you have to compromise and not bully. Sometimes you have to look beyond your echo chamber and your own movement."
Along with shrinking the head tax rate, the compromise also scales back a five-year spending plan for new revenue dedicated to housing and homelessness services. The non-binding spending plan passed 5 to 4, with opposing council members saying they wanted more time to parse out the details.
The plan proposes spending about 66 percent of new revenue on affordable housing, equalling about 591 new affordable housing units between this year and 2023. That's down from 1,489 units proposed under the original plan and far from the rate needed to get to 10,000 units by 2030, the need in King County according to a report published by McKinsey and Company in partnership with the Seattle Metropolitan Chamber of Commerce.
Thirty-two percent of revenue would go toward emergency shelter, sanitation, services for people living in their cars, medical services, and wage stabilization for homelessness service providers. About $2 million would fund rental subsidies for people making between 0 to 30 percent of the area median income.
The head tax proposal has divided the city. Scores of businesses signed a letter opposing the tax. Homeless advocates and socialists have said it's not nearly enough, often chanting during city council meetings and jeering at lawmakers who opposed the proposal.
The public debate reached an apex on May 2 when Amazon, the biggest company in Seattle, announced it had halted construction on a downtown office building and considered sub-leasing, rather than occupying another, pending the head tax vote by the city council. On the same day, as independent journalist Erica C. Barnett reported, Ballard residents screamed obscenities at local officials who were giving an informational presentation on the proposal.
Amazon announced it would resume construction of a downtown proposal shortly after the tax's passage. "We are disappointed by today's City Council decision to introduce a tax on jobs. While we have resumed construction planning for Block 18, we remain very apprehensive about the future created by the council's hostile approach and rhetoric toward larger businesses, which forces us to question our growth here," Drew Herderner, Amazon Vice President, said in a statement.
While most the most dramatic moments in this saga unfolded over the last couple weeks, today's moment was months in the making. Last October, city council members proposed a smaller head tax of about 6.5 cents per employee per hour for businesses grossing $10 million annually, which would've added up to about $20 million of new revenue for housing and homelessness services. Council members rejected the tax during budget negotiations, with opposers saying it was too hastily written.
They instead convened a task force to study the city's homelessness needs and to recommend new progressive revenue sources. That task force recommended $75 million through a tax on employers.
The homelessness report said that local governments need to be spending between $164 and $214 million more to fulfill the region's homelessness needs.