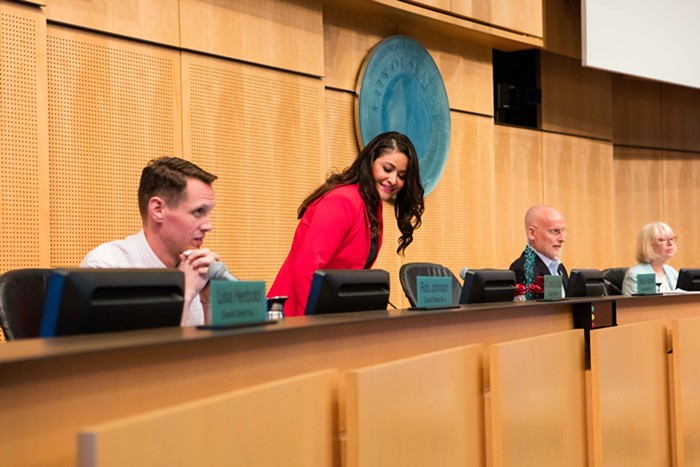 Rob Johnson only has two weeks left representing District 4 in Seattle City Council. In
his interview with KING5
, Johnson said he was looking forward to getting back to being a dad and that this decision had nothing to do with his future employment with NHL Seattle. It's not clear when Johnson will assume that next role, but it will be soon.
"We haven't settled on a start date yet," Johnson told The Stranger over the phone en route to a meeting. "My last day on the council will be April 5. I won't be moving over [to NHL Seattle] until sometime in late April or in May."
They also haven't settled on a salary, according to Johnson, who said he didn't know what he'll be getting paid in his new role.
Johnson's plan to start at the NHL a month after leaving the council, and six months before his elected term would have ended, is sooner than he had previously disclosed. In an earlier Seattle Times piece detailing Johnson's exit plan he "made public [that] he'll join the NHL group after his term expires Dec. 31."
Johnson, along with the rest of the City Council, approved a deal with the NHL worth hundreds of millions of dollars in private financing and public tax breaks to redevelop KeyArena for a hockey team. Johnson also voted in favor of a competing arena proposal in Sodo that, if approved, could have undercut his new employer's business. Johnson said the NHL approached him after these votes occurred and after he announced he would not seek reelection.
Johnson announced his resignation Thursday, days after his signature legislation for the MHA (Mandatory Housing Affordability) passed unanimously.
"[The NHL] was perfectly happy and fine to have me to serve out the rest of the term and have me join them sometime in 2020," Johnson said, "But, for me, this wonderful moment seemed like the right capstone."
There's been scrutiny around Johnson's new role. Alex Pedersen, a candidate running for Johnson's seat in District 4, called on the Seattle Ethics and Elections Commission to change the rules so that council members can't accept jobs while in office.
"It's something that's not been anticipated, that a council member would accept a job with an entire year left in his or her term," Pedersen told The Stranger, "I think that was an alarm bell to close a loophole so it doesn't happen with other council members."
Johnson, on the other hand, thinks this is something we're going to see more of. He cited Sally Clark's exit from the council in 2015 when she took a job with the University of Washington. He also brought up the interim council appointment in 2017 when former-mayor Ed Murray resigned and Tim Burgess assumed his role, leaving a vacant seat on the council.
"There's a pretty regular process by which the council appoints other interim people," Johnson said. "I think it's been a pretty regular part of council deliberations and I believe it's a trend that will come up again."
The city is electing younger and younger people to city council, as Johnson sees it, and those people will be interested in other opportunities and will be thinking about their careers.
"Invariably people will be interested in seeking additional offices that will leave the rest of their terms open," Johnson explained, "Or they may choose what I have done which is to choose other employment opportunities."
Applications will open for Johnson's temporary successor on March 26. Anyone can apply, though Johnson said his colleagues will be looking for someone who can adequately helm his responsibilities, like his spot on the Sound Transit Board. The process will be about three weeks long.
He's confident that, though he's leaving them, the residents of District 4 will be in good hands. The residents, he said, have been supportive of his decision to resign.
"If the email and text messages we've gotten are any indication," Johnson said, "that is not something I'm worried about. People are overwhelmingly positive and those messages are kind of gratifying."
This post has been updated to clarify Johnson's vote on the Sodo arena deal.